After weeks teasing fans and widespread speculation, Taylor Swift announced a new single and music video Thursday night in an interview with Robin Roberts in her former hometown of Nashville.

The single, titled "Me," is a collaboration with Panic! at the Disco's Brendon Urie. The track was released at midnight ET.
"'Me' is a song about embracing your individuality and really celebrating it and owning it," Swift told Roberts. "I think with a pop song we have the ability to get a melody stuck in people's heads, and I just want it to be one that makes them feel better about themselves."
Swift last released an album, Reputation, in November 2017, delivering hits like "Look What You Made Me Do" and "End Game."

While people are thrilled at the prospect of new Taylor Swift music for the first time in years, a lot of fans thought the artist's big announcement on the heels of weeks of clues would be her coming out as bisexual. Swift intentionally left a trail of "clues" for her fans to follow along and ponder.
"I've never been more proud of your FBI level detective skills," she wrote in a recent Instagram post. And a lot of these clues caused fans to think the pop star was planning to come out as bisexual.
First, many fans noted that Swift's Instagram aesthetic shifted to include more pinks, blues, and other pastels, as well as rainbows, hearts, and butterflies, starting after the new year.
There's also the long-standing conspiracy theory about Swift's relationship with model Karlie Kloss that suggests the two were more than just best friends. Fans speculated based on a series of photos, song lyrics, and tabloid-recorded moments that Swift and Kloss were romantically entwined, shipping the two on the internet as "Kaylor."
When Swift was honored as one of Time magazine's 100 most influential people, the singer posted a photo of herself on the magazine cover with both a blue and pink background.
Then when Swift performed at this year's Time 100 Gala, she apparently switched the lyrics in her song "New Year's Day" from "I want your midnights to "I want her midnights."
In addition to her colorful aesthetic on Instagram, Swift also unveiled a butterfly mural in Nashville on Thursday, painted by street artist Kelsey Montague. Inside the butterfly are rainbows, hearts, and other colorful symbols. Some fans thought it could also be a metaphor for Swift's sexuality. One journalist even pointed out the similarity between Swift's butterfly mural and a butterfly costume Kloss wore in a 2013 Victoria's Secret runway show, further alluding to the "Kaylor" conspiracy theory.
Fans also pointed out that April 26, the date that Swift had been counting down to for her big reveal, is Lesbian Visibility Day.
In her appearance Thursday, Swift wore a multicolored, rainbow-esque outfit for her interview with Roberts, which took place during the NFL Draft.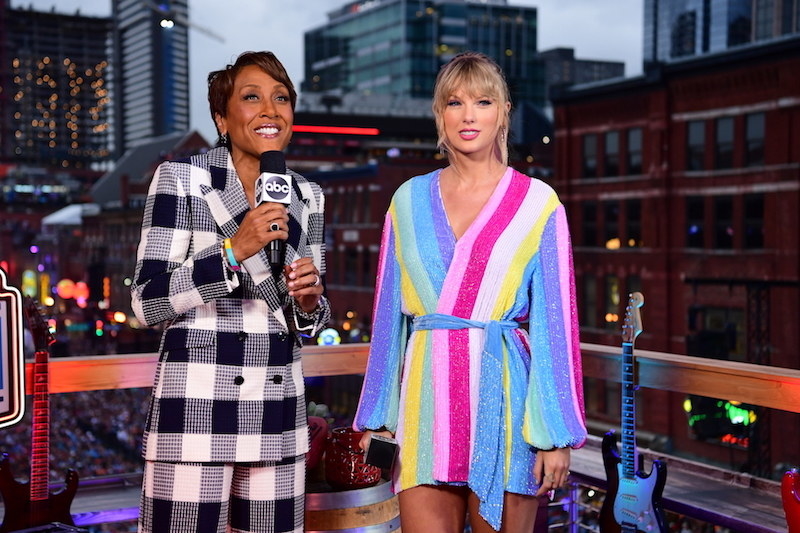 Swift addressed some fans theories and speculation online in a video posted to her Instagram story on Thursday.
"I went on Tumblr and everybody thinks it's not … they think it's fake, they think it's just, like, one of their theories," Swift said in the video.
Now that fans know the truth about Swift's latest announcement, they can focus on her new single and music video, and a possible album to come.
"The fans are amazing. I cannot believe how dedicated they are, how thoughtful, I can't believe how much they care," Swift told Roberts when asked about who makes her feel better about herself.
"It makes it more fun for me to create music, to create music videos," she said.