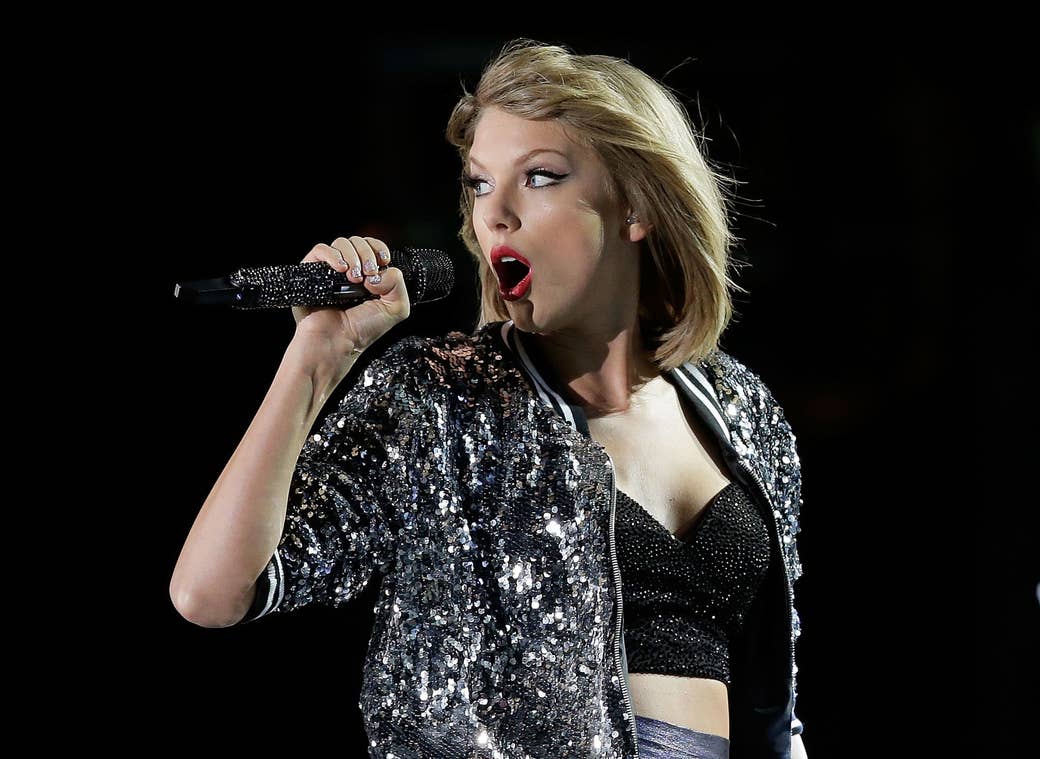 Jacob Kleinrock was always planning on voting in the upcoming midterm elections, but it wasn't until Taylor Swift posted on her Instagram about the importance of early voting that the 29-year-old made the decision to head to his local polling place and cast his vote ahead of Nov. 6.
"I definitely wouldn't have done that if it weren't for her social media activism," the Nashville native told BuzzFeed News after voting Tuesday.
Kleinrock, a self-proclaimed Swift fan who has seen her perform at least five times, is one of many people across the US who were influenced by Swift to vote early. After posting about early voting, Swift also encouraged her 112 million Instagram followers to share photos of themselves casting ballots for the chance to end up on her story.
"If you just voted, take a pic and tag me with #justvoted," Swift wrote. "It may end up on my story."
The idea of ending up on T. Swift's Instagram story was a dream for fans like Eric Patton, a 28-year-old Nashville resident who was also inspired to vote early because of his favorite singer. Since he's followed Swift's career for more than a decade and has attended countless shows over the years, Patton said he was beyond excited to see that she had shared his voting photo on her Instagram story.
"I was just getting out of the shower and was getting ready to go to bed when all of a sudden, my phone starts buzzing and I've got messages from my friends saying, 'Oh my god, look at Taylor's Insta story,'" Patton told BuzzFeed News.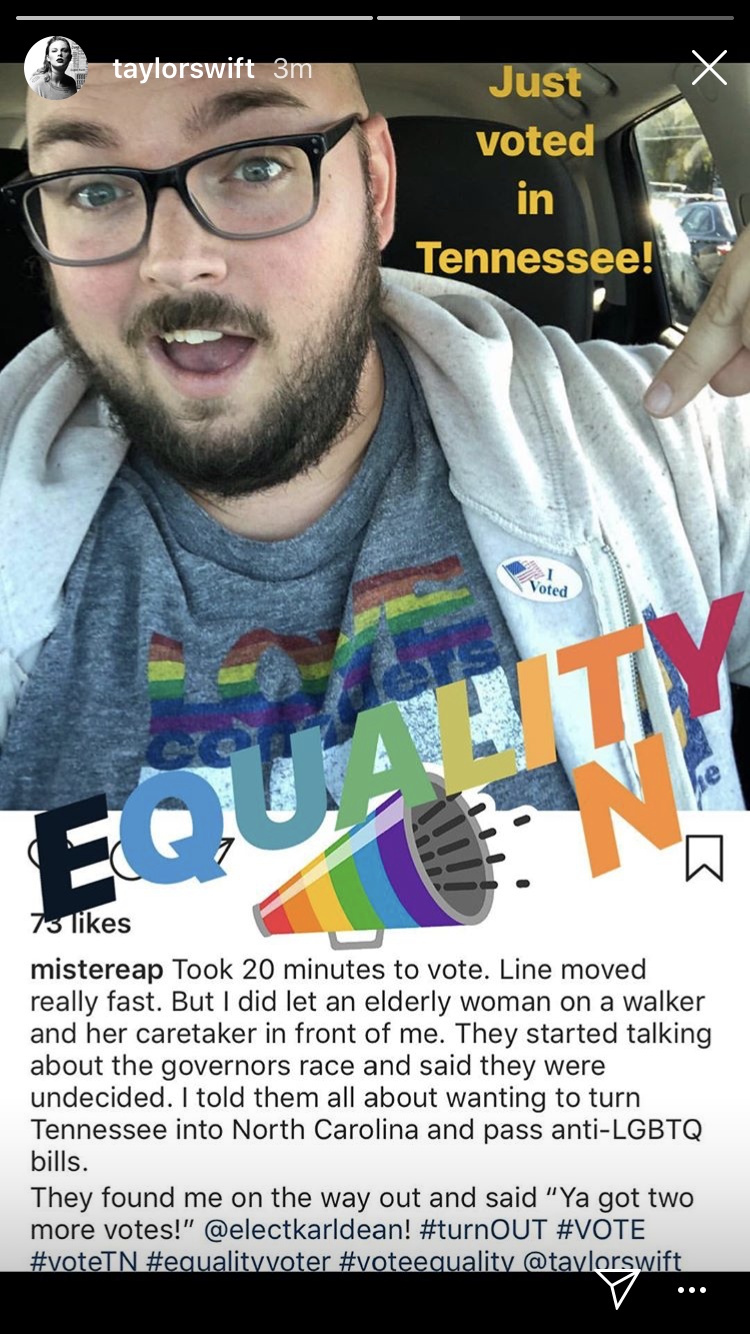 "She kind of gave a new zest back to us and gave me a little kick that I needed, just some excitement, because she is who she is."
Swift also shared a post from Joey McElroy, a 26-year-old Florida voter. McElroy told BuzzFeed News he got a notification on his phone in the middle of the night on Monday that Swift liked his Instagram photo and then shared it on her story.
"I wanted to scream really loud, but I have roommates, so I silently freaked out in my bedroom," McElroy said. "Something as simple as her showing other people who are actually participating and voting is saying that there are people doing this, so other people who are on the fence can be convinced to do the same thing."
Vote.org told BuzzFeed News that in the 24 hours after Swift first encouraged fans to register to vote, the organization was flooded with 65,000 registrations. (For context, in the whole month of August, 56,669 people registered through the site.)
While some people say the numbers may not directly correlate because the registration deadline was already looming, fans say they believe in what people are calling the "Taylor Swift Effect."
"I think her post probably inspired people who were already supporting one candidate, but may not get around to voting because they don't think it's that important," Megan Casey, a 36-year-old Nashville resident told BuzzFeed News. Casey also showed up early to the polls because of Swift's message to fans.
"I think she inspired those people to follow through with voting," she said.
According to data collected by University of Florida professor Michael McDonald, more than 7 million people had voted early in the midterm elections as of Tuesday afternoon. Swift is a part of that movement, helping to motivate more than 17,000 people to use the #justvoted hashtag on Instagram after voting early in Tennessee and other states across the country.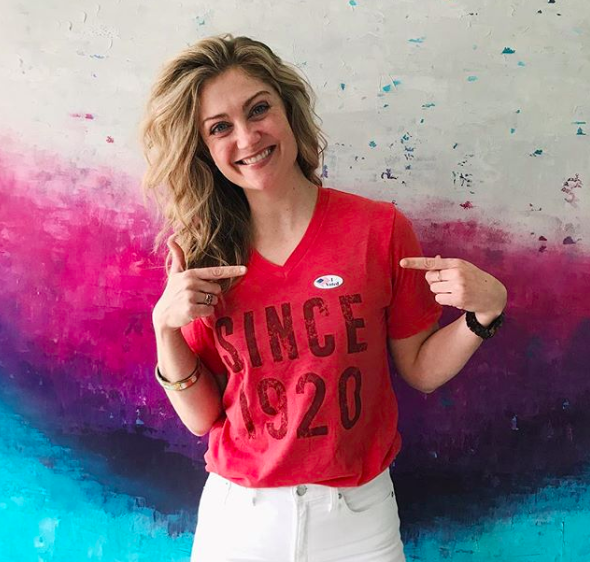 Noelle Smith, an 18-year-old college student at Belmont University in Nashville, told BuzzFeed News that Swift's post reminded her to request her absentee ballot from her home state of North Carolina. Amanda Ruley, a 23-year-old Swift fan from Dallas, went straight to her local polling place after seeing her favorite performer's Instagram post.
"I don't know if she'll be able to influence people's opinions altogether, but I think she has encouraged a lot more action," Smith told BuzzFeed News.
Not only has Swift been encouraging her fans to vote, but she specifically endorsed Democratic Tennessee candidates Jim Cooper for the House of Representatives and Phil Bredesen for the Senate.
"I cannot vote for someone who will not be willing to fight for dignity for ALL Americans, no matter their skin color, gender or who they love," Swift wrote on Instagram, explaining why she's voting for Cooper and Bredesen.
A representative for Swift didn't immediately respond to BuzzFeed News' request for comment.
"This race is going to come down to a few thousand votes, it looks like. It's going to be super tight," Patton said. "So if she can get those few thousand people to vote, she may actually tip the scales in Bredesen's favor."
As for whether Swift can truly impact the outcome of the Tennessee election, her fans believe in her.
"I think the election is going to be so close that if her involvement swayed it by even half a point, that would be a monumental change," Kleinrock said.
Casey agreed, saying Swift's inevitable impact stems from the singer using her platform for good.
"If people believe strongly in something and they have the platform to share their point of view and help inspire others to be more engaged in their communities, then that's very powerful," she added.