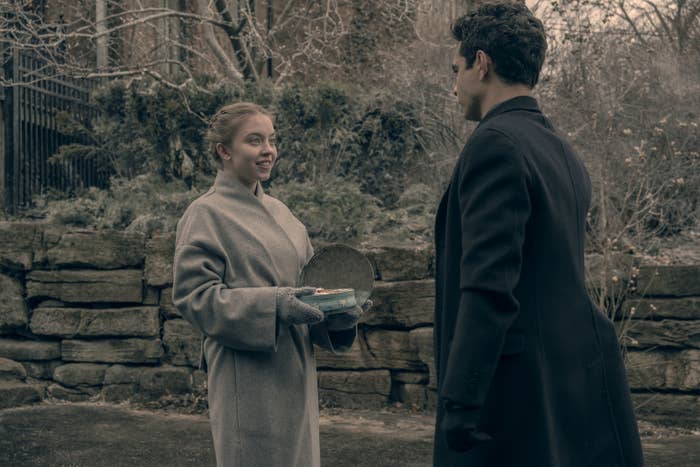 When Sydney Sweeney signed on to play Eden in the second season of The Handmaid's Tale, the 20-year-old actor knew her character was supposed to have an impact on the future of the Emmy-nominated series. She didn't know, however, that Eden was going to be publicly executed for running away with a young guardian and become the catalyst for major change in the fictional dystopia.
"What kind of society kills you for running away with somebody you love when you're 15, when you're married off to some older guy who you didn't even get to choose for yourself?" Sweeney told BuzzFeed News.
Viewers were introduced to Eden in Season 2, Episode 5, when the teenager marries Nick (Max Minghella) in a public ceremony. Eden is a devout and traditional girl who's happy to join the Waterford household, but Nick doesn't show Eden any affection and isn't interested in forming much of a relationship with her.
"She wasn't getting any love or clarification from Nick and that's what she wanted, so she looked for it somewhere else," Sweeney said. "It was a very teenage decision."
In Episode 10, Eden starts an affair with Isaac (Rohan Mead), a younger guard who works at the Waterford's. When Nick sees the two kissing, he doesn't show any emotion about Eden cheating on him, even after she apologizes. Sydney says this is one of the two moments that push Eden to run away with Isaac in Episode 12, the other being when June (Elisabeth Moss) tells her, "In this place, you grab love wherever you can find it."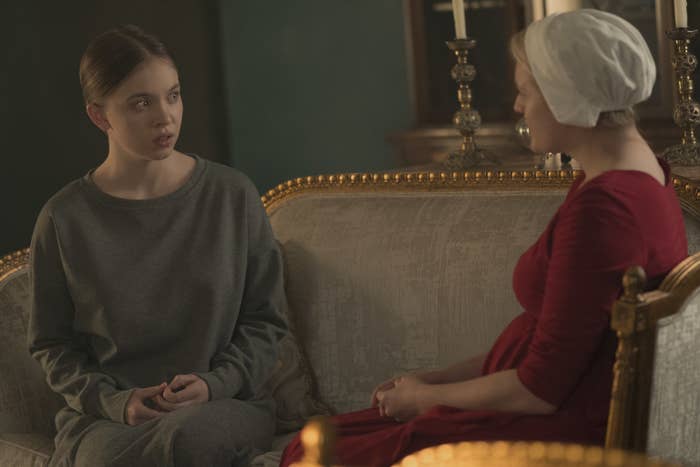 "Her own rebellion was her belief in love," Sweeney said. "Isaac wanted to run away and have a family with her, and he was going to love her and give her children. That's what she was raised to believe in and to want, so she believed she was doing right by Gilead and by God."
Cheating on your husband is considered a crime in Gilead, and instead of confessing to her sins after she and Isaac are found and turned in, Eden remains steadfast in her decision. In one of the darker scenes this season, Eden and Isaac are pushed off a high dive and into a swimming pool with balls and chains attached to their feet, killing them in front of an audience of people, including the Waterfords, June, Nick, and Eden's family.
"It was heartbreaking," Sweeney said. "Honestly, that was one of the hardest scenes for me to read and film because I completely disagree with everything Eden said, believed, and thought, so it was hard to play the part."
According to Sweeney, she and Mead went through a few weeks of training and rehearsals with scuba diving instructors who helped them practice jumping off different high dives while wearing their costumes and chains. Sweeney said it was less disturbing and sad to film the scene because of how technical it was. However, her mom, who was on set in Toronto, had a hard time watching the monitor during the scene.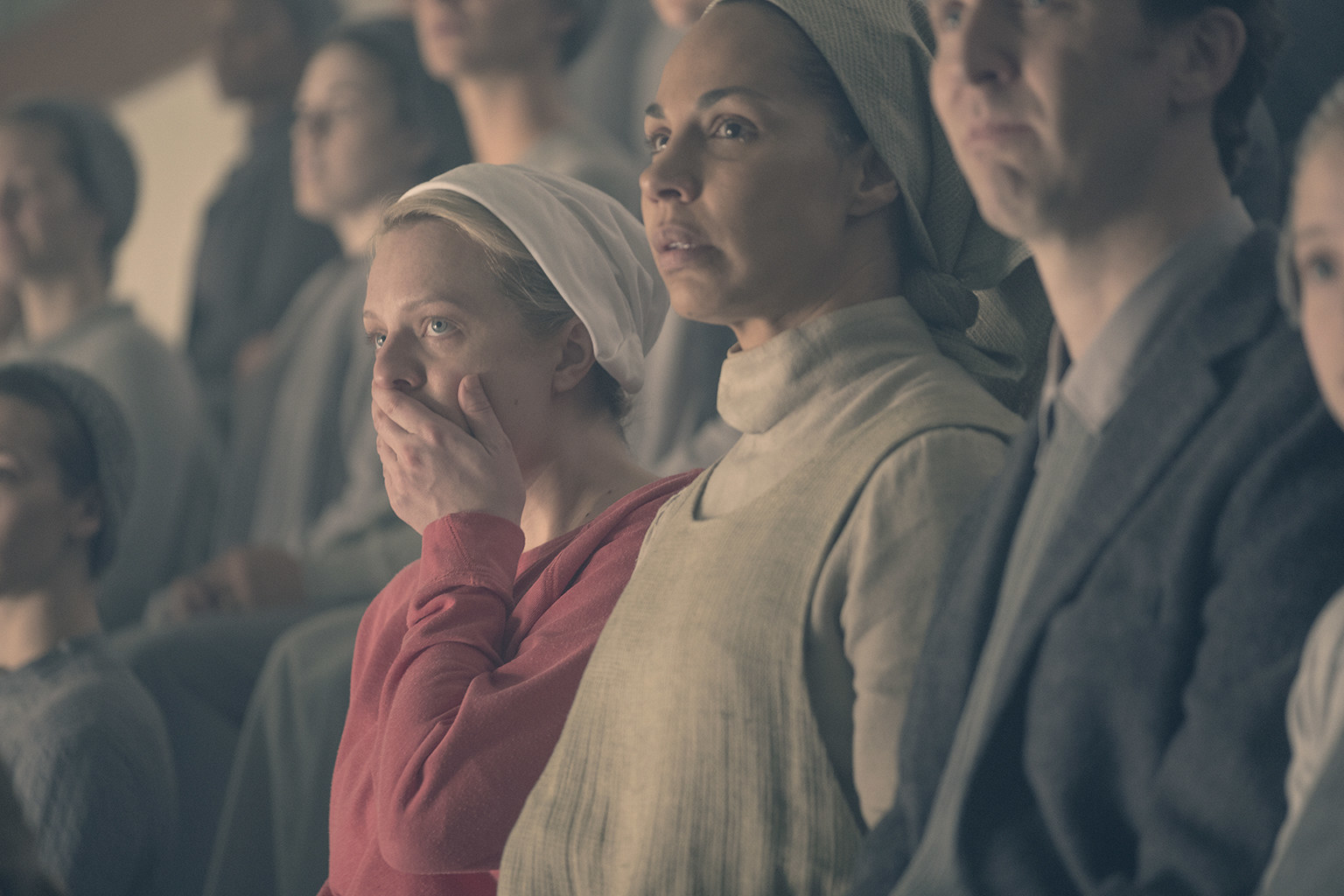 "It was hard for a lot of people to watch, including the crew the other cast members who were there," Sweeney said. "I didn't want my mom to just watch it on TV. I wanted her to be able to see the actual filming of it so that it wasn't so shocking. It was definitely heartbreaking to film and see everyone's reactions ... it did feel very real, but when we weren't filming and we cut, was everyone just taking pictures and laughing, saying, 'Poor Eden.'"
Sweeney said she believes Eden's death "will carry on throughout all the characters that were present" when she was executed, and she hopes her death is a catalyst for a bigger movement in Gilead.
"Serena, now being a mother, watched a little girl be killed off because of love," she said. "June just knowing what kind of world they live in today and that her daughters are in it, what happened to Eden is definitely going to resonate through Gilead in the next season."
The actor said she thinks it's important for a show like The Handmaid's Tale to exist because it "relates to what's going on today," referring to the current political climate.
"You never know what could happen," Sweeney said. "It's really important to see stuff on TV and in movies so that people can become aware of what could actually horribly happen."