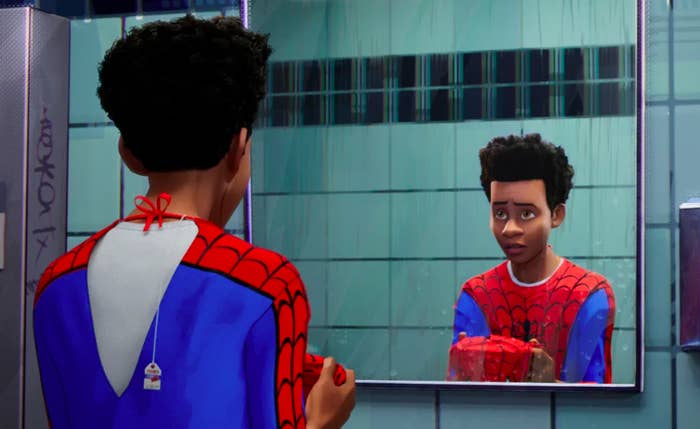 Kimiko Glenn, one of the stars behind Spider-Man: Into the Spider-Verse, praised the movie's approach to diversity as an important step forward for Hollywood.

"I mean, it's about time," said Glenn on BuzzFeed News' Twitter morning show AM to DM on Tuesday. "There are some projects that try and include people, and you know that they're trying, but this felt very organic and you just kind of fall into the story and you realize that you're connecting with these characters on a deeper level."
"I wish as a kid I had a movie like this with people to look up to," Glenn said.
Rather than paying a token tribute to diversity, the new, animated Spider-Man movie weaves diversity into its very concept. It tells the story of how Brooklyn teenager Miles Morales, voiced by Shameik Moore, becomes one of several Spider-Men who must work together to save New York City from an evil villain.
Glenn, who is also known for her work in Orange Is the New Black, stars as Peni Parker, a fan-favorite character from an alternate, anime-inspired universe.
Other actors in the film include Mahershala Ali, Jake Johnson, Zoë Kravitz, Hailee Steinfeld, and Chris Pine.
Miles is the first non-white Spider-Man in a franchise that's otherwise lacked diversity. The black-Latino character comes in the same year as Marvel Studio's wildly successful first black superhero film, Black Panther.
Not only did Into the Spider-Verse follow Black Panther's groundbreaking representation of people of color in superhero films, but it was also a hit at the box office, earning $35 million in its opening weekend. The movie received rave reviews from both fans and critics, even scoring a 97% rating on Rotten Tomatoes.
"The takeaway here is anybody can be Spider-Man — and that's a revolutionary idea for a generation of kids eager to identify with Marvel's most popular superhero," Variety wrote about the film.

Glenn said movies this year like Into the Spider-Verse, Crazy Rich Asians, and To All the Boys I've Loved Before made her feel like Hollywood has taken a positive turn toward representation onscreen for Asian American stories.
"I'm so thankful because I was like, when is it going to happen for Asian people?" Glenn said. "Because for the longest time, it's, like, inclusive of a bunch of different communities that should be included, but I don't know if it's gonna happen for us or when."
"I've been told so many times in my career, 'There's no market for Asian people,'" she said, "and that's heartbreaking."