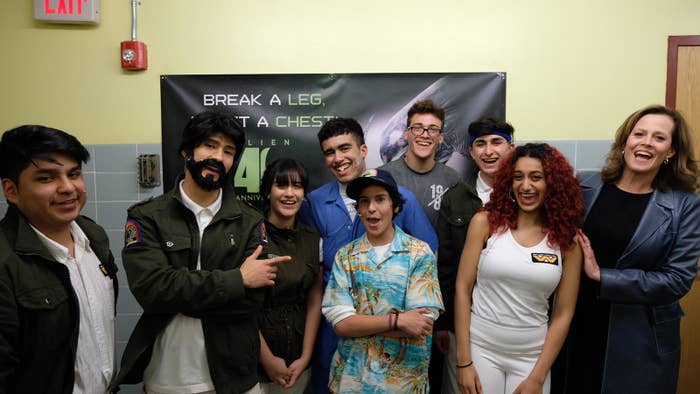 Sigourney Weaver, who plays the iconic role of Ripley in the Alien movie franchise, surprised students at a New Jersey high school Friday night as they restaged a play based on the sci-fi film, images of which went viral last month.
After students at North Bergen High put on a highly talked-about production, Alien the Play, photos of their sets and costumes made from recycled material went viral after getting posted online.
The show's art director, the high school's art teacher Steven Defendini, previously told BuzzFeed News that the cast and crew didn't "have really any budget," so students were forced to be creative with their resources.
Astronaut costumes were created from moving blankets, while the helmets were made by combining floor-mat foam and bottle caps. One of the sets, which is supposed to be a computer room, was even made from egg-crate inserts.
The result was truly spectacular.
After the project received lots of positive feedback around the internet, the director of the original film, Ridley Scott, gave $5,000 to the high school to restage the play with a bigger budget.
And Weaver surprised the cast by stopping by the encore performance.
In a video posted to Twitter on Friday night, Weaver is seen walking down a school hallway unannounced, and once students recognize her, they appear shocked and start cheering for their honored, unexpected guest.
After she hugs one student, everyone breaks into a round of applause.
"I am representing all of the Alien fans all over the universe who think what you're doing is so cool and so important," Weaver said to the students.
Another video shows one student yelling, "I love you; you're my childhood hero! I can't believe you're here right now!" before hugging Weaver.
"Our performance of Alien really shows you can do so much with so little," Defendini previously told BuzzFeed News. "And as long as there is a passion there to do these things, they are possible."