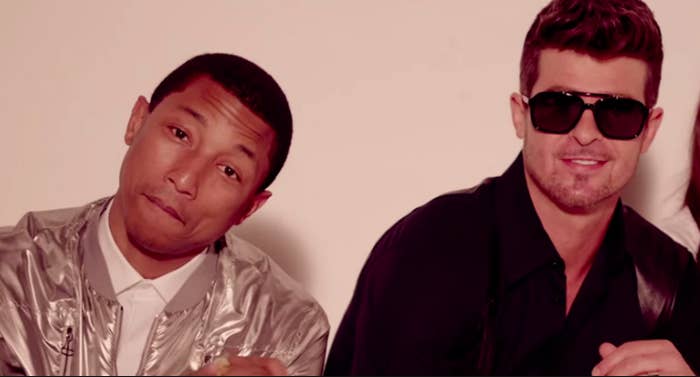 Robin Thicke and Pharrell Williams have been ordered to pay almost $5 million to Marvin Gaye's family after a five-year copyright lawsuit over their 2013 hit song "Blurred Lines."
The late singer's family accused the two artists of copyright infringement, saying their single plagiarized from Gaye's "Got to Give It Up" from 1977.
In August 2013, Thicke and Williams originally filed a federal lawsuit against Gaye's estate because the family was commenting on the similarities between "Blurred Lines" and "Got to Give It Up." The claim said the Gaye family was calling common musical elements between these two songs copyright infringement.
Back in 2015, Thicke and Pharrell were ordered to pay more than $7 million to Gaye's estate. After the artists appealed this decision, the amount was lowered to $5.3 million.
California US District Judge John A. Kronstadt oversaw the most recent and final decision on Dec. 6.
Under his order, Gaye's family will receive a breakdown of about $2.9 million from Thicke, Williams, and Williams' More Water From Nazareth Publishing Inc.; $1.7 million from Thicke; and an additional $357,631 from Williams.
Gaye's family estate has also been ordered to receive a running royalty of 50% of the songwriter and publishing revenue on "Blurred Lines."
Representatives for Thicke, Pharrell, and Gaye's family didn't immediately respond to BuzzFeed News' request for comment.