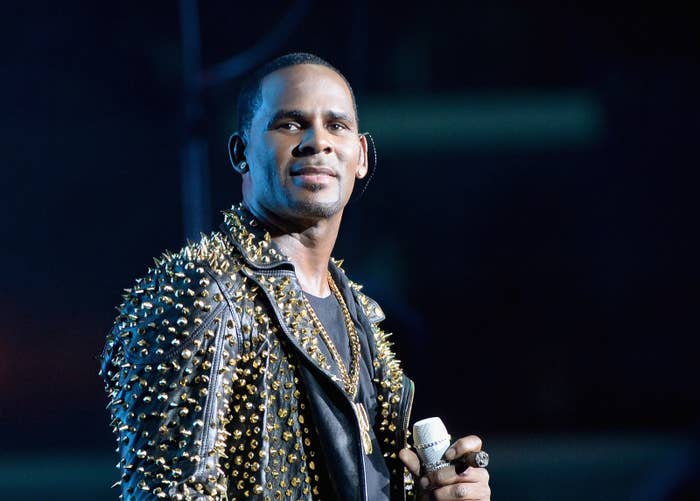 R. Kelly released a new, 19-minute song on Sunday night in which he addresses the sexual abuse allegations made against him, as well as a number of other controversial topics.
In the song, titled "I Admit," Kelly says, "Said I'm abusing these women, what the fuck that's some absurd shit / They're brainwashed, really? / Kidnapped, really? / Can't eat, really? / Real talk, that shit sound silly."
He goes on to say, "And if you really, really wanna know / Her father dropped her off at my show, / And told this boy to put her on stage / I admit that she was over age / I admit that I was feelin' her and I admit that she was feelin' me / I admit that that's the shit that comes with being a celebrity / I ain't chasing these ladies, no / These ladies are chasing me, yeah / Now I'm only saying all this shit, 'cause how they tryna play me, yeah / I admit that this is no disrespect to the parents / But this is my advice to you 'cause I'm also a parent / Don't push your daughter in my face, and tell me that it's okay / 'Cause your agenda is to get paid, and get mad when it don't go your way."
Kelly also discusses allegations of pedophila when he says, "I admit I fuck with all the ladies / that's both older and young ladies / But tell me how they call it pedophile because that shit is crazy."
In July 2017, parents told BuzzFeed News they went to police because Kelly was holding their daughters against their will in an abusive "cult," saying these women were brainwashed into staying with the artist despite his treatment of them. Three former members of Kelly's inner circle also told BuzzFeed News that six women live in Chicago and Atlanta properties rented by Kelly and he controls what they wear, what they eat, when they sleep and bathe, and how they engage in sexual encounters that he also records.

The musical artist specifically called out Chicago-based reporter Jim DeRogatis who has covered R. Kelly's abuse allegations since 2000, including for BuzzFeed News. "To Jim DeRogatis, whatever your name is / You been tryna destroy me for 25 whole years / Writing the same stories over and over agains / Off my name, you done went and made yourself a career."
"I've done plenty I'm proud of, and if this story has made me rich, that's news to me," DeRogatis told BuzzFeed News in a statement.
"But I have spoken to dozens of young women during 18 years of reporting, and many say their lives allegedly were ruined by sexual relationships with a superstar who's sold 65 million albums during that time," he added.
Kelly also says in the song that a family member "touched" him "from a child to age 14." Also saying, "While I laid asleep, took my virginity, so scared to say something, so I just put the blame on me."
Singer Aaliyah, who was married to Kelly when she was 15 years old, is also mentioned in the song. Kelly says, "She said, 'What about Aaliyah said?' / Love / She said, 'What about the tape?' / I said hush / I said my lawyer said, 'Don't say noth' / But I can tell you I've been set up."
Back in May, music streaming service Spotify said it would no longer promote Kelly's music in its playlists or anywhere else on its platform, but after receiving backlash, Spotify quickly reversed the policy. When reached, a representative for Spotify declined to comment.
"Spotify took me off they playlist / I admit that I been underrated / I'm not convicted, not arrested, my dragged my name in the dirt," Kelly said in the song.
After releasing the song, Kelly started trending on Twitter.
People had a lot to say about the artist's new track, which many are considering a statement and not a song.
BuzzFeed News has reached out to representatives for R. Kelly and Sony for comment.