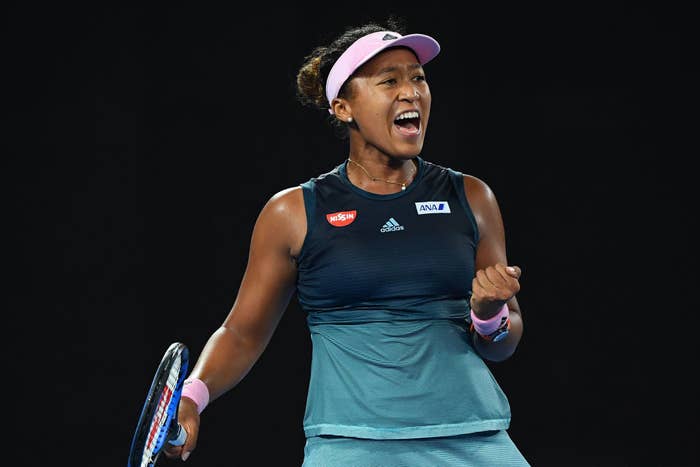 Tennis star Naomi Osaka said she won't be doing any news conferences at the upcoming French Open in order to protect her mental health — even if it means she'll have to pay a fine.
Osaka, who is the second-ranked women's player in the world, made the announcement on Wednesday, saying in an Instagram post and on Twitter, "I've often felt that people have no regard for athletes mental health and this rings very true whenever I see a press conference or partake in one."
The four-time Grand Slam winner said that during news conferences, athletes are "asked questions that we've been asked multiple times before or asked questions that bring doubt into our minds and I'm just not going to subject myself to people that doubt me."
"I've watched many clips of athletes breaking down after a loss in the press room and I know you have as well," Osaka added. "I believe that whole situation is kicking a person when they're down and I don't understand the reasoning behind it."
Accompanying Osaka's message are two video clips: one of Venus Williams being interviewed when she was 14 years old and her father interjecting when a reporter asks her why she's confident she'll win her upcoming match, and another of NFL player Marshawn Lynch answering every reporter's question with the same response: "I'm here so I won't get fined."
"Me not doing press is nothing personal to the tournament and a couple journalists have interviewed me since I was young so I have a friendly relationship with most of them. However, if the organizations think that they can just keep saying, 'do press or you're gonna be fined', and continue to ignore the mental health of the athletes that are the centerpiece of their cooperation then I just gotta laugh," Osaka said.
ESPN reported that pro tennis players can be fined up to $20,000 for skipping a news conference at a major tournament. A representative for the French Tennis Federation, which runs the upcoming open, could not immediately be reached for comment.
"Anyways, I hope the considerable amount that I get fined for this will go towards a mental health charity," Osaka said in her statement.

In May 2020, Forbes named Osaka the highest-paid woman athlete of all time, reporting that between 2019 and 2020 she set a calendar year record earning of $37.4 million, beating Serena Williams by $1.4 million.

Immediately following Osaka's Instagram post, Venus Williams commented, "Girl, do you. Your life is yours to live!"