The Head Of The Mrs. America Pageant Has Been Accused Of Using Racial Slurs
David Marmel is denying the accusations, which he said may be "reverse racism."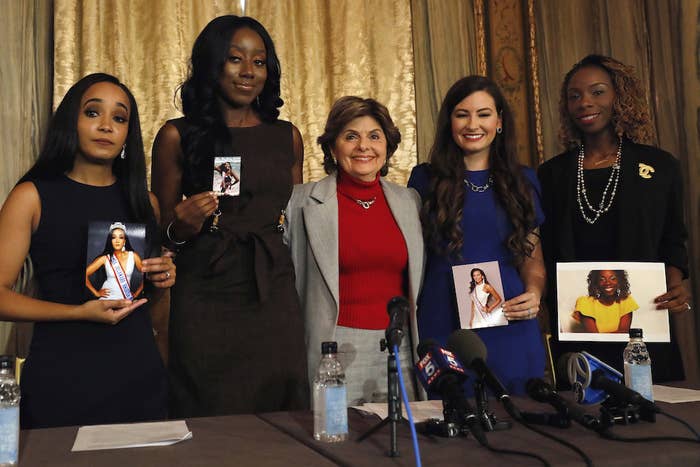 David Marmel, the president and CEO of the Mrs. America pageant, has been accused of making offensive and racist comments about black people by four former contestants.

Kimberly Phillips, Brandy Palacios, Crissy Timpson, and Jeri Ward held a press conference with attorney Gloria Allred on Monday and described comments they said Marmel made at a party last August in Las Vegas before the televised competition. Phillips, Palacios, and Timpson said they were involved in the conversation with Marmel, while Ward said she overheard it from the next table.
According to the three former contestants who sat with Marmel, the beauty pageant founder said that black women should stop having children with separate fathers and that all black men are incarcerated for selling drugs and killing one another.
Marmel also allegedly said the owners of Ebony magazine were the most racist people he had met because they used the n-word with one another, although he allegedly used the racial slur himself in recounting the story.
According to Palacios, he then rolled up his sleeve and put his arm next to hers to compare their skin tones.

The Mrs. America organization, a beauty pageant for married women, didn't immediately respond to BuzzFeed News' request for comment.
Marmel confirmed to NBC News that he did have a conversation about race with the three contestants in August, but he said his comments were mischaracterized.
He called their statements "ugly" and "false" and told NBC News he questioned if the accusations made against him were "reverse racism."
He acknowledged to the Guardian that he had used the n-word with the women but said it was during a conversation in which he recounted the abuse from crowds that he experienced as a Jewish baseball player along with his black teammates in his youth.
"For them to twist that into me using that slur as some sort of epithet is disgusting and says something about them," he said.
According to Allred, the former contestants do not want to sue Marmel. She said they wanted an apology and for the pageant to initiate sensitivity training when it comes to racial biases.
"They simply want the Mrs. America pageant to be a place where everyone is respected, is treated equally, and feels safe," Allred said.