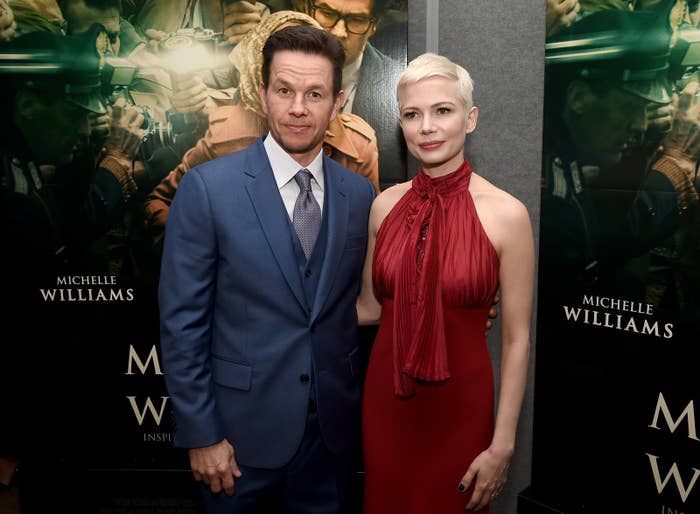 Michelle Williams, who stars with Mark Wahlberg in the Golden Globe–nominated All the Money in the World, was reportedly paid an eighth of Wahlberg's salary for her role in the film. According to the Hollywood Reporter, Williams earned $625,000 for working on All the Money in the World, while her costar, who had the same amount of screen time, collected $5 million.
Discussions first arose about Williams' and Wahlberg's salaries for their work on All the Money in the World after USA Today reported that Williams had been paid an $80 per diem for reshoots on the film, which amounted to about $1,000, and Mark Wahlberg had been paid $1.5 million. The film originally featured Kevin Spacey, but after sexual assault allegations mounted against the actor in October, production decided to reshoot Spacey's scenes, replacing him with Christopher Plummer.
In response to the public outcry about the actors' pay discrepancy, Wahlberg released a statement promising to donate his $1.5 million to the Time's Up organization. "Over the last few days my reshoot fee for All the Money in the World has become an important topic of conversation," he wrote. "I 100% support the fight for fair pay and I'm donating the $1.5M to the Time's Up Legal Defense Fund in Michelle Williams' name."
Williams also released a statement, saying, "Today isn't about me. My fellow actresses stood by me and stood up for me, my activist friends taught me to use my voice, and the most powerful men in charge, they listened and they acted. If we truly envision an equal world, it takes equal effort and sacrifice. Today is one of the most indelible days of my life because of Mark Wahlberg, WME and a community of women and men who share in this accomplishment. Anthony Rapp, for all the shoulders you stood on, now we stand on yours."
Williams and Wahlberg are both represented by the William Morris Endeavor agency. WME also pledged to donate $500,000 to the Time's Up Legal Defense Fund.
In 2017, Forbes reported that Mark Wahlberg was the highest paid actor in the world, with a grand total of $68 million in earnings before taxes. Last year he appeared in All the Money in the World, Transformers: The Last Knight, and Daddy's Home 2.
BuzzFeed News has reached out to representatives for Williams, Wahlberg, All the Money in the World director Ridley Scott, and the William Morris Endeavor agency for further comment and confirmation.