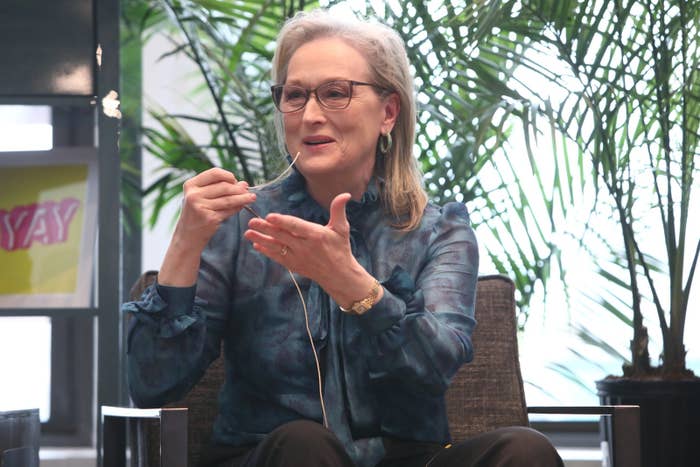 Meryl Streep said Tuesday she thinks that if more women were in positions of power in Hollywood, then the industry would not have tolerated or enabled the behavior of influential alleged predators like Harvey Weinstein.
"If the boards of the company were half female, there wouldn't ever have been payoffs to anybody," Streep said at a panel at the BuzzFeed News office in New York City. "None of this — the shenanigans wouldn't have occurred."
Steep also said Hollywood's media "has often been silly and shills for the powerful — but that's just like in the world."
The Oscar-winning actor, who was joined at the panel by The Post director Steven Spielberg and costar Tom Hanks, said there should be a 50/50 division of women and men at the highest levels of companies across all industries.
"I think right now, there are a lot of opportunities in at the bottom, and then you get up to the middle level of management. But at the top level, the same rules generally adhere," she said. "[Women] are at 17–20% of the boards. That's pretty much anything, from the Senate to the Supreme Court to probably here."
Streep said it's important for more women to be at decision-making levels because "everything filters down from there."

The Golden Globe–nominated The Post tells the story of Washington Post publisher Katharine Graham (Streep) and editor-in-chief Ben Bradlee (Hanks) and their decision to print the top-secret Pentagon Papers detailing the US government's information about the Vietnam War.

When Graham assumed control of the newspaper in the 1960s it was at a time that, Streep said, "women were thought of as lesser creatures." More than half a century later, the actor thinks that is "slightly true."
Recounting her recent flight to New York to promote the film, Streep said passengers were surprised to discover their pilot was a woman. "There was just the slightest shift, in first class, from not just the men," the actor said.
"It's just that little bit of … that still exists. It exists with our discomfort."
Streep said gender bias is still prevalent among both older and younger men in the workplace, and that the issue of equality won't be an easy fix.
"I still deal with it at the level I've achieved, which is insane," she said. "But we'll all still deal with it because human history moves in increments: two steps forward, one step back."