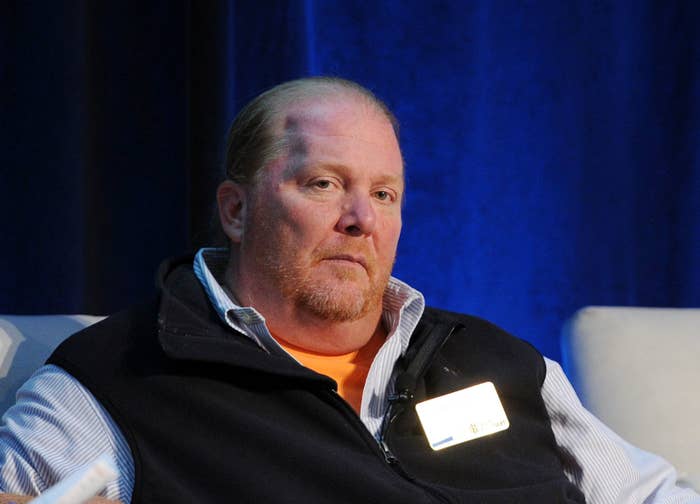 The NYPD confirmed to BuzzFeed News they're investigating Mario Batali for an alleged 2015 sexual assault.
On 60 Minutes on Sunday, a woman who appeared on camera but concealed her identity told Anderson Cooper that in 2015 Batali invited her to a party at one of his restaurants, the Spotted Pig, and the next morning she woke up on the floor with scratches on her leg and semen on her skirt. The woman, who was a waiter at another one of Batali's restaurants, Babbo, at the time, said she believes she was drugged. She said she remembers sitting on Batali's lap, him kissing her, and then her vomiting.
When she showed up at work the next day, the woman said she confronted Batali. "I asked him, 'What...what happened last night?' And he just was silent, wouldn't talk to me," she told 60 Minutes.
The former waiter said she had a rape kit taken at a hospital and that she reported the incident to police but didn't file a complaint.
"They tried getting me to file a report. They tried, they tried," she said. "But I— you know, a young actress, no resources, no money ... I couldn't do it."
"I vehemently deny any allegations of sexual assault. My past behavior has been deeply inappropriate and I am sincerely remorseful for my actions," Batali said in a statement to BuzzFeed News.
"I am not attempting a professional comeback. My only focus is finding a personal path forward where I can continue in my charitable endeavors — helping the underprivileged and those in need."
In December, Batali was also accused of sexual misconduct by multiple women, resulting in his firing from ABC's The Chew and him stepping away from the day-to-day operations of his businesses.



CORRECTION
The name of the ABC cooking show The Chew was misspelled in an earlier version of this post.