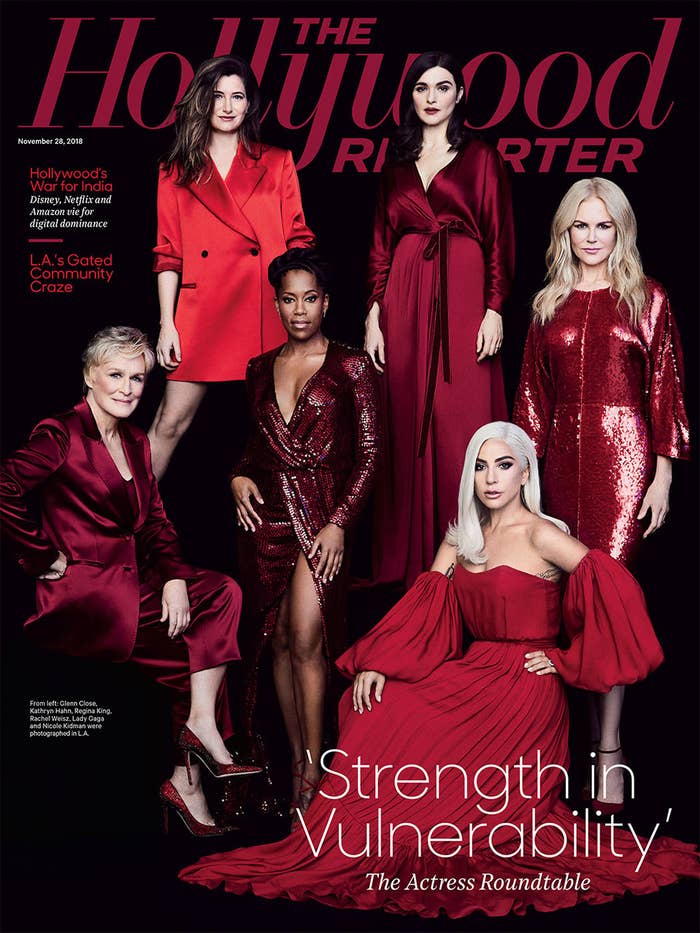 Lady Gaga, who stars as Ally in the 2018 remake of A Star Is Born, said she's optimistic about the future of the #MeToo and Time's Up movements in a recent roundtable interview with the Hollywood Reporter.
"That's what is so exciting with the #MeToo movement and Time's Up, to see men coming to stand by our side and say, 'We want you to be loud. We want to hear your voices,'" Lady Gaga said.
"It's really remarkable."
Lady Gaga was joined by Glenn Close, Kathryn Hahn, Nicole Kidman, Regina King, and Rachel Weisz in the Hollywood Reporter roundtable, an annual interview for the magazine.
The actor said she was about 19 years old when she entered the music business and that "it was the rule, not the exception, that you would walk into a recording studio and be harassed."
"It was just the way that it was," she said.
Despite having spoken up about being sexually assaulted when she was younger, Lady Gaga said that the "boys club" in place protected people from being on the receiving end of repercussions for their actions.
"Nobody wants to lose their power, so they don't protect you because if they say something, it takes some of their power away," she said.
"What I hope is that these conversations come together — that it's not just about equal pay on one side … or equal billing over here … and then assault on this side. But that it all comes together and that this movement is all of those things."
Nicole Kidman also chimed in, saying that she enjoys working with young women who are getting their start in the acting business so she can offer help and guidance.
"I say, 'Ask me anything and I'll answer. Ask me anything financially. If you need advice, just ask. I can only tell you what I advise and you might take it or leave it. But it's nice to have access to information,'" Kidman said.
"It's hard, especially if you are very young in this industry starting out, because you are trying to be good and obedient and to not be troublesome. But it's lovely to have a bunch of people that go, 'Come ask us. We've got some experience and we're willing to share it.'"