Justin Baldoni has starred on the CW's Jane the Virgin for the past four seasons, and now with the premiere of the fifth and final season just a few weeks away, the actor told BuzzFeed News that fans "might throw your phones...or you'll drop your phone" in reaction to the upcoming episodes.
"It's going to be a lot of those kinds of moments, like, 'No! Yes! No! Yes!'" Baldoni said on BuzzFeed News' Twitter morning show AM to DM.
"I think fans can expect a full and happy season with a lot of drama and a nice ending."
When viewers left off with Jane the Virgin last April, the shocking Season 4 finale revealed (SPOILER!!) that Jane (Gina Rodriguez)'s former husband/love of her life Michael (Brett Dier) has made a surprise return to their lives after everyone thought Michael had died halfway through Season 3.
"I didn't always know it was going to happen, but I knew there was a possibility because it's a telenovela," Jane the Virgin creator Jennie Snyder Urman told BuzzFeed News of the twist.
There are some theories that even though fans saw Michael onscreen, the character might be his evil twin, someone else pretending to be Michael, or maybe he even has amnesia. Urman pointed out that since the evil villain Sin Rostro is involved in Rafael finding Michael, "you never know" what's possible.
But fans will at least have some questions answered when the next season premieres on Wednesday, March 27.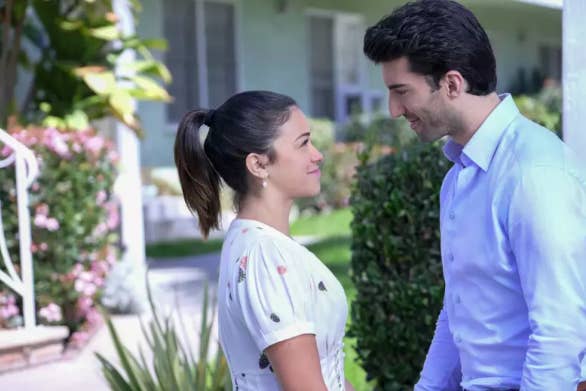 "It's been such a joy to play Rafael," Baldoni said of his time on the show. "This guy is such a huge part of me and to see his growth as a man as kind of I've been growing as a man."
"It's just a really a cool chapter in my life," he said. "I became a parent at the same time as he did and it's just been really special."
When asked if he wants to see Jane and Rafael end up together happily ever after, Baldoni confirmed he's Team Rafael because he thinks the couple "make each other better."
"I also love what Jane does to Rafael. She challenges him and she pushes him and he wants to be a better man because she's in his life," Baldoni said.
"I think that the right person is a mirror to you and never lets you settle and pushes you to be the best version of yourself, and I think they do that for each other, which is why I think it's a great love story."