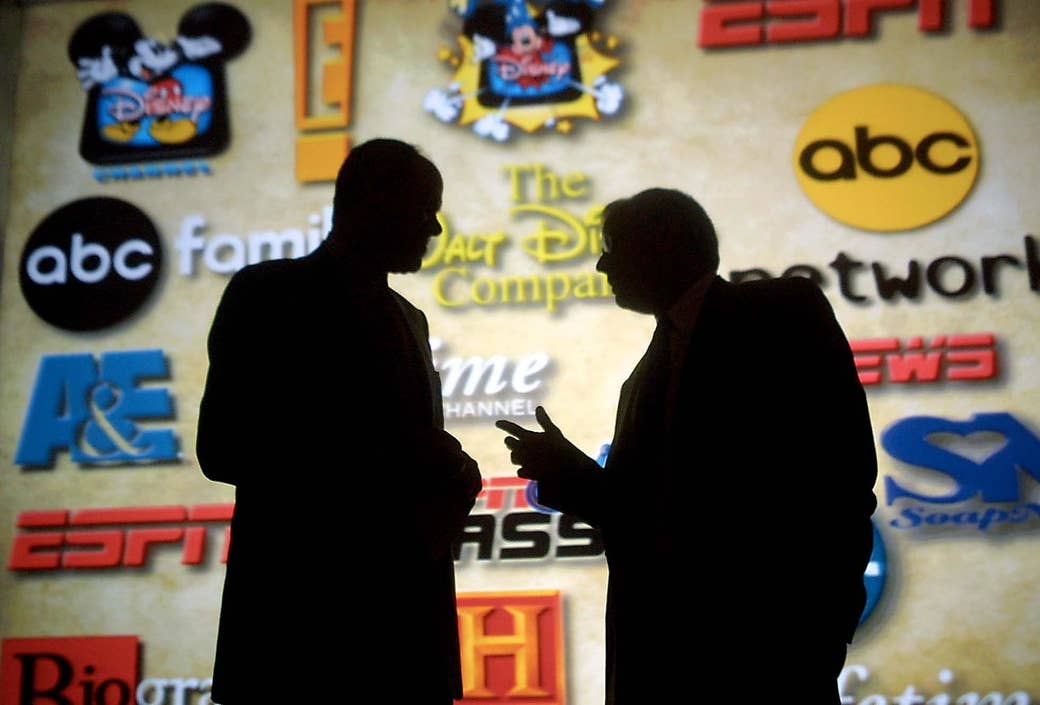 Not long after Disney barred the Los Angeles Times from advance screenings because it wasn't happy with an investigative series published about it in the paper, the company announced that it plans to expand its empire with the purchase of 21st Century Fox. Although the entertainment powerhouse eventually lifted the ban on the Times after the backlash from journalists, publications, and film critics, heading into the new year, many are worried that their already fragile relationship with the company will lead to even less access.
"They'll have more control over more things, so if they decide they don't like what you wrote and want to ban you from their screenings, eventually that will mean all of entertainment," one film reporter told BuzzFeed News. "For journalists and reporters trying to do their job, it is frightening to see the scope of one company expand in that way and know that your fate is kind of tied up with them."
BuzzFeed News spoke to a dozen entertainment reporters, film critics, and journalists who cover film and television about how Fox's sale to Disney would impact their jobs. The majority of them wanted to remain anonymous because of concerns about ramifications from Disney. (When reached by BuzzFeed News, a spokesperson for Disney had no comment.)
"Just the fact that I feel more comfortable talking to you anonymously indicates how much extreme power Disney has," one reporter said.
Disney's purchase, which will cost a total of $52.4 billion in stock, has added to its status as a titan in the film and TV industry. But the news prompted a lot of discussion, especially from reporters and critics, about how Disney's acquisition of the 20th Century Fox film and TV studios — as well as a number of cable properties like FX, not to mention a significant share in Hulu — would have a considerable effect on the entertainment industry in a number of ways.
"It is frightening to see the scope of one company expand in that way and know that your fate is kind of tied up with them."
Jason Bailey, the editor of Flavorwire, told BuzzFeed News that he thought the way Disney treated the LA Times was "absolutely chilling" and he fears this will only grow more common once Disney takes over 21st Century Fox.
"The idea of a major, multinational conglomerate being that petty and vindictive and really engaging in an act of retribution against an outlet, and against reporters who had nothing to do with the thing that they were angry about, gave some insight into the length they were willing to go against anyone who didn't toe the Disney company line," Bailey said.
"It's very worrisome, and is more worrisome if they're in control of this much more of the entertainment industry."
The probable merger means Disney would gain control over even more properties, and journalists would have to go through their team for even more access and coverage. "If you're in good with their publicists, then you can get access to everything," one entertainment reporter said. "If you know you're going to write something that's going to make them mad, you have to consider what the larger ramifications are going to be."
Some reporters noted that this is not a problem specific to Disney, but that in the world of entertainment journalism, your relationships with press representatives determine your access to interviews, film screenings, set visits, and other means of coverage. Future press opportunities, they said, are dependent on how favorable your coverage has been of past films, television shows, and other news related to the company.
"As a critic, I've had Disney tell me they don't want to invite me to a film because I didn't like the last one," another film critic said. "It really scares me to watch them get even more power."
A freelance critic and member of the New York Film Critics Circle told BuzzFeed News they were troubled by the idea of the Disney–Fox deal, and specifically brought up concern regarding Disney's control of properties.
"There are currently six major studios, and then there are all the smaller ones, and the one that I like dealing with the least is Disney," the critic said. "I would compare them to the Vatican in that way. They have their rules, they do things their way, and if you don't like it then take a hike, because they have the product in which there is the most market interest."
One film writer pointed out that movie screenings and interview access to actors who are involved with the studio "aren't exactly First Amendment rights," but also said the way Disney barred the LA Times "definitely continues to give me pause."
"I personally worry that a studio this big will need the press less and less. I don't think anything drastic will change immediately, but I think it is more important than ever for entertainment reporters to uphold journalistic values," the writer said. "We are not their PR arms, no matter how much they'd like us to be."
There were a couple of reporters who believed that the Disney and Fox merger wouldn't necessarily make matters any better or worse for people who cover the entertainment industry.
"We are not their PR arms, no matter how much they'd like us to be."
"I don't have any fears now that Disney is going to be a bigger company [that] there's more at risk or I'm going to get less access," one reporter said. "If you're in with Disney, you're in with Disney, and if you're out, you're out."
Eric Kohn, deputy editor and chief film critic for Indiewire, said he's not necessarily afraid of the Disney and Fox consolidation, but that he is concerned on some level because of the recent LA Times barring.
"We've already had this reality check when it comes to situations in the White House and that level of power," he said. "What this makes clear is it's also happening on the level of corporations, where there is an agenda that is seen as being even greater than whatever kind of ethical standards we apply to journalism."
Kohn also said that he hopes the LA Times situation serves as a reminder to people that we shouldn't take freedom of speech for granted, and that entertainment reporters and consumers learned from that experience, as well as Disney.
"It's less about what is Disney going to do and more about what do we want them to do, and are we going to get what we want when we push back," Kohn said.
While there are some people in entertainment journalism who have not voiced major concerns, the majority of reporters and critics who spoke to BuzzFeed News expressed at least some worry about what Disney would do with even more power than it already has.
"We've seen a pattern in Disney's behavior," an entertainment reporter said. "The more power they have, the more they wield it."
"That amount of power feels like it's being put in the hands of people who don't know what to do with it or how to appropriately respond to stories they don't like," another entertainment writer said. "Because those stories are going to keep on coming."