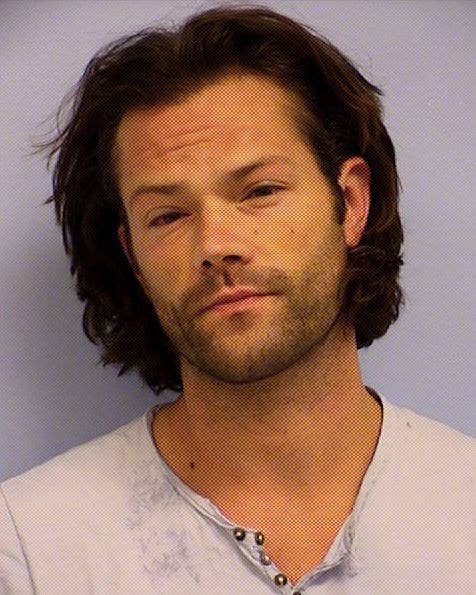 Supernatural star Jared Padalecki has spoken out for the first time since being arrested and charged with assault last week in Texas.
"I want to sincerely thank my family and friends for all of your love and support," Padalecki tweeted on Sunday.
The actor, who was scheduled to appear at the Supernatural Official Convention in Washington, DC, over the weekend, added: "So sad to miss the #SPNFamily at #dccon but I hope to see y'all soon. ❤️"
Early in the morning on Oct. 27, Padalecki was arrested on suspicion of assault after allegedly getting into a fight at the bar he owns in Austin. Police told BuzzFeed News that officers were called to the bar, Stereotype, after 2 a.m. and arrested the 37-year-old actor, also of Gilmore Girls fame, for allegedly hitting two employees in the face after starting a verbal argument.
TMZ posted a video of Padalecki that shows him putting another man in a headlock on a sidewalk outside the bar. He then lets go and raises his hands in the air. The video also shows the actor getting into the back of a police car.
Although Padalecki did not attend the Supernatural Official Convention over the weekend, his costar Jensen Ackles addressed the crowd about the arrest.
"We all miss my big, dumb friend," he said. "And I'll just say it now, look, he had a bad weekend last weekend. He's dealing with what he's gotta deal with. So just send him some support and love."
Ackles reassured fans that Padalecki is "doing fine and sends his love." He also said that when Padalecki returned to set last Wednesday, they made a joke about the arrest and Ackles "brought him in in handcuffs."
"We're having fun with it," Ackles joked. "The crew really wanted to wear orange jumpsuits, but we couldn't get them in time."
Representatives for the CW and Padalecki have not responded to BuzzFeed News' requests for comment.