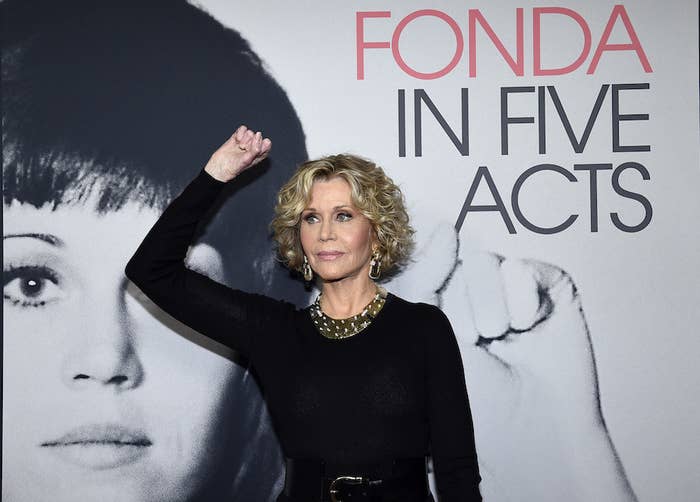 While promoting her new HBO documentary, Jane Fonda in Five Acts, Jane Fonda recently said men who have been accused of sexual harassment in Hollywood need to be fully rehabilitated before entering the workforce again.
"If they haven't gone through the changes, then why should they come back?" Fonda said. "If you can't learn, you don't belong in the boardroom. There's plenty of women who do belong in the boardroom."
According to the Hollywood Reporter, Fonda answered questions about the #MeToo movement and men in the entertainment industry who've been accused of sexual misconduct at a press event in New York City on Thursday.
Last month, comedian Louis C.K. returned to standup comedy for the first time after admitting to sexual misconduct in November 2017. This sparked a conversation about the redemption of men in Hollywood who have been accused of sexual harassment, assault, and misconduct.
Fonda specified that "it doesn't matter how much time" an accused entertainer takes away from Hollywood. "It depends on what the guy is doing."
"There are tools to help men become empathetic. You know, the big problem is that empathy is anathema to the social paradigm we live in called patriarchy," Fonda said. "Men are trained not to be empathetic."
Fonda also brought up journalist Charlie Rose as an example of someone who hasn't "done the work."
CBS and PBS fired Charlie Rose in November 2017 after eight women accused the television host of sexual misconduct. Rose has since said that he thinks his accusers are "exploiting" the #MeToo movement.
She acknowledged that the process is not going to be an easy one but that men have to make the effort.
"So it's not easy what they're trying to do, but they have to try to do it. So it doesn't matter if it takes two weeks or a year, two years, it depends on what kind of changes they've gone through."