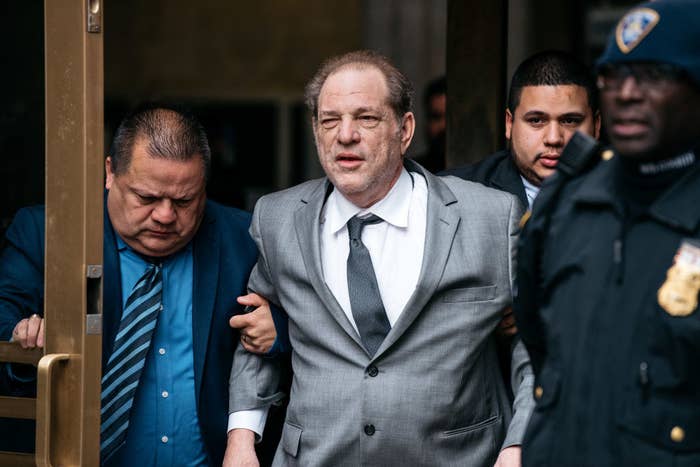 After Harvey Weinstein was found guilty on Monday for raping a woman and sexually assaulting another woman, members of Hollywood are speaking out about his conviction.
More than 80 women have accused Harvey Weinstein of sexual harassment and assault since the groundbreaking New York Times and New Yorker investigations were published in October 2017. The former film producer has repeatedly denied the accusations.
Actor Mira Sorvino, who accused him of sexual harassment, tweeted, "The beginning of #justice. More to come, my sisters. #weinsteinguilty."
She said that in 1995 while she was promoting the film Mighty Aphrodite, which was produced by Miramax, Weinstein's then-company, he had invited her to his hotel room and massaged her. Director Peter Jackson, known for the Lord of the Rings and Hobbit trilogies, said he didn't cast Sorvino or Ashley Judd in his films because of advice that Weinstein gave him.
"I recall Miramax telling us they were a nightmare to work with and we should avoid them at all costs," Jackson said.
Judd, who also accused Weinstein of sexual harassment, tweeted on Monday, "For the women who testified in this case, and walked through traumatic hell, you did a public service to girls and women everywhere, thank you. #ConvictWeinstein #Guilty."
Judd accused Weinstein of inviting her to his hotel room, offering to massage her, and then asked her to watch him shower. She said he then derailed her career, discouraging directors and other Hollywood filmmakers from working with her.
Rosanna Arquette, who also accused Weinstein of sexual misconduct, tweeted that she's thankful to the people who testified and played a role in putting the former producer in jail.
"Gratitude to the brave women who've testified and to the jury for seeing through the dirty tactics of the defense," she wrote. "We will change the laws in the future so that rape victims are heard and not discredited and so that it's easier for people to report their rapes."
Top Chef host Padma Lakshmi said she's "hoping for consecutive sentences."
"Harvey Weinstein is now a convicted rapist," she wrote. "If there's a man who doesn't deserve bail, it's him."
And Mariska Hargitay, best known for her role on the NBC drama Law & Order: Special Victims Unit, tweeted that the Weinstein case "represented some of the ugliest behavior I have seen in the criminal justice system."
Filmmaker Judd Apatow added to the chorus of people tweeting about Weinstein's conviction. "Don't forget Harvey Weinstein faces four more charges in Los Angeles," Apatow wrote. "This is just the beginning of holding him accountable."
Rosie O'Donnell tweeted in celebration, "Oh happy day - off to the pokey #HarveyWeinsteinGuilty."
Bail for Weinstein was revoked Monday, and he was immediately sent to jail until his sentencing on March 11.