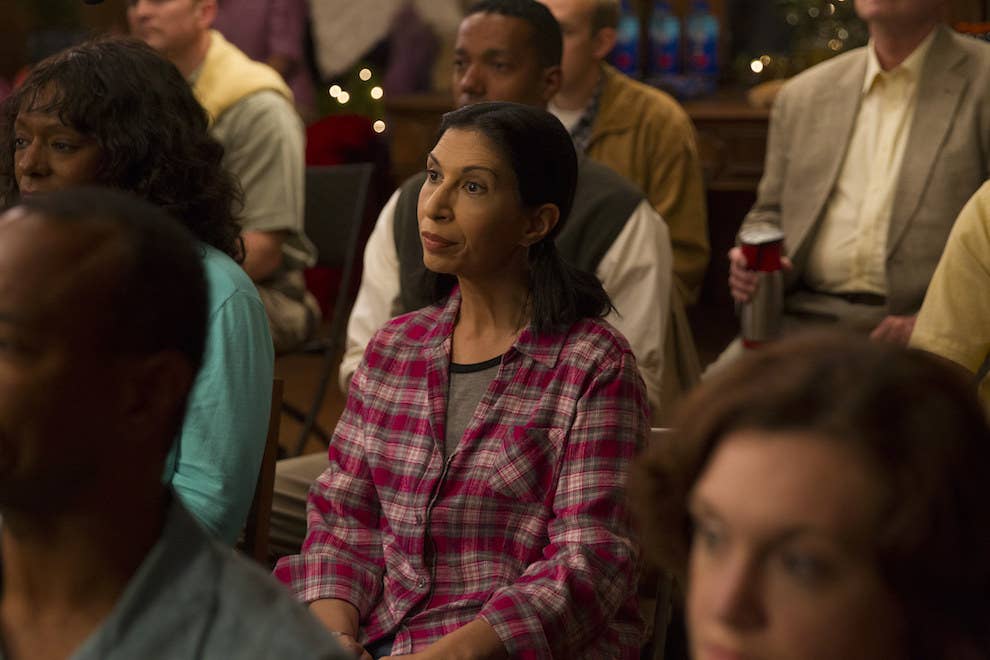 KENT, Connecticut — After playing Stars Hollow's beloved car mechanic, Gypsy, on the seven original seasons of Gilmore Girls, Rose Abdoo took on another role and surprised fans by disguising herself in the 2016 Netflix revival. In Gilmore Girls: A Year in the Life, Emily Gilmore (Kelly Bishop) finally found a maid, named Berta, who she liked enough to keep around the house beyond a couple of Friday night dinners, and Abdoo was discreetly the one under her curly blonde wig.
"No one ever said to me, 'Rose, please don't tell anyone,' but I felt that I didn't want anyone to know," Abdoo told BuzzFeed News at the Gilmore Girls Fan Fest in Kent, Connecticut, earlier this month. "My husband explained to me what an Easter egg is and I thought, Wouldn't that be fun if there was something for the fans?"
Abdoo was in New York City with a friend when she learned the Netflix revival of Gilmore Girls was happening. "I had just done the Gilmore Guys podcast, and the last thing I thought would happen was that we'd all be in a room together within a couple weeks," she said. "It was crazy."
When Abdoo had her first table read for the revival with Gilmore Girls creator Amy Sherman-Palladino, executive producer Dan Palladino, and star Lauren Graham, she read eight different roles. But when she read Berta's lines, everyone laughed and the decision was unanimously made that Abdoo would take on the additional character.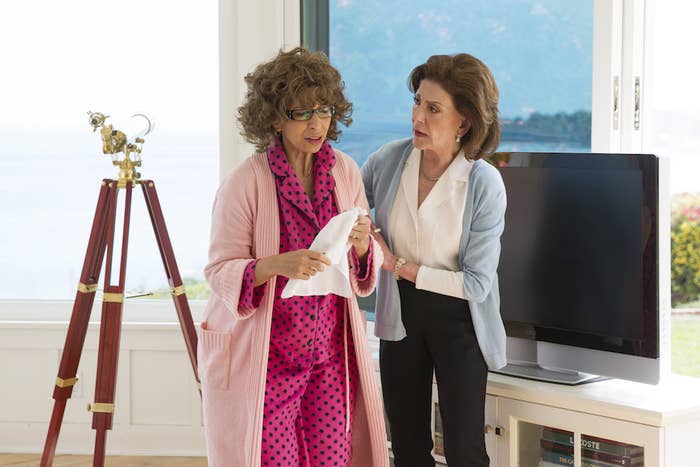 Abdoo takes her role as Gypsy seriously — she's even Team Dean because according to her, "he had the best car" — but she was also excited to take on a new role outside of Stars Hollow, but still in the Gilmore Girls universe. As rehearsals continued, it was important to Abdoo and Sherman-Palladino to perfect how Berta would sound and look.

First was the accent. It's never clear what language Berta speaks, which Abdoo said was intentional. "In the script, Amy wrote, 'Speak Spanish in a way that even native Spanish speakers do not understand at all,'" Abdoo explained. "I have a mother who's born in the Dominican Republic, so I would take the lines, translate them into Spanish, and then break them down into Berta speak. 'Hola-lo' was my version of 'Hola' and 'Hello.'"
It took Abdoo some time to nail "Berta speak," and she used her cast mates to help guide her. "Alexis [Bledel] is fluent is Spanish and she said, 'I kind of can't understand you.' And I go, 'Good, that's good,'" Abdoo remembered.
The first time she saw herself in her full Berta costume — complete with a short, curly-haired blonde wig, brown glasses, and traditional maid uniform — Abdoo barely recognized herself. The glasses she wore — which she specifically asked to be thick on the sides to help make her unrecognizable — made Abdoo feel like she had an entirely different nose. "I just thought I looked ridiculous," she said. "I wanted to be obscured as much as possible."
Abdoo even managed to fool some people on set. "The guy who would attach my microphone didn't even know it was me," she revealed. "And he was that close to me. He had no idea. It was funny."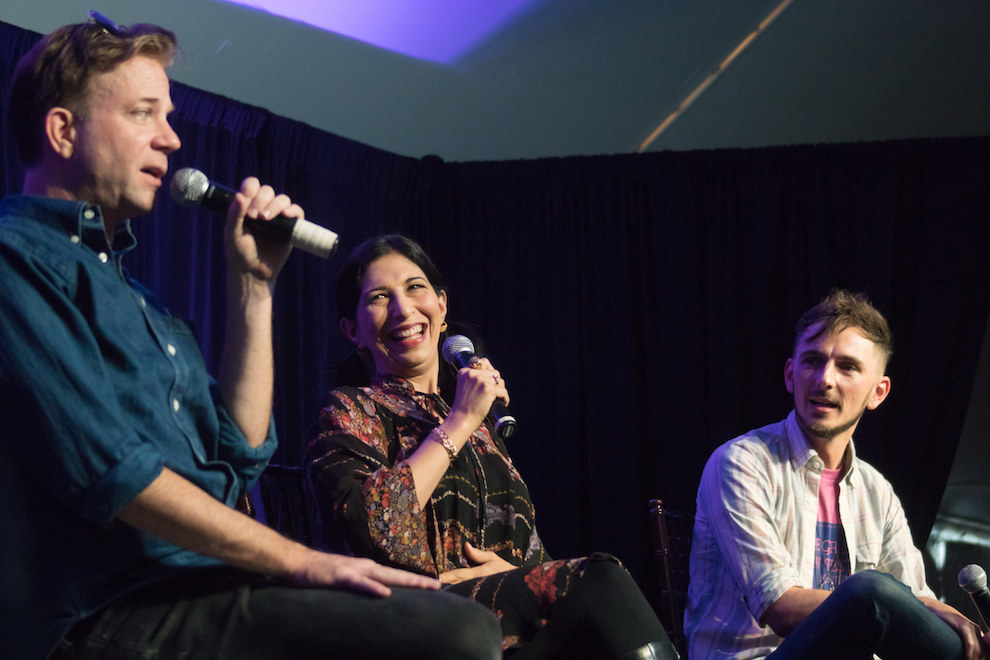 Abdoo didn't find it difficult to balance the two roles on set. It also helped that production didn't schedule any of her scenes as Gypsy and as Berta back-to-back. And while Abdoo loves Gypsy's character and feels loyal to her because that's where she got her start on Gilmore Girls, she was grateful Berta gave her the opportunity to spend so much time with Kelly Bishop, who plays the Gilmore matriarch.

The only other time Abdoo worked directly with Bishop was in Season 2 of Gilmore Girls when Lorelai (Graham) celebrates her wedding that never happened to Max Medina (Scott Cohen) with a bachelorette party in Stars Hollow, which Emily crashes.
"What was gratifying for me was that Kelly and I connected on a personal level, so I felt very protective of her the same way Berta was with Emily," she said.
Abdoo appreciates how Berta's relationship with Emily turned into an unlikely friendship and a mechanism for Emily to grow and evolve. "I thought it was so brilliant because Emily could never hold on to a maid, and then here comes this woman," Abdoo explained. "They just had to like each other's souls because Emily couldn't understand a word Berta said, and yet they connected."
Abdoo said Bishop also gave her lots of advice and helped her navigate the professional aspects of television. "She made sure that no matter how they edited it, I would get a lot of screentime, and that is something that only someone who has done this for a million years would know," Abdoo said. "She's incredible and taught me a lot about the business, on camera and off camera. It was very generous."
Playing Berta in the revival also allowed Abdoo access to the set of Gilmore's house for the first time. "My first scene to shoot was in the Gilmore house when Emily orders the giant-sized portrait of Richard, and I felt so lucky to be there on the day that the girls were together again," Abdoo said. "I thought, 'Here I am with Rory, Emily, and Lorelai when they're looking at this portrait, and it's very emotional. I felt like a little fly on the wall."
Abdoo said that Edward Herrmann, who had played Richard Gilmore but had died in between the end of the series and the revival, was deeply missed on set. Abdoo's first scene on Gilmore Girls was with Herrmann on Season 2 in an episode appropriately titled "Richard in Stars Hollow" when Richard visits Gypsy's car mechanic shop to make sure the car Dean (Jared Padalecki) gives Rory (Bledel) is safe.
"Ed Herrmann was such a giant and was such a wonderful person," she said. "He was just a lovely, lovely man."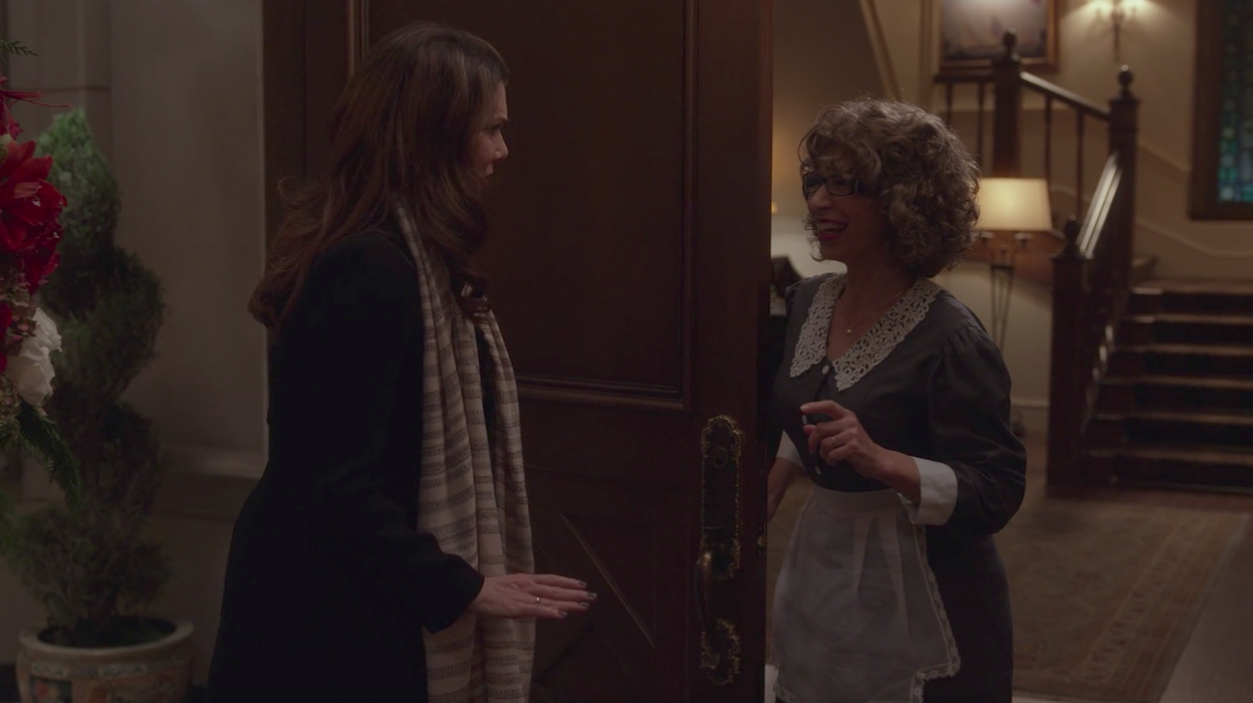 After playing Gypsy for so many years and now adding Berta to her repertoire, Abdoo hopes that fans will love and remember both characters. "I'm very proud to be a part Gilmore Girls, and it's not lost on me that I'm not a huge part of the show, but fans still recognize me and care about my characters," she said. After all, Abdoo has only appeared in 23 episodes of the series.
"I'm a character actress and I've done a lot of different shows," she said. "But Gilmore Girls is the one that I'm stopped in the mall, in the restaurant, and that I'm recognized for. I'm so touched by it."
Abdoo would be more than happy to participate in any future incarnation of Gilmore Girls, whether that means more episodes or a holiday-themed movie special, especially because, like fans, she's dying to know the identity of the father of Rory's baby.
As for Gypsy, Abdoo imagines she might own a string of auto-mechanic shops and would like to see her work on a really fancy car. But no matter what, she has no doubt that Gypsy is still in Stars Hollow.
"I think the relationships in the show are what people respond to, and the fact that it's about love, family, and it's about a town," Abdoo said. "It's this kind of idyllic place. Everybody wishes they lived in a Stars Hollow. Everybody wishes they could recreate that, and I don't think that'll ever go out of style."