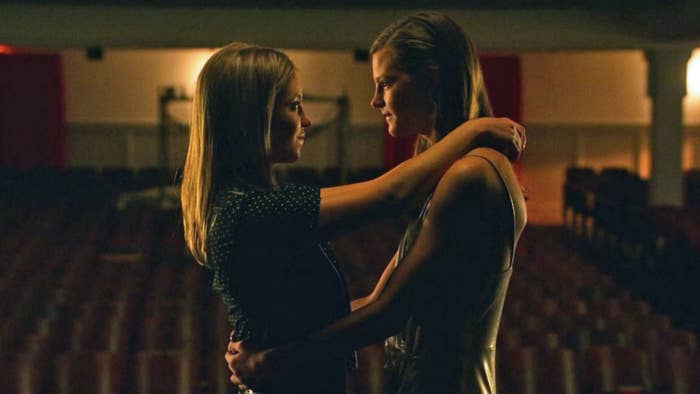 For the young stars of Everything Sucks!, Netflix's new fictional series about a group of high schoolers growing up in 1990s Oregon, working on the show has felt like a milestone in LGBT representation given its exploration of a young, lesbian romance.

"The entire show defies stereotypes," Peyton Kennedy, who plays the role of Kate Messner, told BuzzFeed News. "There's so little representation in regular mainstream media that it's incredible to be able to convey so much in one show."
Everything Sucks! is as much of a coming-out story as it is a coming-of-age story for Messner, one of the show's main characters. The 10-episode season, which first premiered on Netflix on Feb. 16, shows Kate navigating her sexuality and realizing that she doesn't actually have romantic feelings for her boyfriend, Luke O'Neil (Jahi Di'Allo Winston), because she likes girls instead.
Kennedy said this is groundbreaking because while Everything Sucks! isn't the first TV series to depict LGBT teens, she noted that there haven't been a lot of young high schoolers in lesbian relationships onscreen.
"There's barely any representation for girlfriends in high school," she said. "There's a bit of representation in older generations, but I think for the teens who are watching it who identify with these characters, they will be able to feel comfort and hopefully acceptance at the end of the show."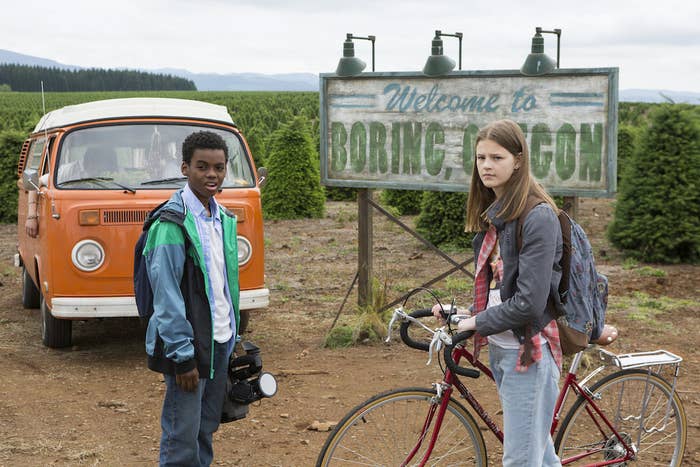 After Kate realizes she's a lesbian and isn't romantically interested in boys, she tells her boyfriend, Luke. He doesn't have the easiest time with the news because, as actor Jahi Di'Allo Winston puts it, "he feels this gravitational pull towards her" and is insecure at the thought of not being together.
"Society won't talk about insecurities within young boys enough," Winston said. "Boys are supposed to be big and tough … but it's a little bit of an insecurity for him. Like, 'You need me, I need you, I don't know how I'm going to go on to some other girl without you.'"
Despite his initial heartbreak and struggle, Luke eventually makes peace with Kate no longer being his girlfriend and the two settle into being each other's best friends; Luke's mom and Kate's dad even start to date, solidifying their friendship and bringing the two of them even closer. The actors said they're happy the show tackles toxic masculinity head-on and doesn't shy away from the complicated nature of growing up and coming out.
"Guys can be vulnerable; guys don't have to be these tough, strong men because toxic masculinity is awful. I hope that our show shows that," Kennedy said. "Kate grows so much throughout the season and she really comes into herself. I think so many young people who will watch it will be able to find themselves in her."
As the season progresses, viewers watch as Kate falls for another high schooler in the drama club, Emaline (Sydney Sweeney), in addition to trying to survive all the other awkward encounters that come along with being a teenager in a small town. Emaline initially bullies Kate at school and doesn't appear interested in having any kind of relationship with her, but actor Sydney Sweeney says this is because Emaline is grappling with her own insecurities.
"Kate knows what she wants and Emaline doesn't," Sweeney said. "For Emaline, love is just love. It doesn't matter if it's between a girl and a girl or a guy and a girl, so she just embraces that."
In the last episode of the first season, Kate and Emaline finally get together. The two kiss while dancing onstage after their drama club's movie premiere. The actors said they enjoyed filming the scene because after three months of filming they had become best friends in real life and thought "it felt like this beautiful moment for everyone who's watching it."
"It's so raw and so real and so genuine," Kennedy said. "Not that many people get to represent that on TV."
"Especially at our age," Sweeney added.
"There's so much pressure for girls about how you feel like you have to be something for other people. Emaline feels like she has to stand on top of a car or on top of a table and yell out in this Shakespearean language to get people to notice her, but she should just be herself and figure out who she is," Sweeney said. "Girls are just trying to figure out who they are as we grow up."