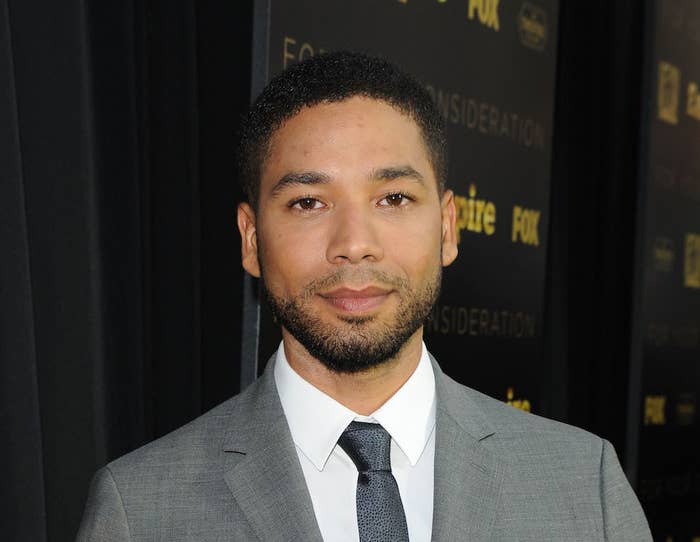 Jussie Smollett, who stars in Fox's Empire as one of the most prominent black gay characters on television, said he was brutally beaten in Chicago on Monday night in what police are calling a possible hate crime.
"Overnight, the Chicago Police Department received a report of a possible racially-charged assault and battery involving a cast member of the television show Empire," police spokesperson Anthony Guglielmi said in a statement to BuzzFeed News. "Given the severity of the allegations, we are taking this investigation very seriously and treating it as a possible hate crime."
The actor was walking down the street when two unknown people approached him while allegedly yelling racial and anti-gay slurs, then hit him in his face and poured "an unknown chemical substance" on him, according to police.
One of the attackers also wrapped a rope around the actor's neck during the assault before fleeing the scene, police added. Guglielmi did not respond to BuzzFeed News' request for additional information, but told the Associated Press and other outlets that Smollett still had a rope around his neck when he sought help. Guglielmi also said Smollett told detectives that the attackers yelled he was in "MAGA country."
Smollett took himself to Northwestern Memorial Hospital to be treated and was later released.
"Detectives are currently working to gather video, identify potential witnesses and establish an investigative timeline," Guglielmi said. "The victim is fully cooperating with investigators and we ask anyone with information about this incident to contact Area Central Detectives at 312-747-8382 or report it anonymously to www.cpdtip.com."
Police later said on Twitter that detectives had expanded the search area for cameras because, "thus far, no video of the alleged assailants or a vehicle has been discovered."
The NAACP, meanwhile, called for the incident to be investigated thoroughly.

The group is "beyond troubled to hear about the recent racist and homophobic fueled attack on NAACP Image Award winner, acclaimed actor and activist Jussie Smollett," president and CEO Derrick Johnson said in a statement.
Representatives for Smollett didn't immediately respond to BuzzFeed News' request for comment. But a representative for 20th Century Fox told BuzzFeed News in a statement that they were "deeply saddened and outraged" to learn about the attack.
"We send our love to Jussie, who is resilient and strong, and we will work with law enforcement to bring these perpetrators to justice," the statement added. "The entire studio, network and production stands united in the face of any despicable act of violence and hate — and especially against one of our own."

Empire co-creator Lee Daniels also took to Instagram to share a message with Smollett, telling the actor to hold his head up and that he's with him.

"It's taken me a minute to come to social media about this because Jussie, you are my son," Daniels said.
"You didn't deserve, nor anybody deserves, to have a noose put around your neck, to have bleach thrown on you. ... You are better than that, we are better than that, America is better than that."