Adam Pally Felt A Responsibility To Make His Trump Mockumentary After "Happy Endings" Ended
Stephanie March will play Ivanka Trump and Pally will play Donald Jr. in the Comedy Central special.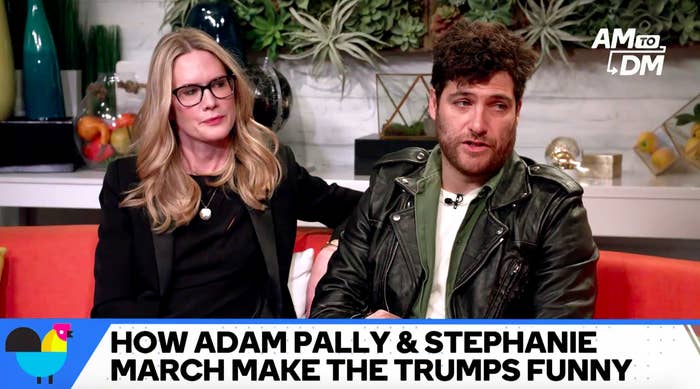 Happy Endings actors Stephanie March and Adam Pally are both starring in the upcoming mockumentary A President Show Documentary: The Fall of Donald Trump on Comedy Central. March and Pally came on BuzzFeed News' Twitter morning show AM to DM to discuss their respective roles as Ivanka Trump and Donald Trump Jr., and why they decided to get involved with the project.
"After Happy Endings, I realized the responsibility and weight that comes with being in this business," Pally, the executive producer on the show, said.
"And so especially when things started to turn, I felt a real need to kind of have a call to arms, and that was a turn to comedy."
The actor said he usually goes to comedy to reflect on "what's going on in the world," and the Trump presidency is no different. March, too, said she has taken on her fair share of political roles.
When asked if the actors worried that portraying President Trump in a comedy series would make him a more sympathetic figure, Pally said he's happy to lean on humor and comedy to address the sitting president because "humor is one of the last things we have left to point to the truth of a situation."
"I think that's important, to always be able to criticize through a joke, whether it be a comic book still or a stand-up set or a sketch," Pally said.
"That's one of our only ways to reflect the way society is making us feel."
March also said that when you're a public figure like the president of the United States, you need to be prepared to be poked fun at.
"If you are going to take on the highest office in the land, you must expect that you will be a part of the culture," March said. "It comes with the territory."
The show airs on Monday, Oct. 22, at 11 p.m. ET.