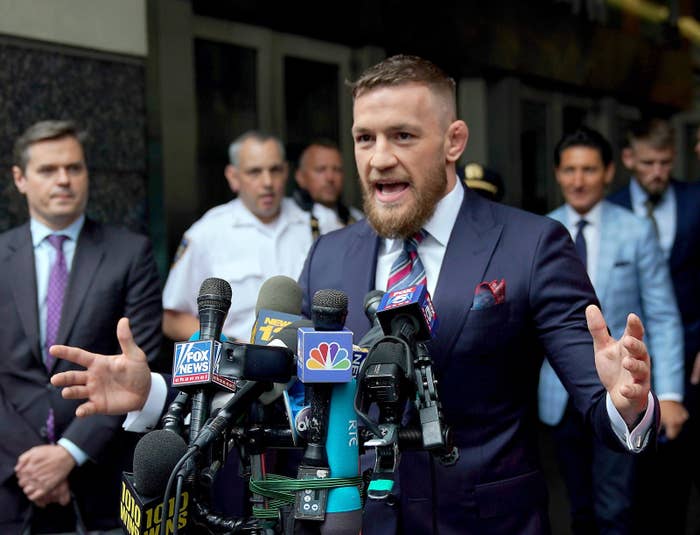 MMA fighter Conor McGregor pleaded guilty to disorderly conduct charges in a Brooklyn court Thursday after being arrested in April for storming an Ultimate Fighting Champion press event in New York City.
Video footage showed McGregor picking up a guardrail and throwing it in the direction of a bus that was carrying Khabib Nurmagomedov, his longtime rival, backstage at the Barclays Center in Brooklyn.
McGregor was originally charged with assault, criminal mischief, and reckless endangerment. By pleading guilty, McGregor is avoiding jail time and will instead receive five days of community service. He'll also be evaluated for an anger management program.
Cian Cowley, McGregor's friend who was arrested with him back in April, also pleaded guilty to disorderly conduct and received three days of community service, as well as anger management. Both McGregor and Cowley reportedly have to pay damages caused to the bus and abide by three orders of protection.
"I just want to say I'm thankful to the D.A. and the judge for allowing me to move forward," McGregor said, addressing the public outside of the courthouse today. "I want to say to my friends, my family, my fans, thank you for your support."
Audie Attar, McGregor's manager, also addressed the press outside the courthouse today.
"We're thankful to the courts and happy to put this behind us and focus on some things that have been on hold for some time now and get back to business," Attar told ESPN.