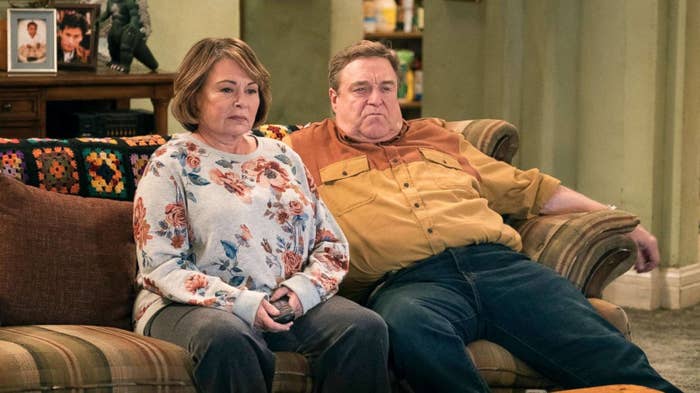 ABC's spinoff series The Conners premiered on Tuesday night without Roseanne Barr after the controversial Roseanne reboot was canceled by the network. And on Good Morning America today, some of the show's cast said they miss Barr's presence on the show.
"We really miss Roseanne [Barr] and love her very much," Lecy Goranson said. Goranson played the original Becky on Roseanne and appears on the reboot as well.
Barr took to Twitter last night after The Conners aired and said "I AIN'T DEAD, BITCHES!!!!" — referring to how the show killed her off by saying she died of an opioid overdose.
"Her spirit is still with us," Goranson said. "We understand that she's hurting right now and she's in pain, you know, and she's always with us."
Goranson also said she hopes the cast can eventually see Barr and "kind of remedy some of this."
Michael Fishman, who plays D.J. on the series, said it was "strange at first" to go back to The Conners without Barr, but that the writers and actors on the show still feel like they have more stories to tell.
"It definitely had a different feel, but what we have really tried to do as a group is kind of collectively lean on each other and kind of come together," Fishman said. "We really felt the legacy of the show deserved to be continued."
According to Nielsen, 10.5 million viewers tuned into the premiere of The Conners, compared to 18.2 million people who watched the Roseanne reboot premiere in March.
Fishman said he thinks the way Barr's character died on the show makes sense because of the way Roseanne left things last season, with Roseanne going into surgery and talking about the possibility of dying.
"You listen to our producers, and they really wanted to take a real crisis that's happening in our country and find a way to give voice to that," he said. "What we've always tried to do is tackle big topics and be very honest about them."