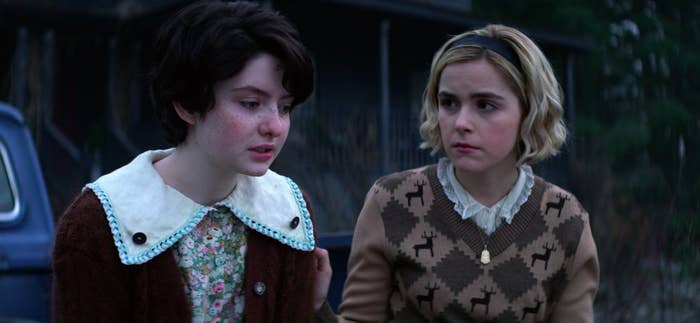 It only took one hour for Lachlan Watson, a 17-year-old actor from North Carolina, to hear back from producers on Netflix's Chilling Adventures of Sabrina after submitting an audition tape to the show. The showrunners wanted to chat on Skype with Watson after watching the actor perform an emotional monologue about a character coming out as trans, something that hit very close to home.

"They asked me about my life and asked me about how I could relate to the character and all the things that I could bring to the table in terms of clueing them in to more of the genderqueer identity," said Watson. (The actor, who uses the pronouns they/them, now identifies as nonbinary, but identified as "trans male" from the ages of 3 to 15).
During the phone call, Roberto Aguirre-Sacasa, the executive producer of Sabrina and the CW's Riverdale, explained to Watson that the character was going to be a little different from the one they had auditioned for: the character would start off in the series as a teenage girl named Susie Putnam, not a boy named Orlando, as Watson had originally auditioned for.
"[Aguirre-Sacasa] asked me if I was okay with the character starting out as female and if I was okay as playing the character as female, because I auditioned for a completely separate character," Watson told BuzzFeed News. "They had a clearly different name from that one; he went by 'him,' and he really wasn't Susie at all."
Watson happily accepted the role of Susie and flew out to Vancouver the very next day for a table read. The first season of Sabrina immediately sprung into production and was soon followed by a second, which is still filming now.
Susie is one of Sabrina Spellman (Kiernan Shipka)'s best friends on the show, which explores how the titular character straddles two worlds: one full of witches and wizards, and the other with her mortal friends.
The actor explained that they feel their own experiences have helped shape the development of Susie's character on the show, even though they don't have creative control. For example, Watson said that the show intentionally doesn't use any labels to identify the character because "Susie's still figuring out who Susie is."
"I think if anything, how vocal I am about my own identity maybe helped [the producers] understand that labels aren't everything and we can take our time with the role," they said.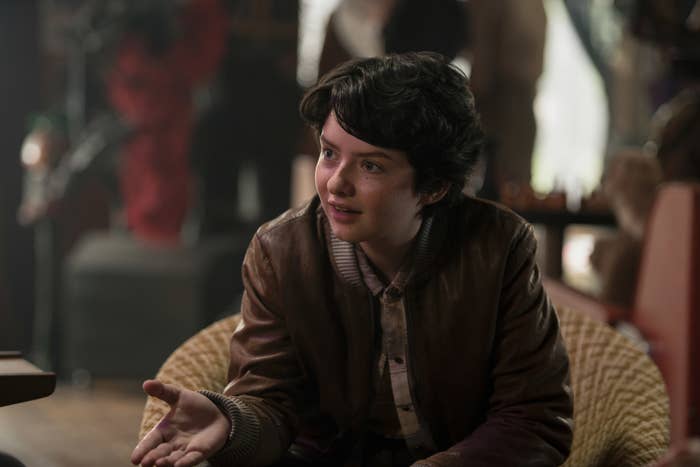 In the very first episode, viewers see Susie get bullied by football players at the fictional Baxter High School. Left with a cut on her lip, an emotional Susie tells Sabrina that the boys also pulled up her shirt.
"They pulled up her shirt...because they wanted to see if she had breasts, because they wanted to see if she was really a boy or a girl under there," Sabrina later says angrily to the school's principal, demanding the football players be punished. When there aren't any repercussions for the bullies' actions, Sabrina, Susie, their other best friend Rosalind Walker (Jaz Sinclair), and a few other classmates form a club in protest called WICCA (Women's Intersectional Cultural and Creative Association).
Watson went to a small high school with only 200 people and said they can't easily relate to the ways Susie is bullied by her peers. But, they said, this made it especially difficult to film those scenes.
"It really opened my eyes to see how much of a struggle it is to be an openly queer person in this world," Watson said. "It's something that I forget a lot, and going through that journey with Susie really reminded me of how dangerous it still is to be yourself in this world."
Fans and viewers have been incredibly receptive to the character of Susie, with nonbinary kids reaching out to Watson on social media to thank the actor for helping them see themselves on screen. Watson said they save every single message as a reminder of why they do the work they do.
"Just having this character at all and providing so much representation is leaps and bounds forward from a lot of shows on TV right now," Watson said. "I think even considering having any sort of genderqueer character onscreen is still a big thing, it's still a big choice."
Watson said Susie will go through a "pretty big transformation" at the beginning of Season 2, and that the character will continue to change the landscape of LGBT representation on television.
"I've come out three times in my life and now I've come out four times, including Susie," Watson said. "So it's going to be interesting going back through that almost from an outside point of view and creating a whole new beautiful and strong person."
Watson thinks that, like Sabrina, Susie doesn't necessarily have to choose one way to identify over the other on their journey to figuring out who they really are.
"With Sabrina, there's the path of night and the path of light, and you don't always have to choose. You can live somewhere in between," Watson said. "You can forge your own path, and you can forge it brilliantly."