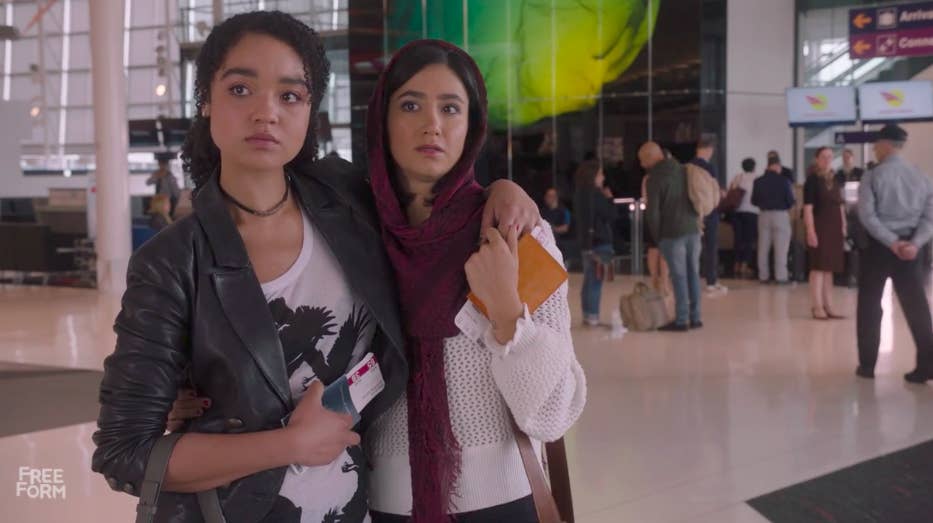 In the latest episode of Freeform's The Bold Type on Tuesday, Kat (Aisha Dee) and Adena (Nikohl Boosheri) decide they are going to give their relationship a real shot. The two met in the very first episode of the series, and viewers have been on a will-they-or-won't-they emotional roller coaster ever since. After Kat came around to the idea of being in her first same-sex relationship and Adena broke up with her girlfriend, Coco, back where she temporarily lived in France, it looked like these two were finally on the "they will" track.
But Adena doesn't have a steady job in the US, and she hails originally from the Middle East, so her passport is flagged when she's about to come back into New York. And because her US work visa expired, she isn't allowed back into the States at all. This prompts Kat to impulsively purchase an $11,000 airline ticket (using her parents' miles, of course) just so she can spend 14 hours with her almost-girlfriend in the airport terminal before she has to be flown back to the Middle East. They spend the whole day and night together there, having sex for the first time in a private first-class lounge.
The Bold Type cowriter Lynn Sternberger said this highly anticipated and intimate scene in the episode, "Before Tequila Sunrise," almost didn't happen, mostly because she and the other writers couldn't decide whether or not Kadena (the couple name fans are using to describe Kat and Adena) would have sex at an airport. Ultimately, however, the writers wanted the couple to have the opportunity to consummate their feelings for each other.
"You fall in love with the love that they're growing between each other," Sternberger said of the show's vulnerable yet fierce couple. "And I feel like it's rare that a ship like Kadena gets treated with exactly the same amount of thoughtfulness as any other heterosexual ship on television."
Kat and Adena aren't just a queer couple, but they're also women of color, a very rare show of representation on TV overall. Sternberger sees the show as a unique opportunity to present such a couple, and as an important way to make more room for queer women of color all over media. "It's just not being done enough, period," she said. "There's a lot of diversity in cable, but there should be no reason why there aren't those characters everywhere. They are everywhere in real life. There should be very complicated characters who make mistakes the same way other characters make mistakes, make different life choices, excel at their jobs, and screw up at their jobs."
While The Bold Type is making strides toward bringing representation to television and tackling more serious issues, Sternberger thinks this season — and this show — are at the onset of a new era in television in which representation and progress are at the forefront.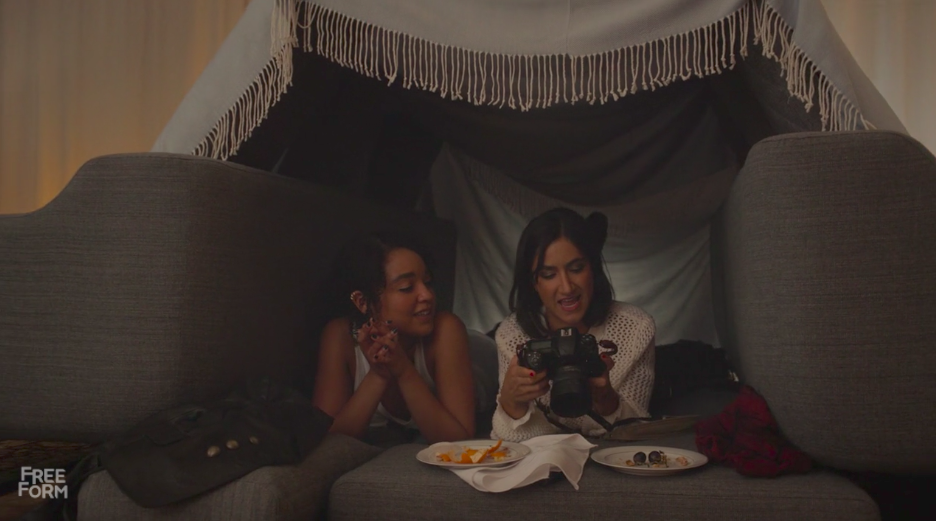 "There's a generation of writers coming up with a world that was different to them," Sternberger said. "I never had to be closeted, for example, and I think that will start to be reflected on television — I hope it will — as we rise through the ranks and start being show creators."
Kat and Adena's fictional relationship onscreen is just one example of this. In Episode 9, they both reveal the deep feelings they share for each other, but Adena still has to get on a plane back to the Middle East, and Kat, who initially teases the idea of going with her love interest, makes the last-minute choice to stay in New York City. They're unable to stay in the same city because Adena can't obtain a visa without providing official documentation that proves she has a job in the US, plus Kat is hesitant to fly across oceans and live in a country where she doesn't speak the language, doesn't have a job, and doesn't know anyone besides Adena. Their struggle doesn't have a simple solution.
Sternberger said they wanted to tell a more universal story about immigration issues instead of specifically tackling Trump's immigration ban from earlier this year. "It's not just current events that have created restrictions for people as far as immigration goes," Sternberger explained. "They fought so hard, and we wanted to play into the reality of the fact that you can't control everything. Sometimes rules and regulations and entire governments will get in your way."
Still, the political resonance of President Trump's immigration legislation is impossible to ignore in this specific storyline. When production for The Bold Type started in January 2017, days in the writers room would kick off with catching up on daily news. It's no coincidence that these kinds of conversations led to The Bold Type addressing topics like immigration, women's sexuality, and even Trump himself in the show.
"We had to just unburden ourselves from what was happening in the world around us and to our loved ones. I'm sure that some of that seeped into the storytelling," Sternberger told BuzzFeed News. "We thought we were going to have a [writers] room under the first female president, and that's not what happened."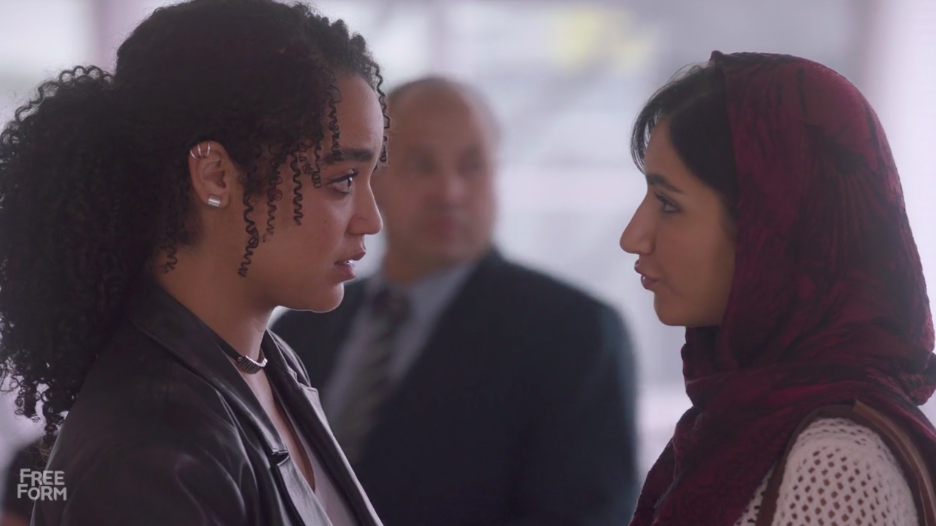 Immigration issues getting in the way of the relationship is also not foreign to Sternberger on a personal level. After Episode 9 aired on Tuesday night, Sternberger tweeted that she was happy to contribute to Kat and Adena's storyline because of her own experience: Her wife is a French citizen, and while their struggles didn't necessarily inspire what happened in "Before Tequila Sunrise," Sternberger was able to relate.
"I felt like I was able to bring some authenticity to the feelings in those scenes, because I've been through so many of those goodbyes. There are so many hoops to jump through, and it is such a long process. And I think that there's a lack of awareness about that. Some people are just born across a border," Sternberger said. "I think that people are getting more informed about this stuff, but there's still space to listen to people who aren't born in this country and who have had struggles with retaining citizenship or staying here."
The fate of Kadena is still to be seen. With the season finale airing on Sept. 5 and the two currently living continents apart, it's unclear whether or not Kat and Adena will end up together. But Sternberger indicated that it's a hopeful situation, despite their past hardships and complications — like Adena's ex-girlfriend Coco, Kat getting cold feet, and all of the miles between them. "It's really about not giving up on one another. Both of them are persistent women, so hopefully it encourages people to be like, 'I will fight for something that I feel strongly about,'" Sternberger said. "That's the entire show in a nutshell."