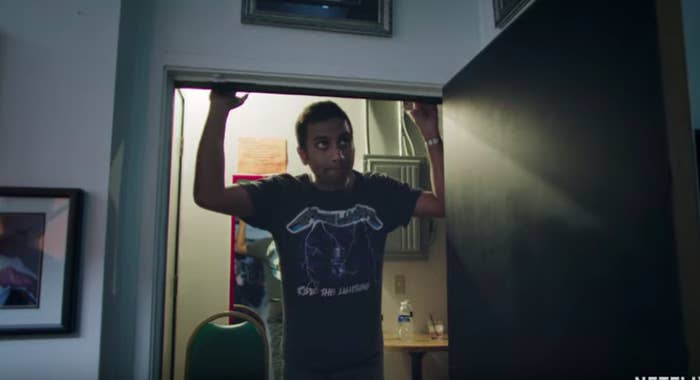 Aziz Ansari is returning to the screen for the first time since being accused of sexual misconduct last year with a new comedy special on Netflix.
Aziz Ansari: Right Now, which was directed by Academy Award–winner Spike Jonze, will start streaming July 9 after Netflix dropped a surprise trailer for the special Monday.
The special was filmed during Ansari's recent Road to Nowhere tour, and marks his return to the screen after being accused of sexual misconduct in a Babe.net article in January 2018. Ansari said in a statement at the time he was "surprised and concerned" by the anonymous woman's allegations and that he "took her words to heart and responded privately after taking the time to process what she had said."
The Babe.net article, titled "I went on a date with Aziz Ansari. It turned into the worst night of my life," was controversial, with some critics saying it was dangerous to lump in Ansari's alleged misconduct with other allegations of sexual assault and harassment that other actors and Hollywood power brokers were facing at the time.
Katie Way, the author of the article, defended the decision to publish the story.
"At the time, everyone was kind of telling these stories, but I didn't write about a celebrity's misconduct because I wanted to put a journalistic notch in my belt or participate in a trend," she told BuzzFeed News.
Ansari left the spotlight until embarking on his international stand-up comedy tour, Road to Nowhere.
He opened up about the allegations against him in February during a comedy set at the Village Underground in New York City.
"It's a terrifying thing to talk about," he said, according to Vulture. "There were times I felt really upset and humiliated and embarrassed, and ultimately I just felt terrible this person felt this way."
Aziz Ansari: Right Now is the actor's second Netflix special — Ansari's Live at Madison Square Garden premiered in 2015.