Director Hannah Lux Davis was sitting on the living room floor of Ariana Grande's New York City apartment in October preparing pre-production details for the singer's "Breathin" music video, when Grande excitedly shared a new song she was working on. The single wasn't quite finished yet, but it had a name: "Thank U, Next."
After listening to the song, which was still missing a verse at the time, the conversation shifted from "Breathin" to how these two women would go on to create one of the most talked-about music videos of 2018.
"It was just so genius to be specific and personal in her version of that song," Davis told BuzzFeed News, "because everybody is just so invested in her personal life, which happens when you become famous."
According to Davis, who has worked with Grande on a number of different music videos over the years, the "Thank U, Next" concept came together in about 10 minutes.
Davis said Grande had the idea to reference Mean Girls because she wanted to incorporate a positive spin on the burn book, writing grateful sentiments about her exes: Big Sean, Ricky Alvarez, and Pete Davidson. They wanted the burn book messages to be subtle, something fans would have to pause on if they wanted to read closely.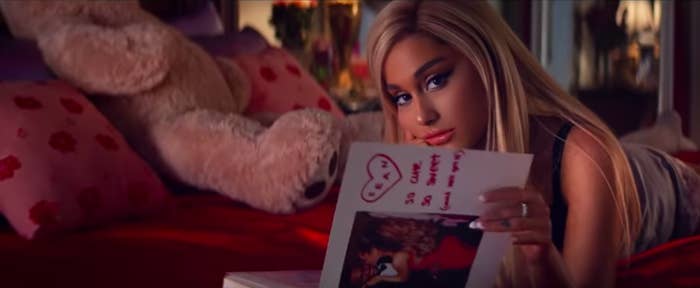 Davis said they brainstormed some of the notes ahead of time, and that Ariana had the idea to write "could still get it" on Sean's page and "huuuuge" on Davidson's.
"Some of those things came true, but as we were rolling she wrote, 'Sorry I dipped' on Pete's," Davis said. "And I remember all of us behind the camera were like, Oh my god, that's crazy."
However, the late Mac Miller, whom Grande dated for about two years, was noticeably not mentioned in the burn book, despite the lyrics, "Wish I could say 'thank you' to Malcolm / 'cause he was an angel."
The singer also wanted to include parodies of Bring It On, Legally Blonde, and 13 Going on 30 because they're some of her favorite movies from the early '00s era.
But, as Davis said, the films also share a common theme: "They're all female-centric comedies that have a strong female lead that's going through a breakup and comes out on the other side totally empowered and a better version of themselves."
Davis said she and Grande wrote down all of their favorite scenes from those movies and considered well-known costumes, as well as the meaning behind what each character was going through in those films.
"How can we make all of these moments and scenes specific to Ariana and what she's going through?" Davis recalled thinking.
They shot the video over the course of three days the week before Thanksgiving at different locations around Los Angeles.

The record-breaking music video also included some important cameos: Legally Blonde's Jennifer Coolidge; Jonathan Bennett, who played Aaron Samuels in Mean Girls; and the one and only Kris Jenner, who imitated Amy Poehler's character in Mean Girls.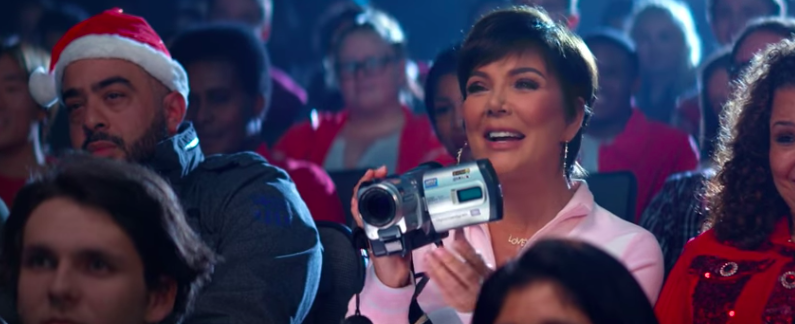 It was Grande's idea to get Jenner involved, Davis said.
"Everybody knows she's the 'cool mom,'" Davis said, explaining that Grande is friendly with Jenner and her cameo was "a very easy thing to pull off."
"You never know when you get a celebrity cameo like that how down they're going to be and how willing they are to play ball and get silly and not take themselves too seriously," Davis said. "But she was a total pro and she brought so many good ideas to the table."
Davis said she loved working with Jenner because she was "fearless" on set. "On the first take, she knew exactly what to do. She had excitement in her eyes, she was dancing, and was all about it."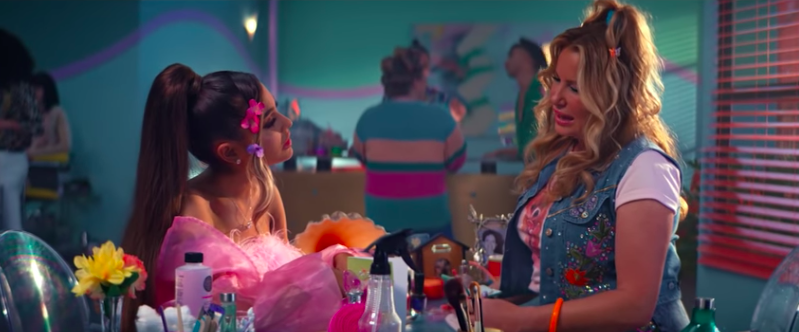 When Coolidge came to set for her cameo, Davis said she'd never seen a crew get more excited, and the energy felt incredibly special.
According to the director, Ariana Grande was starstruck and was "quite shy" about doing her famous impression of Coolidge in front of the actor.
Davis said the conversation in the music video between Grande and Coolidge was completely ad-libbed.

"It was all improv. We had talking points for what they could roughly be discussing," she said. "I knew when we got on set with Jennifer Coolidge and Ariana Grande that we were going to get gold, because they're both really, really naturally funny."
There was only one cameo they couldn't end up securing for the video: Matthew Davis, the actor who played Warner, Elle Woods' ex-boyfriend who she follows to Harvard Law School. He was apparently unavailable when they were shooting.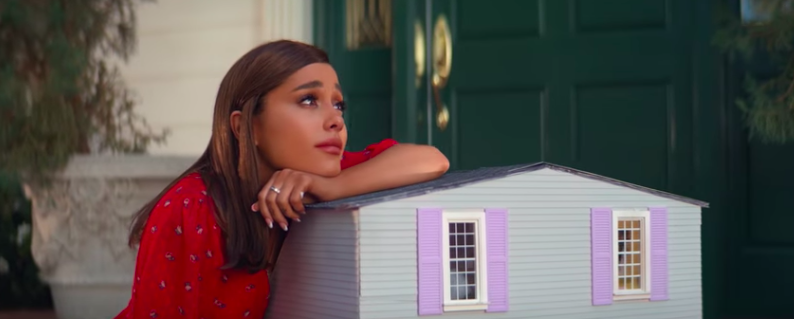 The making of the video finished just how it started: with Davis and Grande alone, brainstorming, and making decisions about which scenes were going to make the final cut.
"At the end of the day, it was just me and Ariana behind a computer editing," Davis said.
"There was one point when we sat together and we were just like, Oh my god, it's just two girls behind this computer working on this highly anticipated music video, and it was just a very surreal moment," she said.
According to Davis, it was a race to the finish line because Grande wanted to capitalize on how popular the song was and release the video while there was still a lot of hype around it.
They finally submitted the finished video in its full form early on Friday morning, hoping they'd make their goal of releasing it to the rest of the world that same day.
YouTube confirmed the music video set a new record for content using the platform's new premiere tool, with a peak of around 829,000 people watching the video simultaneously when it was released. It also set a record for the most views for a Vevo video in 24 hours with more than 50 million.

"I've never had the release of a video that's felt like this," Davis said. "I've done a lot of Ariana Grande videos and hers were always a big moment, but this felt very, very special."