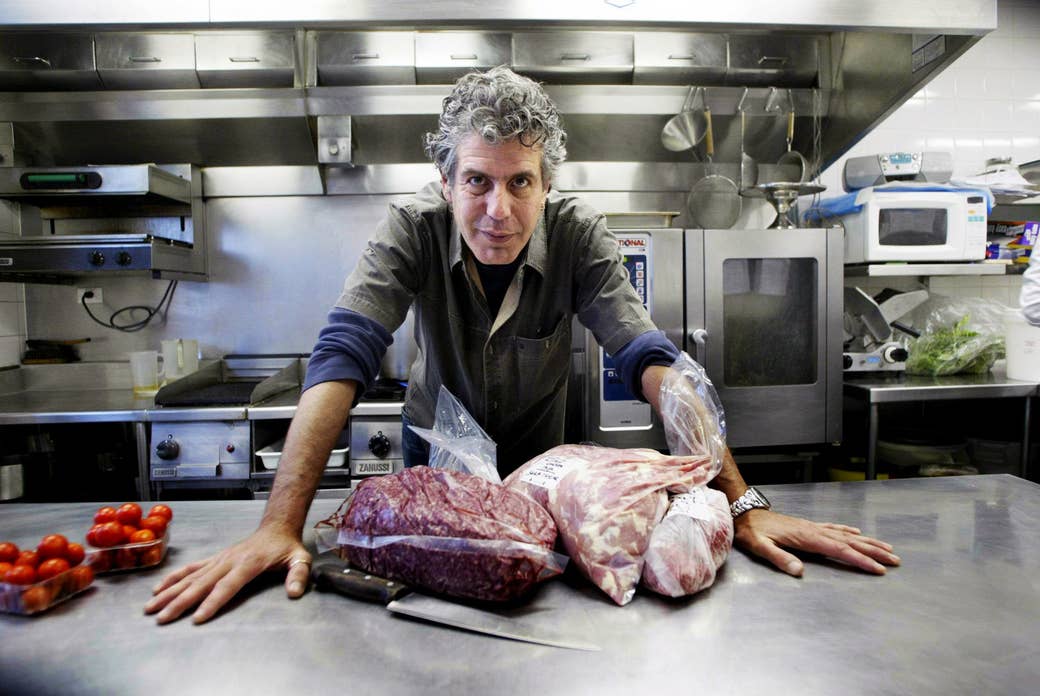 "In America, the professional kitchen is the last refuge of the misfit," Anthony Bourdain once wrote.
"Admittedly, it's a life that grinds you down," he added. "Most of us who live and operate in the culinary underworld are in some fundamental way dysfunctional."
That declaration served as an in-your-face summation of Bourdain's 1999 New Yorker piece that did much more than launch his celebrity career. It dragged the stresses and mental health rigors of working in the restaurant industry into the open, both for those people seated at the front of the house and, more importantly, for those unseen, toiling in the back.
Bourdain kept that conversation up as he traveled the world digging in to whatever food the locals would put in front of him. Baked into his conversations with top chefs and street cooks was his ownership of his former experiences with drug addiction and times when, well, he just felt like shit. For restaurant workers, it all finally became OK to talk about.
And now, with his suicide in a French hotel on Friday, the conversations that he started will continue, just without him.
"The more vocal people are, the better," Mickey Bakst, the general manager of Charleston Grill in South Carolina and the cofounder of Ben's Friends, a support group for recovering addicts in the food and beverage industries, said of Bourdain. "Many people need to see that there are others who can be successful, still be part of the industry, and be sober. It's an important thing for people in our industry to know."
Bakst, 66, has been in the food industry for 45 years and has been sober for 35.
"Here's what we all know: Alcoholism and drug addiction are here to stay," said Bakst, who shared mutual friends with Bourdain, including celebrity chef Eric Ripert, who found him dead in his hotel room Friday morning.
"They're not going anywhere, and the only way that we can start addressing this is a more open, regular discussion of it," he told BuzzFeed News. "That's what Anthony Bourdain helped do."
Bourdain's New Yorker piece sucked the reader in with headline-grabbing tips for diners about what not to order (i.e. the fish on Mondays). It established him as the rebellious truth-teller people came to know. But the piece was dark at its core, and he used it to shine a light on the dark, ugly side of kitchen culture.
"Gastronomy is the science of pain," he wrote at the time, when he was the head chef at Manhattan's Brasserie Les Halles. Many cooks, he argued, were social outsiders, working odd hours in high-pressure environments.
The article earned him a book deal (his 2000 memoir, Kitchen Confidential: Adventures in the Culinary Underbelly, was a New York Times best-seller) and helped launch a media career that saw him host TV shows like Food Network's A Cook's Tour, Travel Channel's No Reservations, and CNN's Parts Unknown. It was through these shows that Bourdain helped reshape how TV presents chefs, taking viewers beyond the restaurant's back walls to see the sweat and the tears.
"It takes a certain type of lunatic to crave that kind of life," Bourdain told the Toronto Star in 2000 of working in kitchens, bemoaning what he said was "day after day of mind-numbing repetition."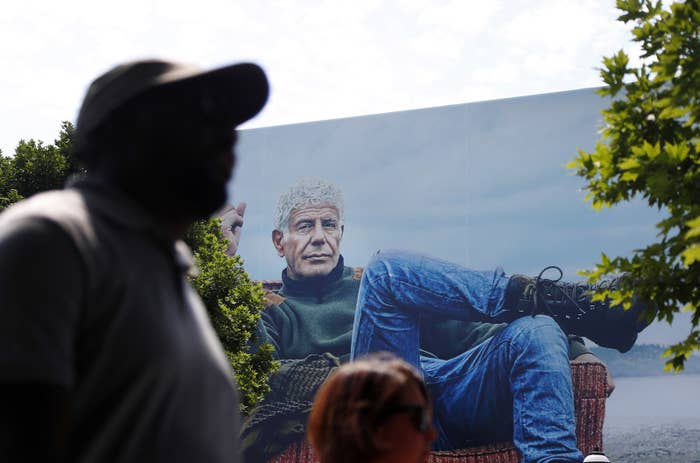 Bourdain had been drawn to drugs as a child, and he used heroin, cocaine, and alcohol in excess as he worked his way up through top kitchens.
In Kitchen Confidential he wrote candidly about falling into a depression that was fanned by his substance abuse. "I could no longer bear even to pick up the phone; I'd just listen to the answering machine, afraid or unwilling to pick up, the plaintive entreaties of the caller an annoyance," he wrote. "I was in hiding, in a deep, dark hole, and it was dawning on me — as I cracked my oysters, and opened clams, and spooned cocktail sauce into ramekins — that it was time, really time, to try to climb out."
It was in the 80s that Bourdain said he looked in the mirror and decided he "wanted to live."
"It wasn't that I had any discipline or strength necessarily," he told trade publication Nation's Restaurant News in a 2000 interview. "It was just that I'd decided that, among my friends and the people I'd come up with, I would survive and go on and live, and in order to do that, in order to do anything, there was absolutely no question that I would have to leave [drugs] behind me."
Bourdain's struggles were not unique and remain a problem for those in restaurants. Workers in the accommodations and food services industry still have the highest rates of past-year substance abuse disorder (16.9%) and past-month illicit drug use (19.1%), according to a 2015 national survey by the Substance Abuse and Mental Health Services Administration.
As his starpower grew, so did Bourdain's influence both as a representative of food and of mental health. Dr. Stephannee Standefer, who directs a Master's program in counselling at Northwestern University, said she often used Bourdain as an example to students.
"We take a look at folks who are very aware of their mental health issues and concerns, and who are just a couple of life events away from suicide," Standefer said "He's someone I used as an example of how well he articulated his awareness of his mental health."
But Standefer said that just because Bourdain was "out in the open about his depression" doesn't mean he was cured.
"There's a tendency to assume because he is who he is and he's said that he's conquered it that he's fine," Standefer said. "The truth is, there's a chemical imbalance in your brain, or it's hereditary like Bourdain talked about. Depression, addiction, the potential to have suicidal ideation or to have symptoms are a lifelong issue."
Indeed, in a 2016 episode of Parts Unknown Bourdain made clear he still struggled with depression. "Welcome to the dark crannies of my skull," he warned viewers as he visited a therapist in Buenos Aires, noting it was common to do so in Argentina.
"I will find myself in an airport, for instance, and I'll order an airport hamburger," he told his on-camera counselor. "It's an insignificant thing, it's a small thing, it's a hamburger, but it's not a good one. Suddenly, I look at the hamburger and I find myself in a spiral of depression that can last for days."
He also spoke of the strangeness of making a career out of traveling the world while eating food on camera.
"What's wrong with that?" asked the therapist.
Bourdain, staring off into the distance, was unable to answer.
"It's wonderful when there are more high-profile people who open up and say, 'I've struggled with addiction,'" said Sarah Ory, cofounder of the Heirloom Foundation, a nonprofit aimed at raising awareness about addiction and mental health issues in the food and beverage industries. "Anything that gets people talking about it kind of gets rid of that stigma, and if people are more comfortable speaking up they have a more open work environment, and you can see a cultural shift start to happen."
In 2012, Ory and her husband lost three industry friends to suicide within a span of 18 months, compelling them to open their foundation.
She told BuzzFeed News that the conversations Bourdain sparked in life, and now in death, have drawn more attention to how prevalent addiction and mental illness are in the kitchen.

"What Anthony Bourdain did when he told everyone about his struggles with addiction and other mental health issues is make them feel that they could too," she said.
The National Suicide Prevention Lifeline is 1-800-273-8255. Other international suicide helplines can be found at befrienders.org.

CORRECTION
Sarah Ory's name was misspelled in a earlier version of this post.