In an interview published over a month after his death, Anthony Bourdain slammed Bill and Hillary Clinton for their handling of the scandal with Monica Lewinsky in the 1990s.
"It was fucking monstrous. That would not have flown today," Bourdain told Popula in a Feb. 17 interview published Sunday. "A piece of shit. Entitled, rapey, gropey, grabby, disgusting, and the way that he, and she, destroyed these women and the way that everyone went along, and are blind to this."
The late celebrity chef — who was a prominent #MeToo advocate on behalf of his girlfriend, Asia Argento, who was among Harvey Weinstein's accusers — said even if Clinton's affairs were consensual, the couple's attacks on women who came forward were "unforgivable."
"The way they efficiently dismantled, destroyed, and shamelessly discredited these women for speaking their truth...is unforgivable," he said.
Bourdain said he didn't think Bill Clinton should have been impeached for his affair with Lewinsky, but that he would "never under any circumstances vote for Bill Clinton today."
"It was the shaming, discrediting, undermining the women that made both of them unsuitable for any future endeavors. I don't think they should've pulled him from office."
Bourdain was critical of how Hillary Clinton responded to the sexual assault allegations made against Weinstein last October. After Clinton addressed the allegations in a CNN interview while on her What Happened book tour, Bourdain tweeted, "know what Hillary Clinton is NOT? She's not stupid. Or unsophisticated about the world. The Weinstein stories had been out there for years."

In the Popula interview, Bourdain said he was disappointed by Hillary Clinton's response to Weinstein despite having voted for her.
"People were really hoping she'd come out with a…I don't know. Let's just say with something different," Bourdain said. "I immediately tweeted my disappointment, very much shaped by what I saw around me."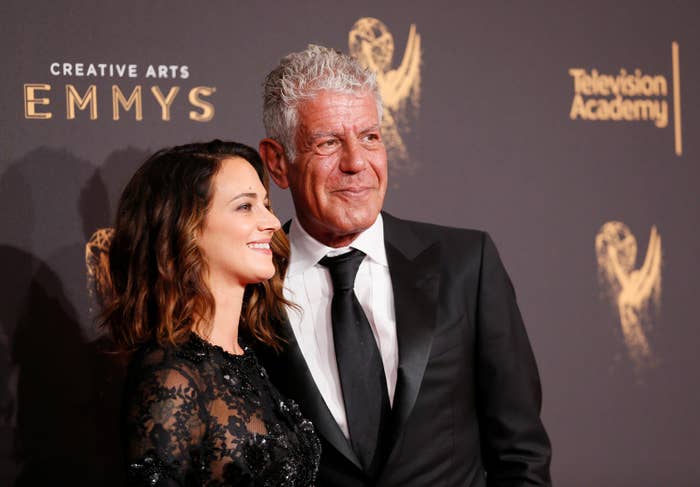 Although he said he had "no love" for Hillary, Bourdain wasn't moved by Sen. Bernie Sanders either.
"I find his supporters largely — his more vocal supporters — largely insufferable. In spite of the fact that I agree with him on just about everything, it's not like he's not talking sense, almost always he is."
Speaking about Barack Obama, Bourdain said he thought the former president was "very unconvincing in public," but that his intimate persona revealed a more "gracious, graceful, real, funny" person.
"Him, I'd vote for fuckin' again, any time," Bourdain said. "I believe he may not have been the greatest president in history, but he's one of the fucking nicest, good, one of the best people we ever had."
Bourdain, who was long outspoken about his disdain for President Donald Trump, speculated to Popula that Trump's presidency would be felled not by evidence of collusion with Russia, but by something to do with the president's personal finances.
"Collusion is tricky to prove, it's the money," Bourdain said. "And once they get too close, in my view he will declare victory, congratulate himself on the fantastic job he's done, and resign, saying the job is too small for him. Just what he did in Atlantic City, 'I got mine, big success for me,' and leave behind a shambles."