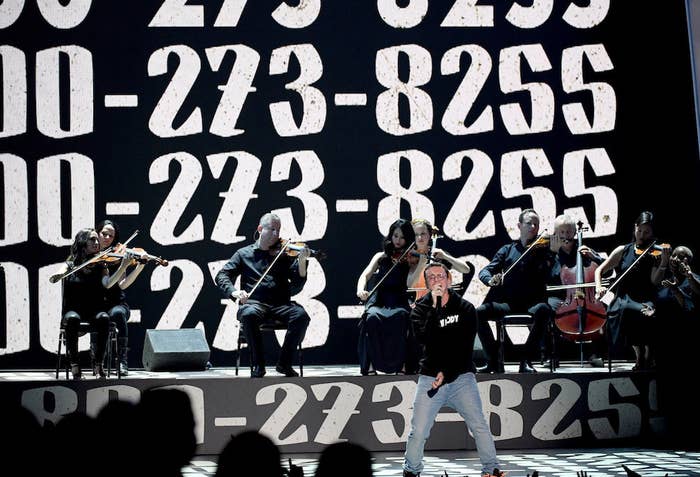 On Sunday, 27-year-old rapper Logic took the stage at the MTV Video Music Awards to perform his hit single "1-800-273-8255," which is the actual phone number for the National Suicide Prevention Lifeline. As he rapped lyrics like "I want you to be alive / You don't gotta die today," he stood alongside survivors of suicide attempts and individuals who lost people in their lives to suicide.
"I just want to take a moment to thank you for giving me a platform to talk about something that mainstream media doesn't want to talk about," Logic said after his performance. "Mental health, anxiety, suicide, depression, and so much more that I talk about on this album."
The performance was an emotional one, with people crying in the audience and onstage, and, according to the National Suicide Prevention Lifeline, it had an even greater impact than people saw on television. The hotline saw about a 50% increase in callers after the performance's first and second airings Sunday night. There were a range of reasons why people called in, from being in crisis, to wanting to volunteer, to thanking the organization for what they're doing.
"We even had an individual who called and he didn't know what the number was," Shari Sinwelski, the associate project director of the Lifeline, told BuzzFeed News. "He thought maybe it was going to be a radio station or something, and so when he called and he realized what it was, he actually needed to talk to somebody. It's interesting to think about those people who maybe would never have called in another situation."
When Logic released "1-800-273-8255" on April 28, the organization said it received the second highest daily call volume in its history (the first highest being the day that Robin Williams died in 2014). There was a 27% increase in calls when "1-800-273-8255" dropped, compared to their average volume on the same day of the week for the previous three weeks.
Sinwelski said that the crisis center wasn't involved in the creative process behind Logic's Billboard-charting song, but that the rapper did approach them about two weeks prior to its release to ask for permission to use the phone number as his song title.
"We're always trying to get the word out about how to get help for people who are in suicidal crisis, so we thought it would be a really good collaboration," she said.
Before the VMAs, Logic's team got in touch with the crisis service because they wanted to involve suicide survivors in his performance. Lifeline connected Logic with a local Los Angeles crisis center that found people who were willing to participate.
Sinwelski was one of many onstage with Logic on Sunday night, and described it as a powerful. "I don't think that in the history of suicide prevention we've ever had such a big moment in the spotlight," she said.
"There's a lot that we can learn from people who have been through a really dark place and said, 'I'm still here, I'm still standing, and this is how i've done it,'" she added. "I think Logic had heard that message when we'd spoken to him in the past about trying to give that message of hope out there, that hope and healing can happen."
Ten days before Logic performed "1-800-273-8255" at the VMAs, he also released a music video for the song, starring Don Cheadle, Matthew Modine, Coy Stewart from Are We There Yet?, and Nolan Gould from Modern Family. Since it dropped on Aug. 17, the video has been viewed nearly 17 million times.
"'1-800-273-8255' was a really hard one to write, just for the simple fact that, like, it starts out so depressing, and I had to put myself in the mind state and in that mentality to write it," Logic said in an interview with MTV News. (He was unavailable to be interviewed for this story.) "And honestly, I didn't enjoy making the song because it was such a hard thing to do. But I enjoyed the outcome."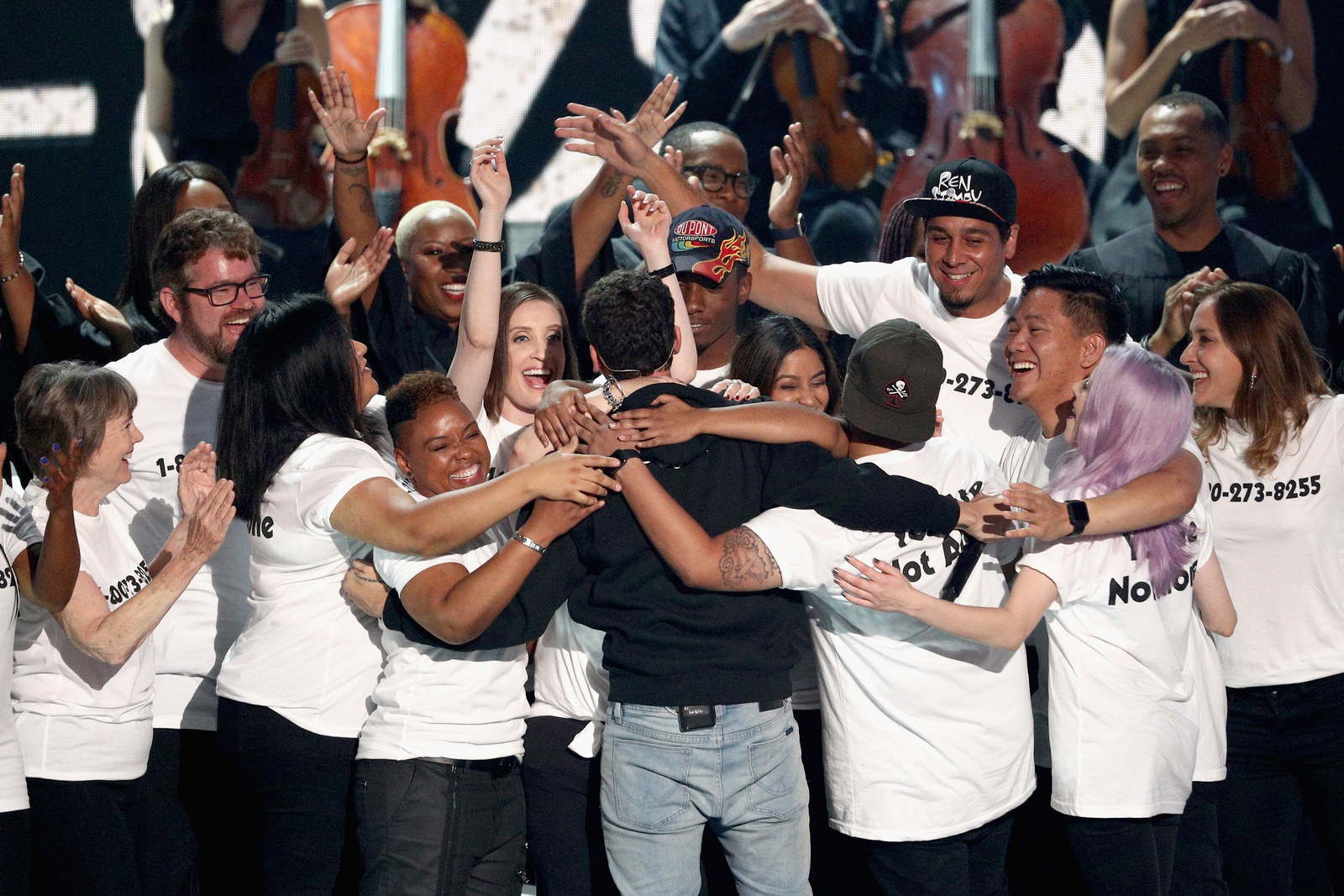 Earlier this year, there were lots of conversations about the depiction of suicide in pop culture and whether or not fictional stories about suicide glamorize the act. Sinwelski believes it's possible to portray a narrative about suicide without glorifying it, as long as creators follow media guidelines and read the research that's been done on the subject matter.
What differentiates Logic's song from other TV shows, films, and music, according to Sinwelski, is its message of hope.
"It's not a bad thing if you're having a difficult time — it's just about trying to find a way to cope with that," she said. "Hopefully, seeing a video like this and hearing a song like this will let them know, if they're feeling overwhelmed or if they're feeling like their life is not worth living, that there are people who are willing to listen and talk to them and try to help get them connected with some help."
UPDATE
This post has been updated to clarify that the National Suicide Prevention Lifeline saw a 50% increase in callers after the first and second airings of the VMAs on Sunday.