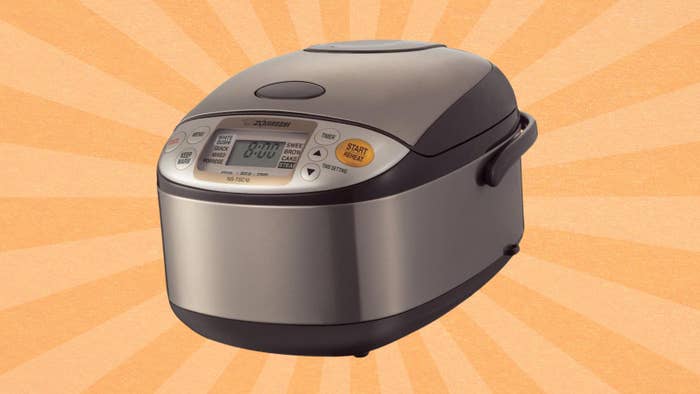 BuzzFeed may collect a share of sales or other compensation from the links on this page if you decide to shop from them. All products were independently selected by our editors, and the prices were accurate and items in stock at the time of publication.
One food you'll always find on my lunch, dinner and even breakfast plates is rice. Since I was a child, I'd always loved this simple yet filling grain that offers an incredible amount of versatility, and I'm pleased to learn that even professional chefs prefer to use a rice cooker. If you talk to anyone who has feelings about rice cookers, it seems there's one brand in particular recommended by private and sushi chefs alike: Zojirushi.
Taka Sakaeda, chef-partner of Nami Nori in New York City, told HuffPost he swears by the Zojirushi Micom rice cooker and warmer, which has almost 9,000 five-star ratings and an impressive 4.7 out of 5 stars on Amazon.
"It's the only rice cooker I've used in my life, and I've only had to replace it a couple of times when I've moved and it got lost in the shuffle," Sakaeda said. "I find that the Zojirushi makes everything easy, and is complete with a measuring cup and guiding lines inside the cooking vessel. There's really no need for any other tools, so compared to cooking rice in a pot, which requires more attention, the Zojirushi is a measure-and-go option."

You can buy the rice cooker and warmer from Amazon for around $176.
This splurge-worthy appliance is packed with tons of cool settings, including modes for white and brown rice, keeping warm, steaming and even one that lets you bake an actual cake in it. It's also super easy to clean, as it has a clear-coated stainless steel exterior and removable parts. It comes in white and gray and in 5.5-cup (usually plenty big enough for a moderate-sized family) and 10-cup sizes.
But you know what's arguably the best feature? The timer, which allows you to add rice and water any time you want, then set the machine to finish cooking at any time later in the day. Just imagine: You can set it before work and have perfectly cooked rice waiting for you at dinnertime.
The cooker, which many users on Amazon claim is the best they've ever had, also comes highly recommended by New York City-based private chef Brittney "Stikxz" Williams, who also recently shared her thoughts with HuffPost on the best pepper mill to use at home.
"One of my favorites is the Zojirushi rice cooker, especially when making sushi for my clients," Williams said. "It cooks the rice perfectly every time and relatively quickly, all while keeping the rice nice and warm."
But if you need even more of a push to take a step closer to getting fluffier rice, let these glowing Amazon reviews persuade you:
"I never owned a rice cooker at this capacity, it was always the $20 ones or on the stove top. This is a game changer as there is no more guessing if you are using the right amount of water or cooking rice long enough. I am so happy with this purchase, it also has a cute chime when you start the cooker and at the end of cooking." — Anita M.

"I am absolutely in love with this rice cooker. We have made every kind of rice imaginable lately. White rice, sushi rice, rice & beans, rice & veggies, brown rice, yellow rice; each cooked to perfection. And, so far, the clean up is a breeze. The inner pot just wipes clean without anything sticking to it. We also makes great use of the streaming function." — Amazon customer

"This rice cooker simply does the job, very well and is a set and forget unit. I've used it several times now for medium grain rice, a few times for long grain and also for steaming broccoli. The food comes out perfect every time. Best thing is you start the meal prep by turning this on and by the time you've prepped everything else for your wok or whatever, your rice (and/or veggies) are ready. Perfect." — Formula 350CBR