On Wednesday, Vogue Brazil announced they would be participating in a campaign to highlight the Paralympic games called "We Are All Paralympians."
Along with the announcement was an image of two models, Cléo Pires and Paulo Vilhena, photoshopped to appear as though they had physical disabilities.
A post on Vogue's website states that the campaign was designed to give more visibility to athletes with disabilities. However, many social media users disagreed and thought it did the opposite.
Many people with disabilities said that they found the campaign insulting.

On the publication's Facebook the angry comments continued.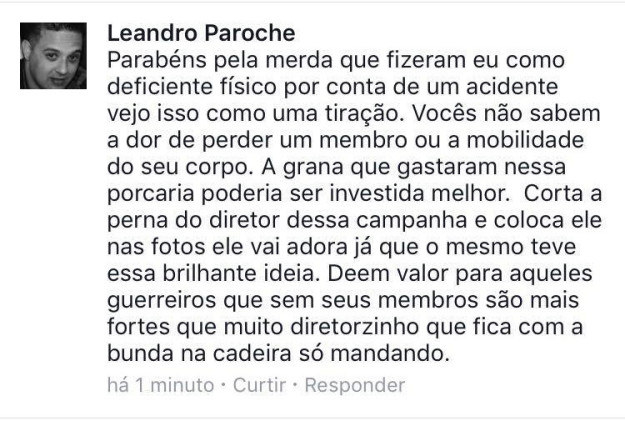 In a statement to BuzzFeed Brazil, Vogue Brazil said that while they supported the campaign, it was not originated by them.
This is not a campaign of Vogue magazine. It was conceived by the actors Cleo Pires, Paulo Vilhena (embassadors of the games) and Africa Agency.

Vogue, together with Globo Conde Nast, just supported this initiative just like we support any initiative that stimulates showing up at the games.

Vogue respects the opinion of the readers that don't agree with the format of the campaign, but reiterates its compromise in highlighting the importance o the Paralympics. We will continue to support all the initiatives of the Paralympic committee what stimulate going to the games
CORRECTION
The campaign Vogue Brazil is taking part in is called "We Are All Paralympians." A previous version of this article referred to it as "We Are All Special Olympics."