Sandra Akkad is an educator from Albuquerque, New Mexico. She is third-generation Palestinian-American.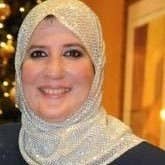 Last week, Akkad attended a talk by Milo Yiannopoulos — a controversial Breitbart editor and right-wing internet personality — at the University of New Mexico.

Akkad told BuzzFeed News that prior to the event, she had no idea who Yiannopoulos was, but she wanted to go along and see what he said. However, when the talk began, Akkad said she was quickly disappointed with its content.
"Unfortunately, from the moment he opened his mouth," she said, "I knew where he was headed. Using a PowerPoint presentation and in a very sarcastic heckler style, his white supremacist, racist, and xenophobic comments came out loud and clear. Comments about issues such as immigration, border, the wall, the denigration of Islam and its association with terrorism, and the oppression and maligning of Muslim women, specifically Muslim women who wear hijab."
When Yiannopoulos spoke of "oppressed Muslim women," Akkad said she felt it was her responsibility to challenge him. She was eventually captured on camera being escorted from the building for challenging the speaker.
Akkad's son Adam shared the picture to Twitter in support of his mother.
Many others have also shared their support for Akkad and praised her for speaking out against Yiannopoulos.
When asked how she feels about now being seen as a "badass mum," Akkad said she's incredibly flattered by the description, especially the support it shows from young people.
"I teach my students that it is truly in each and every one of our hands to take a stand in order to make a change for the better," she said. "This means that it is incumbent on each and every one of us to stand up to racism and hate. The hate speech that he was spewing incited violence and when he crossed that boundary, he no longer had the privilege of what free speech was intended for. He certainly was not worthy of the platform he was given."
BuzzFeed News has reached out to Yiannopoulos for comment.