Last weekend, a participant at Dragon Con went viral thanks to her amazingly on-point Olenna Tyrell costume.
The cosplay, which has been shared thousands of times across social media, not only included a pretty damn accurate costume, but a pair of "deal with it" sunglasses and the character's now-iconic phrase, "It was me."
The cosplayer has been identified to BuzzFeed as 87-year-old Beverly from Georgia.
Beverly's granddaughter, who asked to remain anonymous, told BuzzFeed News that her grandmother's awesome costume was made by her daughter, who can be seen pushing her wheelchair, and she added the sunglasses idea.
Beverly has been cosplaying at Dragon Con for several years, and has become a firm favorite of other visitors. Her granddaughter credits Olenna's "badass" exit from the show for the reaction to Beverly's costume.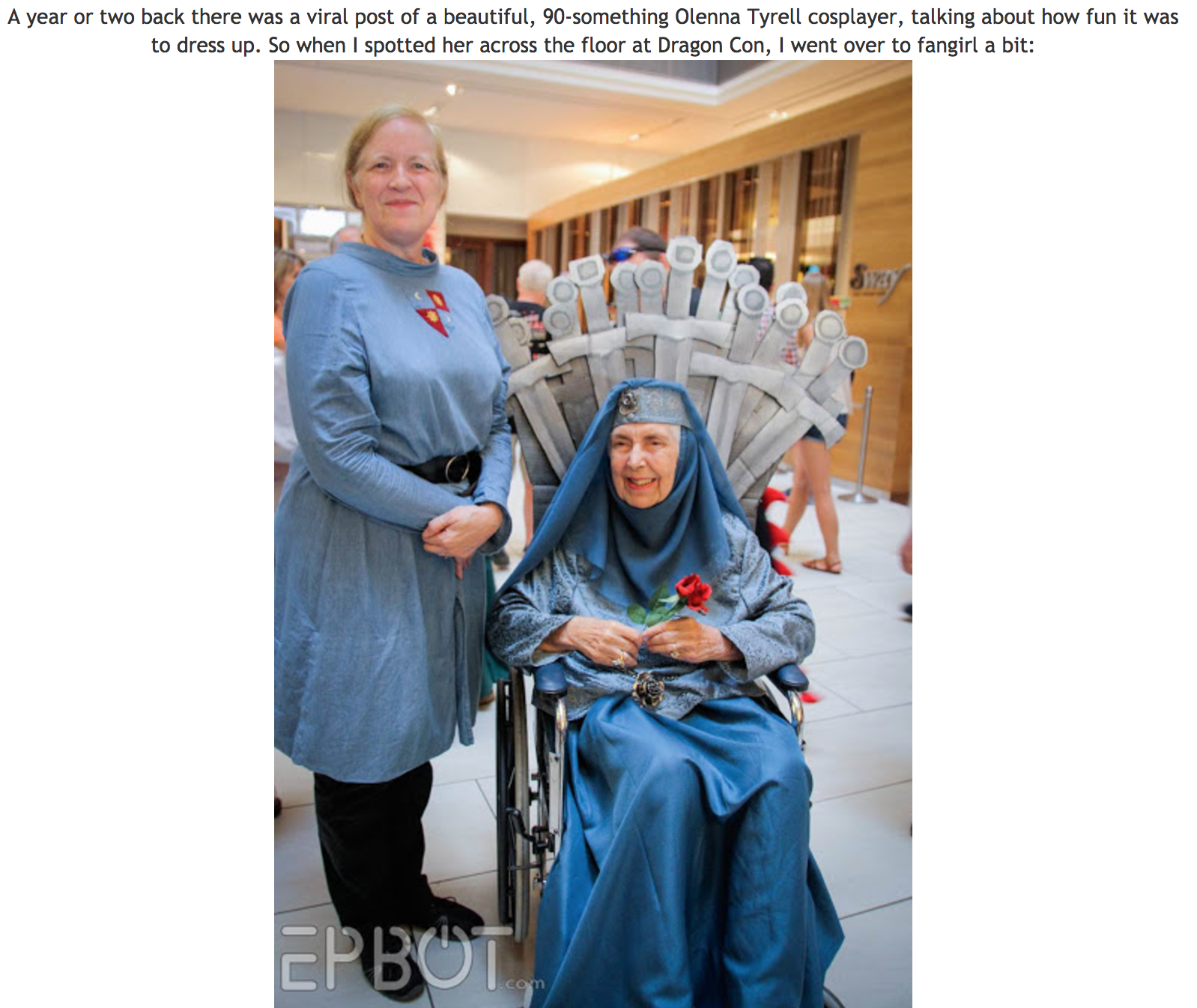 "As a family, we've always loved dressing up, for Renaissance fairs or Halloween, in costumes or in other fun outfits," said the granddaughter.
"When my mother and I first started visiting Dragon Con, we would go with friends and dress up but not as any particular characters. We would stay at my grandmother's since she's not far outside of Atlanta, and so she would hear stories from us about the fun we were having over the weekend. Four years ago, my brother joined us and we all decided to make and do actual cosplays, and my grandmother, after having heard all about it, said she wanted to join in. We were already doing Game of Thrones–themed outfits, so Olenna Tyrell was the perfect choice for her. "
Sadly, Beverly will probably not be returning to Dragon Con due to ailing health, but her granddaughter is happy that she is retiring from the convention with such flair.
"She absolutely loves the attention and interacting with people who stop her on the street or in the halls," she said. "After the completely unanticipated outpouring of support this year and just how many people have been adoring her, we'll just have to see what wins out. But if this year was her last at the Con, what a way to go!"