An artist has gone viral for her wholesome take on boob mousepads.
The creator, 22-year-old college graduate Alice, is from Houston, Texas. She goes by @apocalyssart on Twitter.
Alice told BuzzFeed News that the idea for the mousepad came from trying to think of a *different* way to use the shape of a typical anime boob mousepad. (In case you don't know what an anime boob mousepad is, see below.)
Anyway, when coming up with a better design for this mousepad shape, Alice thought of the Pokémon Rowlet. "They're, like, perfectly shaped for it," she told BuzzFeed News.
Alice says she made the mousepad about three months ago, but it went viral recently as it was purchased by @TheKimersonShow at AnimeNYC last weekend.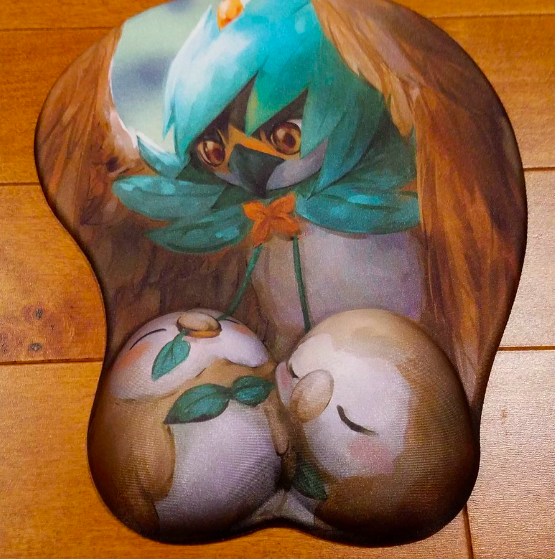 "I showed him (@TheKimersonShow) the Rowlet mousepad and was like, 'They're a great pair of hooters.' And that's the story of how someone bought a mousepad from me because of a shitty pun and then made me viral for a few days," she said.
Since being shared to Twitter the photo of the mousepad has been retweeted over 18,000 times. People think it's the cutest idea.
And everyone made the same joke.
Alice said the reaction has been amazing and has inspired her to share more of her art online.
"I was reminded that, wow, I actually make things people care about," she said.
She is also keen for suggestions about what her next designs should be.
"I don't have immediate plans to make any other mouse pads because I don't have great ideas for any, but hi internet, if you have mousepad ideas you want to see made, please throw them my way."
The Rowlet mousepad is not the only design Alice has utilized a boob mousepad for — she has also turned one into an adorable Corgi butt. She wants to make a mini Barry B. Benson body pillow key charm next.