On Tuesday, Ukraine's Oleg Verniaiev and Russia's David Belyavskiy hugged after coming in gold and bronze medal positions in the men's parallel bars.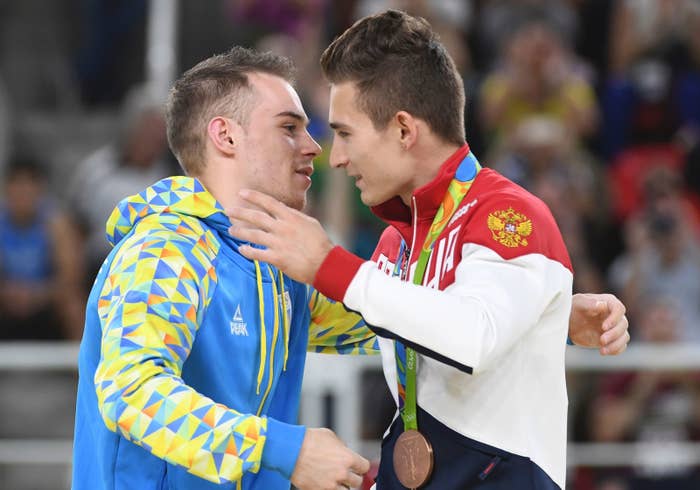 The friendliness between the two gymnasts was a notable departure from the years of frosty relations between their two home countries.
In fact, in the lead up and throughout the competition, athletes from the two countries have been seen hanging out and generally being pretty chill. In May, Russian gymanst Nikita Nagornyy posted a photo of him and Verniaiev hanging out at the World Challenge Cup. He captioned it "Olezhka (Oleg) is the champion."
Verniaiev reshared the photo and encouraged his followers to follow Nagornyy's YouTube channel.
At the Rio games, Russian and Ukrainian athletes have been seen happily celebrating successes together.
However, reaction outside of the games has been less than positive. Over the weekend, senior Ukrainian government official Yuriy Biryukov condemned athletes for taking photos with "the hoard" – Russia – and said the money should go towards military funding.
In response to the criticism, Nagornyy and Verniaiev once again posed for a photo together, this time captioning it "Me and Oleg answer all haters out there."
Whilst some comments on the photo were supportive, the pair faced backlash from Twitter users.
After the backlash, while Nagornyy's post stayed up, other athletes who had taken photos together removed them from their social media.
There's still time to sign up for BuzzFeed's Rio Roundup newsletter to get the hottest news each remaining day of the games!