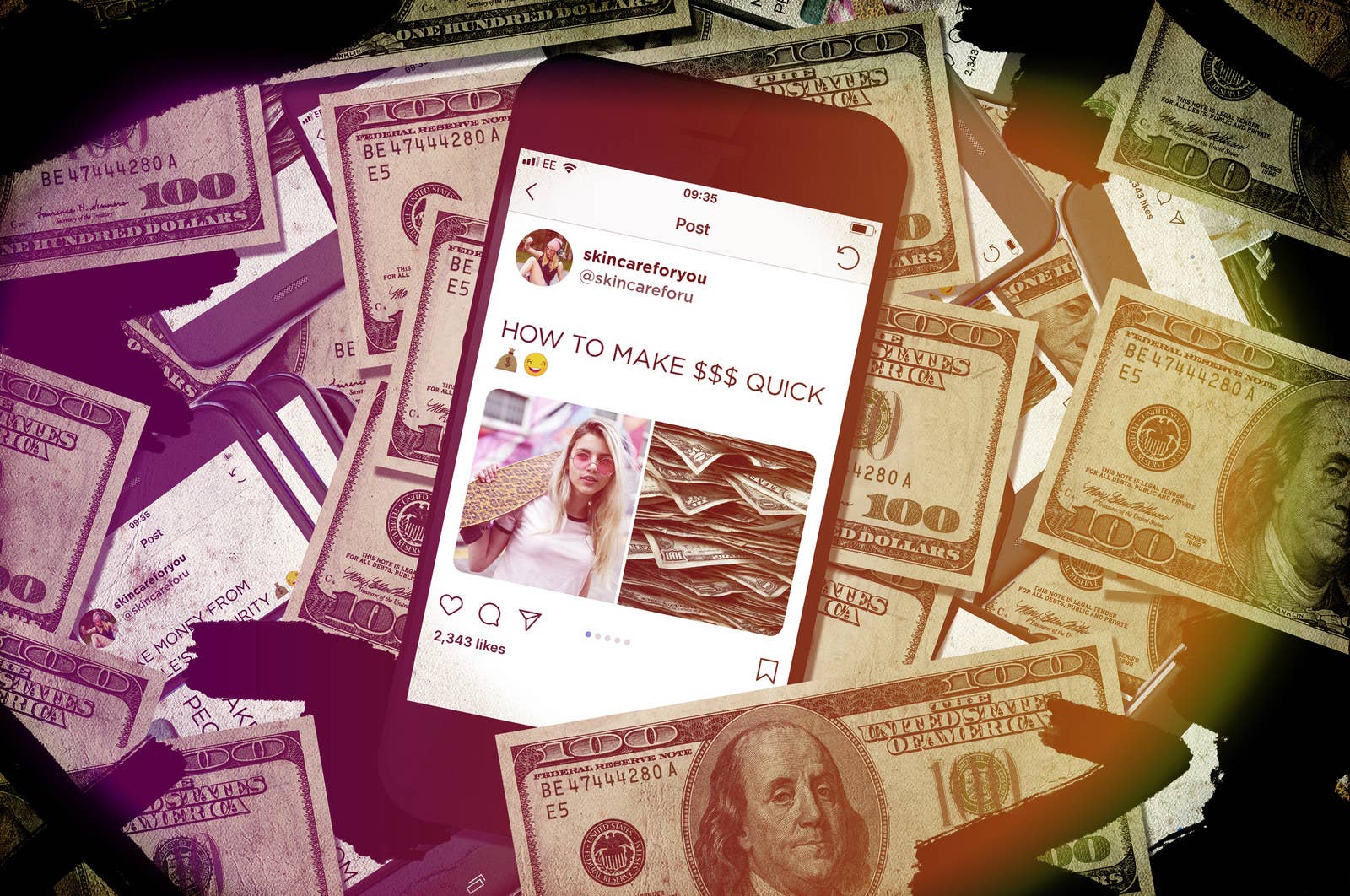 Over the past year, Instagram has been taken over by a trend known as "thread" accounts. Usually run by teenagers, they feature screenshots from other social media platforms, like Twitter, and are focused on sharing life advice with the millions of young people flocking to Instagram. The owners of these accounts post about things like skin care, beauty tips, weight loss, and mental health, and have racked up hundreds of thousands of followers. They've become mini content empires all their own, and earn thousands of dollars in ad revenue.
These accounts have also become a breeding ground for unvetted, inaccurate, and at-times dangerous health guidance. Health experts might dispute a post suggesting a diet of eggs, yogurt, salad, oatmeal, and blueberries to lose weight, or have qualms about a page promoting a two-week summer tone-up routine that promises results if you stop snacking, work out, and jog for 30 minutes a day, while also featuring the disclaimer "please don't overwork yourself or miss meals." Another page appears to promise abs by just doing basic core exercises. And another seems to recommend face masks that contain apple cider vinegar for acne, an ingredient that can cause burns. BuzzFeed News has reached out to these accounts for comment.
All of it comes packaged up with high-res aspirational photography of young women and branded with the vague banner term of "self-care," a catch-all popular phrase for a generation of teenagers who grew up on the internet talking openly about mental health awareness and who have never know any other world than our current post-Kardashian sponcon nightmare.
Andi, who requested that her last name not be included because she said she prefers to keep her personal life separate from Instagram, is the 16-year-old owner of skincarethreadsis. The account has over 265,000 followers and it's one of the most prominent self-care thread accounts right now. She posts up to several times a day and the content is largely uniform: Instagram carousels that start with a screenshot of a tweet like "Reasons why your skin keeps breaking out." Then as you swipe through the carousel, subsequent tweets list things like "you're scrubbing your skin too hard," "eating spicy foods," or "you pick at your pimples." Andi also includes ads in her threads.
Andi's page, like many of these accounts, bills itself as a skin care account, but as it's become more popular, she has expanded it to cover every subgenre of "self-care." Another thread post starts with a tweet that reads, "Snapchat Message Hack," then if you click through, there's a video showing how to view snaps without the sender knowing. Her Snapchat hack thread includes promos for her other Instagram accounts and an ad for an app that an app that promises to pay users for walking. The post has over 8,000 likes and 200 comments.
"I sort of consider Instagram as a job for me," Andi told BuzzFeed News. "I make money from my account as I do promotions where someone pays me via PayPal and then they send me what they want me to post."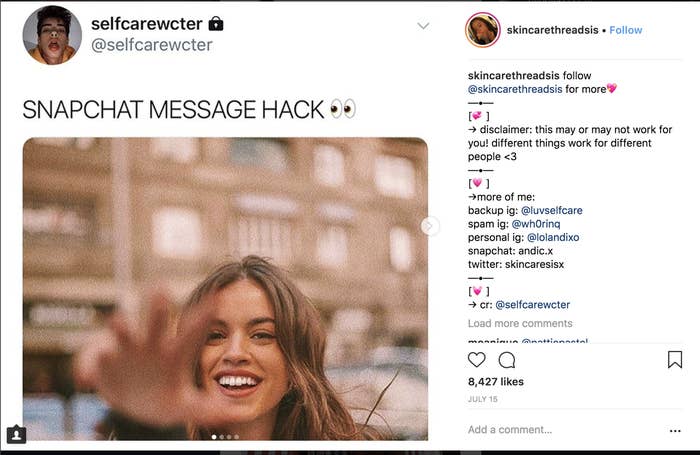 While Instagram's Terms of Service do not explicitly ban users from making money on the app, it does state in its commerce guidelines that selling unsafe supplements and health products under its shopping tool is prohibited. When asked about self-care threads and the concerns around them, Instagram provided the following statement to BuzzFeed News: "Keeping Instagram a safe and supportive place is our number one priority. Anyone can report content they think is against our community guidelines using our in-app tools and we have a team of reviewers working 24/7 to remove material that violates our policies."
The "self-care" branding Andi and the majority of these accounts use started as a reaction to the wellness movement of the 1960s. The modern interpretation of self-care has ballooned out in the last decade to define a constellation of health concerns like exercise, healthy eating trends, and self-led personal care, all of it usually emphasizing a do-it-yourself ethic and anti-science skepticism.
Recently, companies like Gwyneth Paltrow's Goop and even the far-right media network Infowars have used the concept to push products that promise to better their loyal followers' lives. And separately, the term has become attached to trends like clean-eating and plant-based movements that say that better lives are those without pollutants like meat or "chemicals." Both of these are pushed on social media platforms by influencers with large followings and sponsored content posts — Kim Kardashian promoting appetite suppressant lollipops, or British YouTuber Zoella sharing a picture of her side table stacked with premium products, while talking about her sleep routine.


Everything shared to an Instagram thread account follows a rigid aesthetic. Andi doesn't use her own picture for the account or any photos she's taken herself. Instead, she prefers to use photos lifted from places like We Heart It, Pinterest, or other Instagram accounts. She said she tries her best to credit the sources of her images, or asks specific influencers for permission. A makeup artist called Sarah Paulsun said she was aware Andi had used her image, and she supported her.

Andi's account, like others of the same genre, is littered with images of women with cheeks glistening with highlighter, gripping flowers and embodying a "carefree" vibe. The carousels are photo-heavy and the advice is almost always written out in short sentences or bullet points. Most are prefaced with some sort of cheery disclaimer: "this may or may not work for you! different things work for different people <3"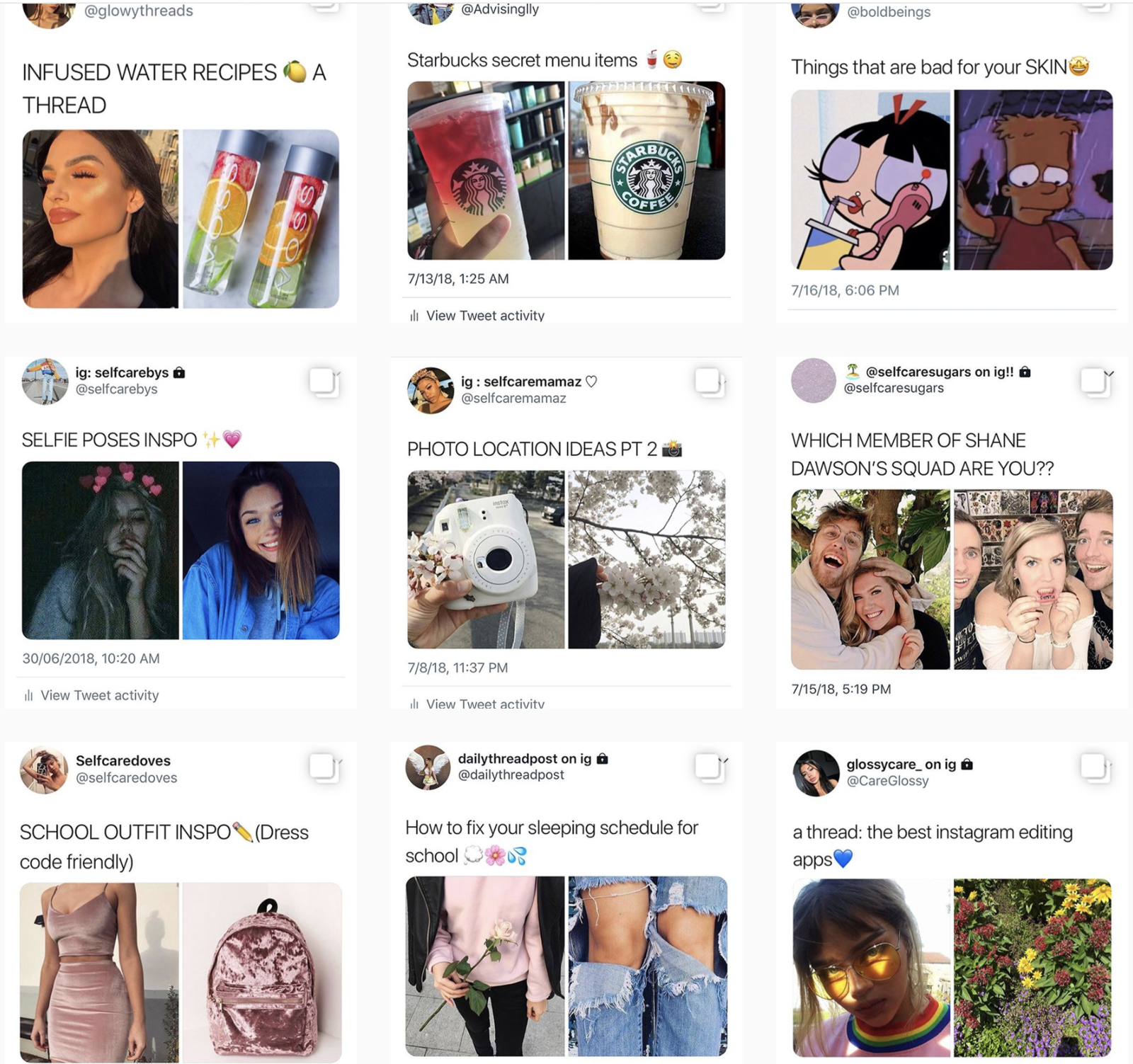 As these accounts have become more popular, more users have been calling them out for misleading and poor-quality content. Also, medical experts are beginning to worry that the advice offered could be doing more harm than good.

Dr. Anjali Mahto of the British Association of Dermatologists told BuzzFeed News that she's actually been sent bad skin-care advice from teenagers on her own Instagram account, despite the fact she's literally a dermatologist. "I posted a photo and someone asked if I tried cutting gluten," she said.
Mahto said that, more and more, she is seeing people at her clinic who have tried at-home treatments and caused themselves more problems. "It's the bane of my life," she said.
"Social media is a double-edged sword. Talking about things like mental health is positive; the downside is it can give a voice to some bad ideas."


Mahto said that natural remedies can cause more skin issues, and without proper knowledge of skin care, people are piling more and more trendy products, again causing problems. "These are medical issues; acne, skin problems — they require a medicine from a doctor."
Shai Swecker Strahin told BuzzFeed News that she ended up fighting with fans of self-care accounts. The 22-year-old aesthetician — someone trained to perform beauty treatments such as facial peels and hair removal — from Mebane, North Carolina, told BuzzFeed News that DIY treatments shared on these accounts can cause more harm than good.
"So many people say to use coconut oil, lemon, apple cider vinegar, and it's all so damaging," she said. "Coconut oil is not a face moisturizer — it just leaves a layer on top of your skin that's going to clog your pores."

"At the end of the day, if you're having skin issues, go see a licensed aesthetician to get the correct skin care routine for your skin."
Andi isn't that concerned about the criticism, however.
"I include weight loss tips and others as people direct-message me on Instagram asking for different thread ideas," she said. "I don't post them to be rude or anything, because I personally don't care about looks but some people want tips, so I post them to help."
Like others who run thread accounts, Andi regularly promotes a cryptocurrency app called Sweatcoin through an affiliate program. The app, which pays users to walk, is popular with influencers, and some have posted screenshots showing themselves making hundreds of dollars off the app. However, Ismael Dahir, the 18-year-old brother of a BuzzFeed reporter, who recently came across the app on social media, told BuzzFeed News that making money from it is difficult due to daily caps and membership fees. A spokesperson for Sweatcoin told BuzzFeed News that its affiliate program is open to those who have successfully invited 30 or more people to the app via social accounts, and are rewarded with a cryptocurrency called sweatcoins. They added that the company takes its public image seriously, and said that if anyone feels Sweatcoin affiliates are making false claims, they should flag these immediately.
Andi also makes money promoting smaller Instagram accounts. To get on her Story for 12 hours costs around $6; for 24 hours it's around $12. To stay on her account permanently via a post, it's $20. A social media strategist who works with influencers but asked not to be named for professional reasons told BuzzFeed News that influencers with Andi's following can charge brands over $1,000 for a post.
Divyanshi Hazarika, a 16-year-old fashion blogger from Assam, India, paid accounts including Andi's between $10 and $30 to promote her account. "I really want to be a blogger, so I asked many accounts with a big enough following to give me shoutouts," she said.
Divyanshi, who currently has 2,000 followers, said she is trying to get up to 20,000 followers so she can work with better affiliate programs and grow her account more. Unfortunately, the promotions didn't give her the growth she wanted and she's unsure if she'd do it again.

"I believe promotions help with creating a bigger audience, and I really need that. I was so desperate that I had to pay," she said.
There are also teens who are inspired by influencers like Andi. Nathan Mclatchie, a 16-year-old from the UK, has 432 followers on his Instagram account moonthreadss. His posts follow the familiar structure of thread accounts: he uses hearts to section off text; he encourages followers to use his promotion code at Shop All Cases, a phone accessories store. Nathan uses hashtags on his account to gain followers, but lacks the comments and interaction you get at Andi's level.
"The effect I wish to have is to teach people to learn to love themselves and step back and realize that there's no shame in realizing that they may not be okay and need a little bit of a pamper," he said.
Nathan said he doesn't have much of a system for what he posts, and he aims to create content that will draw "the most attention for the account" as "social media is such a powerful and beautiful place."
Shop All Cases' owner, 29-year-old Megan Wallis from North Queensland, Australia, said affiliates who work with her company get a 10% commission on all sales through referrals, and receive a free phone case for every five sales. To join, they have to have 2,000 followers or more, and Wallis said there are "other factors."
Andi said that since starting her account last year, she's made over $5,000 through promotions, but she said she didn't use anything like promotions to grow her account — it all happened naturally.
She said that she does get negative feedback from time to time, but she tries not to read it. Looking through her comments, the responses to Andi's account appear to be overwhelmingly positive. The posts on her main account average around 2,000–10,000 likes and get hundreds of comments. Her account has become its own community. Teens give one another advice and chat in the comments without her having to create a new post. Followers regularly provide her with content ideas, either by messaging her privately or replying to callouts.

"Need ideas for threads," Andi posted on June 17, accompanied by a picture of US pop star Madison Beer. Two hundred comments followed, all on a similar theme — skin problems, body fears, DIY beauty advice. "Cute ways to decorate your home on a budget, or how to save money on makeup if that makes any sense," one user wrote.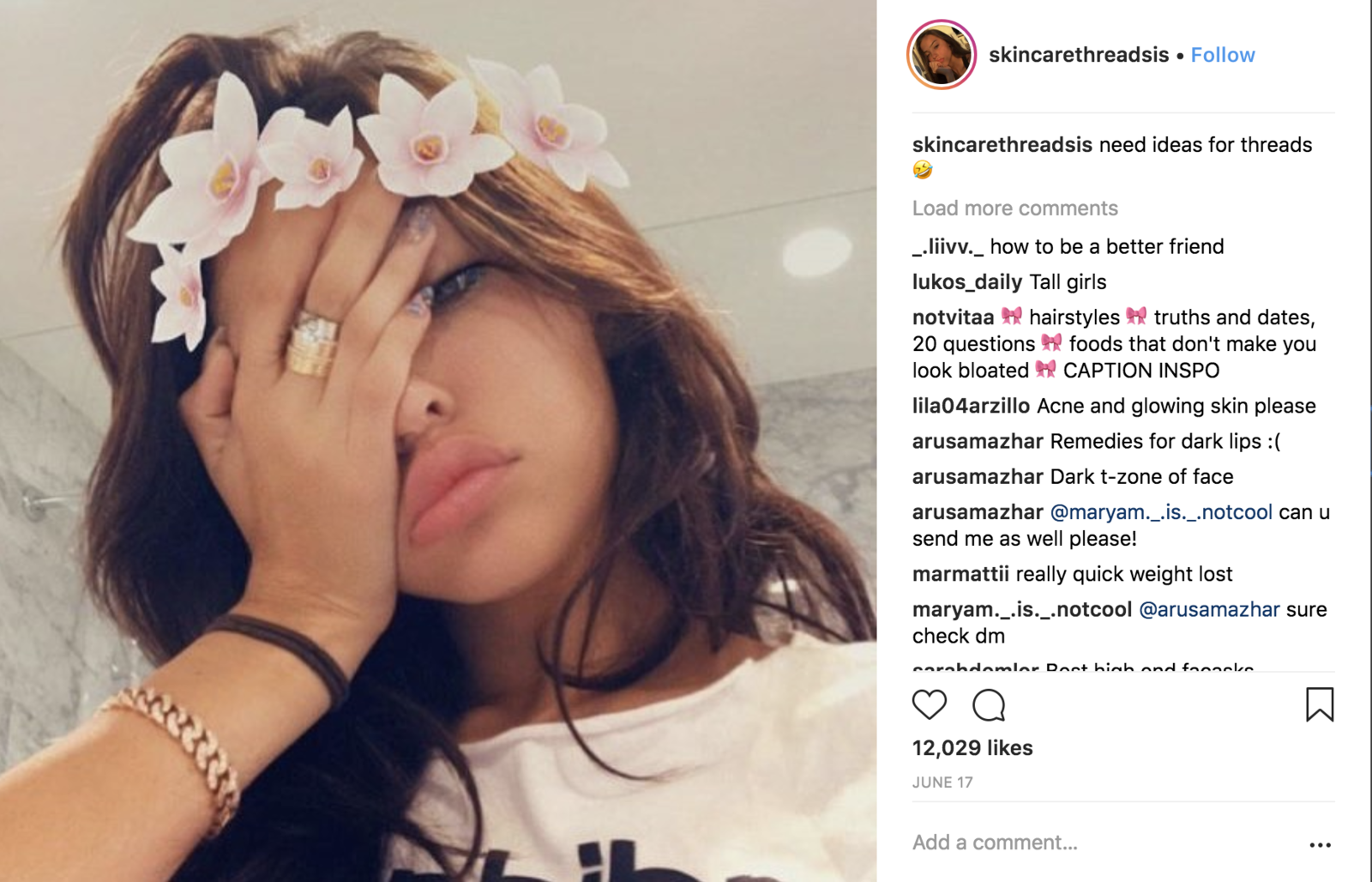 And fans of the accounts credit these mini-communities with helping them through typical teen issues. Christy Hopper, a 15-year-old from Virginia, told BuzzFeed News that she credits Instagram self-care accounts for helping her with her acne. "I take them seriously. I have struggled with acne for over a year and I go to see if there are any other things I haven't tried," she said.

Christy said that advice from the accounts has helped with her acne, and that the accounts, for her, are more like a community. She shares advice that has worked for her in comments sections so that others can benefit.
"I use them for inspiration and seeing how other people live their lives — maybe take tips from them for my life or maybe give others the same," she said.
But Mahto believes that young people like Christy may be turning to self-care threads due to distrust of or difficulty in accessing traditional medicine. Mahto sees the whole trend as a generation of young people unimpressed by, and possibly unable to receive, proper medical care.
"There's the trend towards natural products, but also there are very few dermatologists in the UK. Some might prefer the quick fix of natural ingredients, have a fear towards traditional medicine, or not be bothered with long general practitioner processes," said Mahto.
Andi said that she doesn't see her account ending anytime soon. She said she really just wants to help other teenagers.
"I started my account as I [had] seen a lot of skin care/self-care threads on my Explore account and they really fascinated me for some reason. I liked the idea of making posts to help people with things that they struggle with (acne, weight and much more) but I also like showing others that everyone is beautiful," she said. "I love my account and I really don't know what I would do without it."