An 83-year-old from Mumbai was thrown a surprise party by police when they found out she'd be alone on her birthday.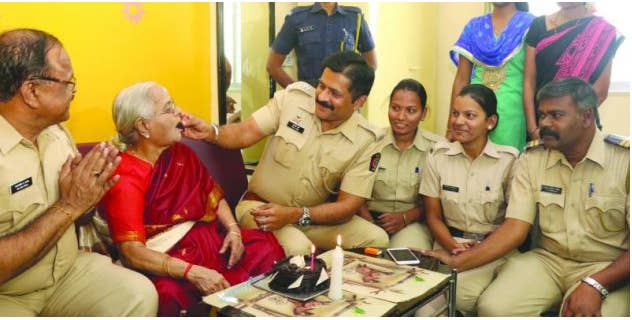 Lalita Subramanyam from Wadala, Mumbai, is regularly visited by police as part of their effort to reach out to vulnerable individuals. Subramanyam has lived alone for 25 years and is given help in her day-to-day life by officers.
When Mumbai police found out her children couldn't visit her on her birthday yesterday, they visited her instead, bringing a cake and flowers.
Twitter users praised the officers for their kindness, and, of course, wished Subramanyam a happy birthday.
Senior police inspector B.M. Kakad told the Huffington Post that Subramanyam is like a mother to him and the other officers from the Matunga division.
"She is like my mother...She was very happy with birthday celebration," he said. "She said her children visit her few times a year but are unable to come frequently."