An Anti-Disney Troll Account Says It Didn't Actually Lead The Harassment Against Kelly Marie Tran
"I joined in on an already established party that was already in full rave mode over there," the account told BuzzFeed News.
Last week, it was rumored that Kelly Marie Tran had left social media due to harassment from Star Wars fans.
Following the news, people began looking for evidence of harassment. Some shared screenshots from the comments of Tran's now deleted photos.
Others looked to see if there was a greater source behind the campaign. Then over the weekend, a Facebook group called Down With Disney's Treatment of Franchises and its Fanboys, said it took part in the harassment, saying its creator and "many others, (some of whom I inspired)," helped force Tran off social media.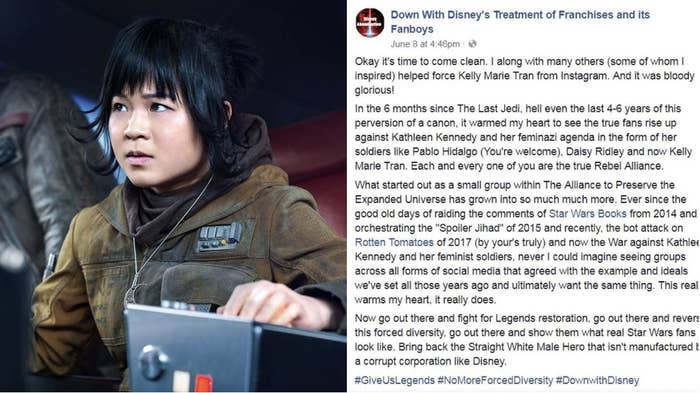 The page and post were quickly removed from Facebook, but the post was picked up by multiple media outlets, which wrote that the group claimed responsibility for the campaign.

And people on social media also shared the post and said the group led the hate campaign.
However, it seems unlikely that the group played a significant role in Tran's harassment. First, as noted in some articles, one of the hashtags used at the bottom of the Facebook post, #GiveUsLegends, belongs to another Star Wars fan campaign group. The group has released several statements distancing it from Down With Disney.
And while the group's Facebook page has been removed, a Twitter account that shares its name still exists. This account — which identified itself in a tweet as a 22-year-old from Chicago — appears to not have mentioned Tran prior to her leaving social media.
BuzzFeed News reached out to the account to clarify the Facebook statement and for proof of harassment.
The person behind the account said that they "joined in on an already established party," and that they weren't solely responsible but, "knew a few people doing it too."
"I never suggested that I led it. I made a post saying that me and my friends took part," they said.
When asked for proof of them harassing Tran, the person behind the acount said that they used their personal Instagram to do this, and they did not have screenshots, but would have kept some "if I had known this would have been news."
Harassment against Tran and other women in the Star Wars universe, took many different forms — Instagram comments, YouTube videos, toy campaigns — so it is very unlikely that it came from one centralized source.
This isn't the first time the page has associated itself with campaigns against Disney. In December the account claimed responsibility for spamming The Last Jedi's Rotten Tomatoes page with negative reviews, and then again in February for Black Panther.