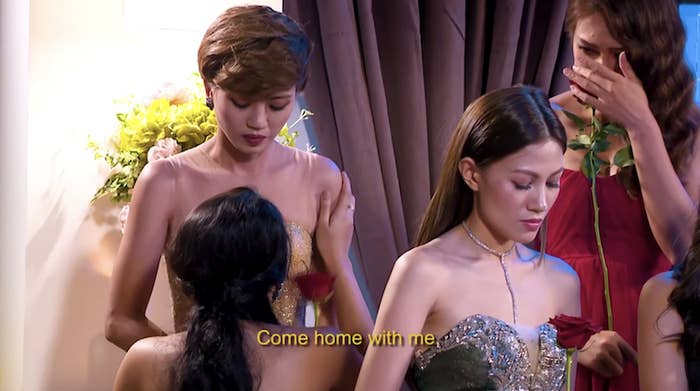 So remember last month when The Bachelor: Vietnam contestant Minh Thu confessed her love for another contestant, Truc Nhu, and asked her to leave the show with her, only for Nhu to decide to stay?
Well, good news! Following Nhu's elimination from the show, the two women have got together.
Speaking to BuzzFeed News, they said that as soon as they were separated, they realized their feelings.
"The moment when Minh Thu left and I stayed behind, I had a lot of longing. I had a lot of memories of our time together," said Nhu. She said that Thu had been very caring toward her during their time together, and when Thu met her off her plane home, she realized how special she was.
Nhu said that she decided to stay on the show to make sure her feelings were real and not just infatuation, and also wanted to give the bachelor a fair chance.
Both women said they had never had a same-sex relationship prior to this one, and that the experience of coming out on a TV show was tricky.
"Right before the episode was going to air, I mentally prepared what I was going to say to my family," said Thu. "When my family asked for an explanation, the response I prepared was, 'What do you want for me? To have a husband and a child? Or to find my own happiness?'"
"My older sister was worried if I could ever find a husband and would be able to find happiness," said Nhu. "I told her this was completely real and asked her, 'Don't you want me to be happy? If I'm happy in this relationship then you need to support me and not scold me. Going the traditional way and having a husband and child doesn't necessarily mean that you will find happiness.'"
They said that the support people have been giving them has been "special." When the news broke that they were a couple, fans celebrated.
The pair now just want to get on with their lives and, according to Nhu, prove to their families that they can thrive as a couple.
"We want, one day, for people to know us from our work and what we create, instead of just from this incident alone," said Thu.