"Anna" and "Kim Mong Dang" don't go by their real names online, out of fear that trolls on the internet will target them for their interests. They're members of the activist gaming group Famerz. Over the past year, the group has become increasingly important for young feminists in South Korea, who say they are now doing something that the previous generation did not.
The group formed during the protests against then-president Park Geun-hye in late 2016. It was a complicated time for feminists in South Korea: Park was the country's first woman president, and her implication in a corruption scandal was seen as damning to women across South Korea.
However, Park was never welcoming to feminist groups, and her conservative government did little to advance women's rights. Women who participated in the marches were keen to point out that she was facing impeachment because of her actions, and not because she was a woman.
Famerz first formed under the name 4DVa. During the demonstrations, people carried flags and banners through the streets. One flag featured a white rabbit, the logo of a Korean character called D.Va from the video game Overwatch. The character gained notoriety as the preferred choice of Kim "Geguri" Se-yeon, a woman professional Overwatch player who, that year, had become a feminist icon after receiving harassment from other players for being so good at the game.
Activists began gathering under the flag and talking about video games, a hugely popular industry in South Korea. A few months ago, they changed their name to be more inclusive of other games, characters, and gamers. Famerz charges around $25 to join, which gets its 50 members access to feminist-only game spaces, meetups, and a discount on merchandise.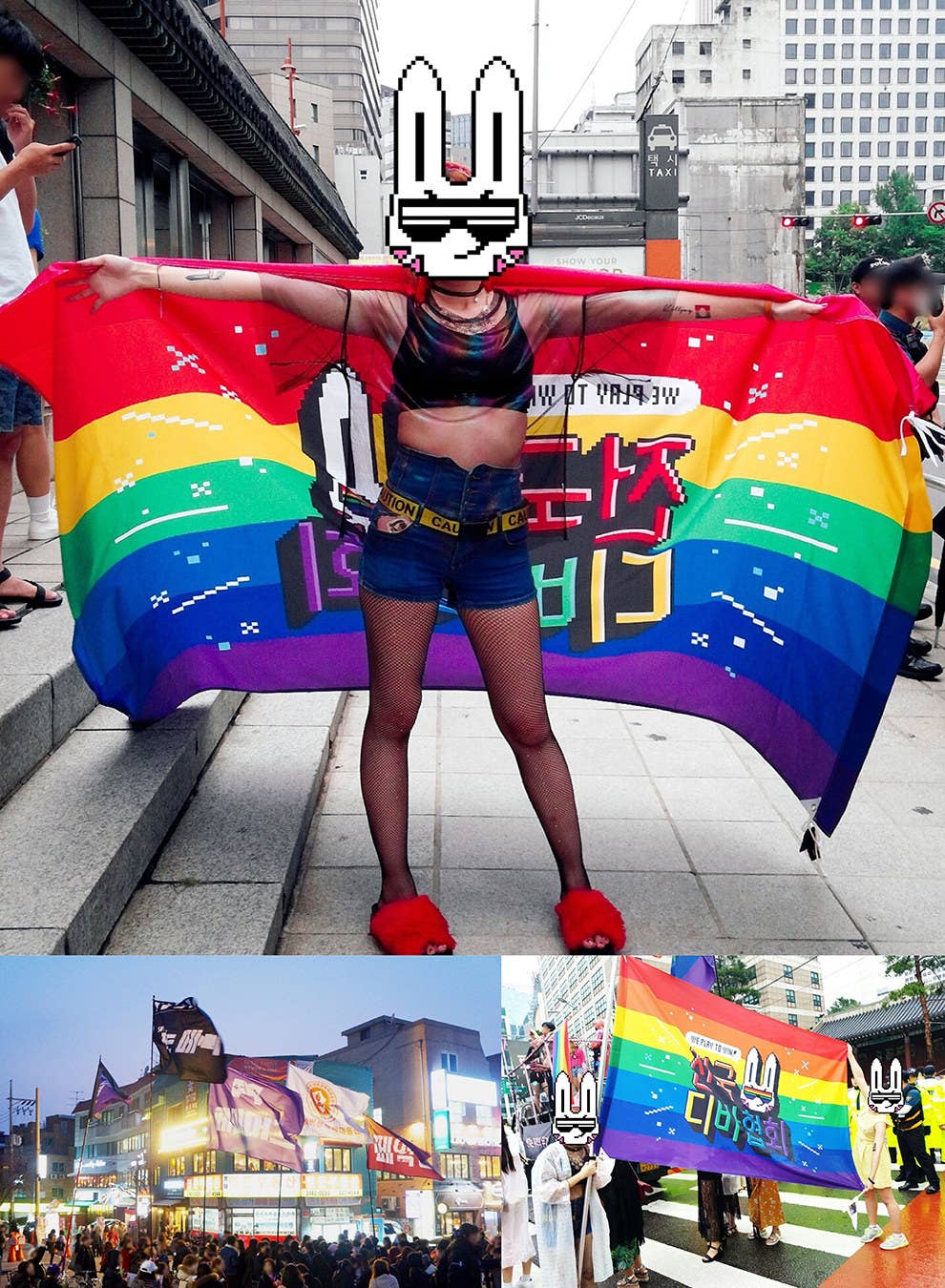 In the past few months, the #MeToo movement has spread across South Korea, with numerous women in film, politics, and literature coming forward to share their own stories of abuse and harassment. Groups like Famerz — young feminists wanting to shape what it means to be a woman in 2018 — have been using the moment to give the world an insight into South Korea's troubling approach to women's rights. Now Famerz and the country's leading feminist voices are trying to build an inclusive space within South Korea's intense online gender war.
"The recent push for feminism feels like it's the first time women really have spoken out," Kim Mong Dang, 24, told BuzzFeed News in a small meeting room a few floors up in an events space called the Seoul Women's Plaza. "The senior generation doesn't think that young feminists are following a 'strong Confucius idea.'" Korean Confucianism had a strong influence over Korea's first generation of feminist activists. They believed in pushing for equality while respecting traditional gender roles. "They want young feminists to be like them," Kim said.
"There were no role models for me," Anna, 25, added.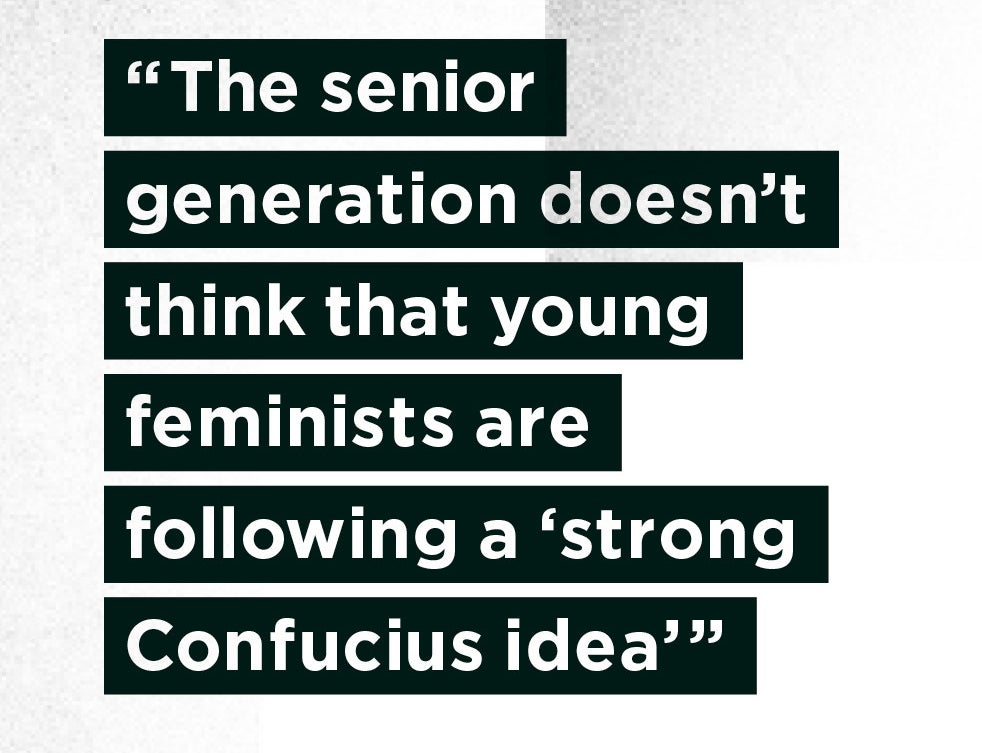 They said that older women criticize the way they interpret feminism. But the Famerz members don't think the older generation understands what it's like to be a young woman in South Korea in 2018.
The feminist-only game spaces are key to Famerz's appeal. Most people in South Korea go to PC bangs to play video games. They're like internet cafes, with computers set up, ready for players. But the culture surrounding gaming in South Korea means that, for women, trying to get into a PC bang can be a nightmare.
Some require you to hand over your phone number to register for an account. Some staff use this as an opportunity to get a woman's number and bother her. And if you sit too close to men in a PC bang, they might find out your screen name and start messaging you. Then, once you start playing the game, if you have a screen name that is noticeably feminine, or perhaps you play with a headset so others can hear your voice, you get bombarded with unwanted comments and abuse.
"We are trying to make a community that can protect female users. We play with each other, make our own games, talk about bad experiences," Anna said. But there's only so much they can do to treat the symptoms of a bigger problem, she said.
One of these problems is aggressive harassment by online trolls. When we met, Anna was wearing a choker and Kim was wearing a beret, both with the word "feminist" written on them. They said they're not scared of what people in the street might think.
"Some men might take pictures of us, put it on Ilbe, and call us Megalians," Kim said.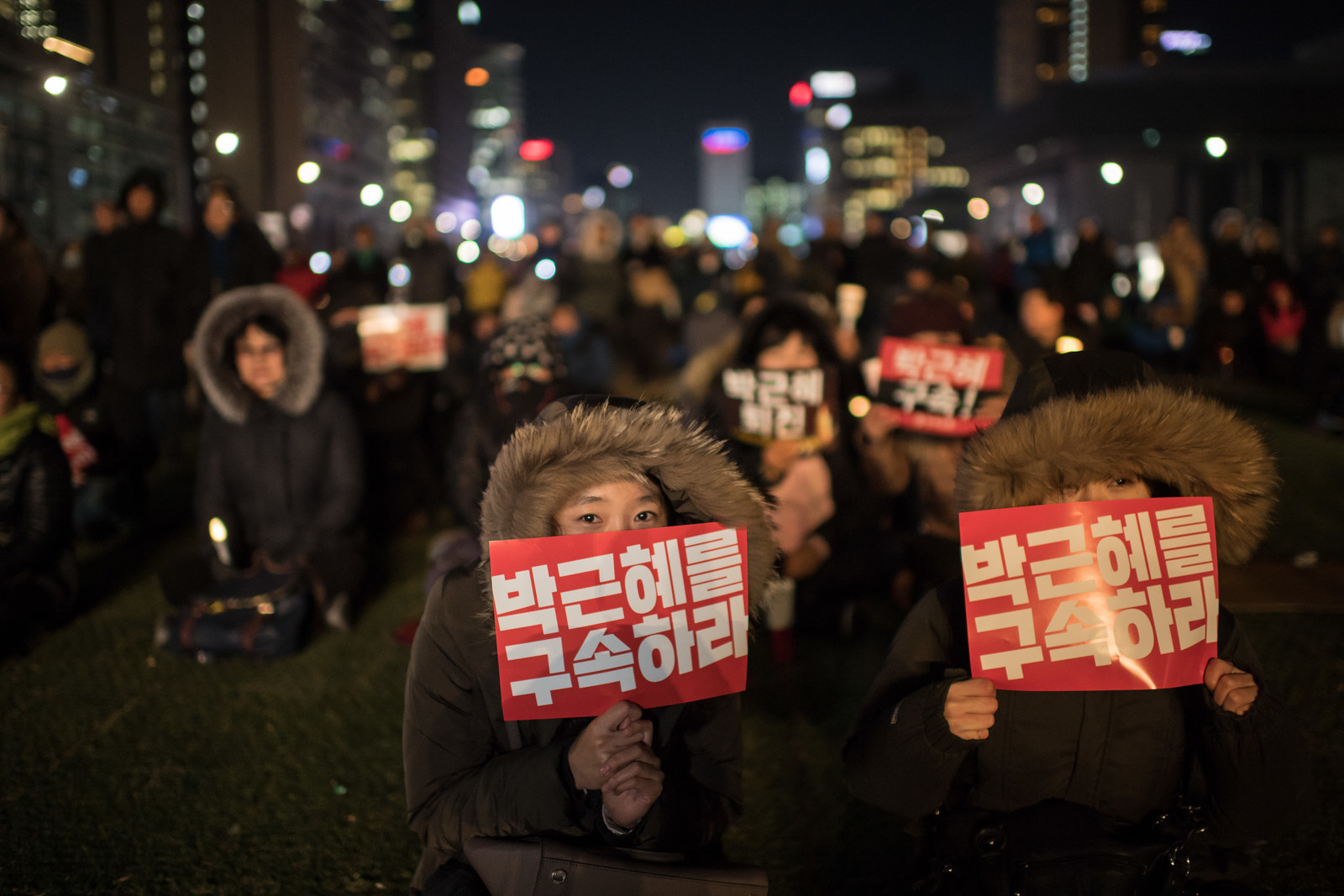 Ilbe, or Ilbe Storehouse, is like South Korea's 4chan. Megalia, or Megalian.com, is like Ilbe's radical feminist rival. Ilbe users are mostly young, male, right-wing nationalists and anti-feminists. The site's been around for almost 10 years and during that time its users have gained a reputation for trolling and harassing those they disagree with.
They use the term "kimchi bitches" to describe Korean women who like material pleasures and idolize Western culture. Pornography is illegal in South Korea, but Ilbe has become a huge hub for explicit images of women, many of which are taken without their consent. Ilbe is also the place where most online harassment against women in South Korea starts. The term they use for feminists is "Megalians."
Megalia was founded in reaction to the type of misogyny that created llbe. During the MERS virus outbreak in South Korea in 2015, a rumor started on the online message board DC Inside that two women who were quarantined had traveled to Hong Kong on a shopping trip. A group of women created the Megalia forum to fight back against the rumor and debunk it.
Megalia has become infamous for its embrace of radical feminism. More extreme users made headlines for sharing pictures of mutilated penises, regularly used anti-gay and anti-trans language, and employed a trolling style called "mirroring" — writing like the men on Ilbe in an attempt to mock them.
The site's users drew criticism for being as extreme as the men they wanted to push back against. Following a ban on anti-gay slurs in early 2016, Megalia splintered and the majority of its users left. Most of them moved to a community called WOMAD.
Ilbe trolls have had a number of notable successes. In 2016, video game voice actor Kim Jayeon shared a photo of herself in a T-shirt that read, "Girls do not need a prince." The T-shirt was sold by Megalia. Fans of the game she was working on at the time, Closers, inundated its creators with complaints. The company behind the game openly admitted she lost her job because of the backlash. Kim's treatment was described by some as South Korea's own version of Gamergate.
And as recently as February of this year, a member of the K-pop group Apink, Son Naeun, received a torrent of abuse after posting a photo of her phone case that read, "GIRLS CAN DO ANYTHING." Son had a pack of cigarettes in the photo, which trolls jumped on as well. (The K-pop industry, the country's most popular entertainment export, has been plagued by its own accusations of sexual harassment, though no victims have publicly come forward yet.)
But the fight hasn't just been online. Two years ago, a young woman was murdered in a public bathroom in the Gangnam neighborhood's subway station. When her killer was caught, he said he'd committed the murder because he felt he'd been ignored by women throughout his life. Activists then covered Gangnam station in Post-It notes with messages about their experiences of violence and abuse written on them. And as is often the case in South Korea, their efforts attracted counterprotests by men who believed they were being discriminated against.
Perpetrators of harassment and violence against women have also been exposed as the #MeToo movement reached South Korea. In December of last year, film director Kim Ki-duk was fined for slapping an actor and forcing her to take part in a sex scene on the set of his film Moebius. When Kim was invited in February to a film festival that publicly supported #MeToo, the unnamed actor spoke out. The controversy was the beginning of a #MeToo firestorm in a country notorious for its gender inequality.
Despite this progress, not everyone has felt able to speak freely. Many women are sharing their stories anonymously or via apps for fear of being reprimanded. Others have reported being avoided by men at work who do not wish to be accused of harassment. Young male victims of sexual assault have also begun using the hashtag #YouToo to highlight what they feel is the missing voice of male survivors and to criticize the #MeToo movement for causing innocent men secondary stress and harm as they see others hit with allegations.
Making things even more complicated, last month, South Korean actor Jo Min-ki killed himself after he was accused of harassing students at Cheongju University. Men blamed feminism and women for his death. "You should have been more careful before participating in the #MeToo movement," read one petition. Others online countered this using a hashtag that translates to "even if you die it doesn't erase your sex crimes."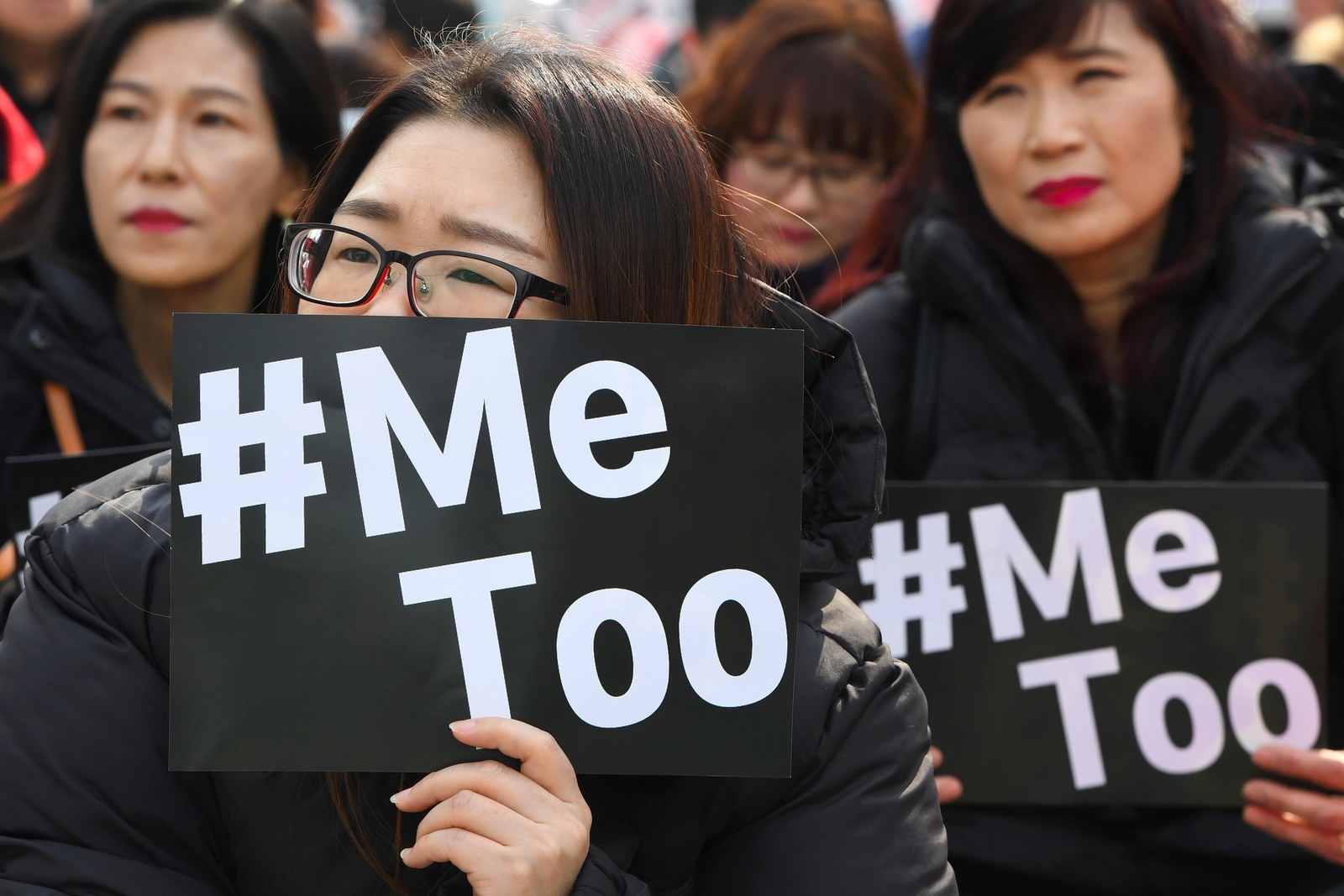 Song Ranhee, the secretary general of the Korea Women's Hotline, the country's oldest women's NGO, said it is overwhelmed by how bad things are right now. At the group's office near Bulgwang-dong, Seoul, she let out a defeated laugh when asked what are the big problems facing women in South Korea. "There are so many," she said.
In South Korea, abortion is still illegal, punishable by up to a year in prison, except in cases of rape or birth deformity, or if the pregnancy would damage the mother's health. According to Human Rights Watch, South Korea has a 37% gender wage gap with "widespread" gender discrimination in most workplaces. And last year, the Korean Institute of Criminology found almost 70% of men surveyed had physically or psychologically abused a girlfriend.
At her office near Bulgwang-dong, Seoul, Song laid out a timeline of women's rights in South Korea. She said she believes the situation was getting better from the '90s onwards, but the conservative government of the mid-2000s slowed progress, and since then a strong men's rights movement in South Korea has made things difficult.
"It's a monster now," she said.
She agrees that groups like Ilbe are part of the problem and symptomatic of a greater issue with masculinity in the country. While the hotline provides support for women who have faced harassment and discrimination, the NGO's focus is on legal change. But Song is also optimistic about the work young advocates like Famerz are doing.
"They are the daughters of the first feminists," she said. "We need to support them."
But Famerz aren't the only young feminists causing a stir in a #MeToo South Korea. On the more radical "Megalian" side of the spectrum, there's former K-pop trainee Han Seo Hee, who has become a favorite target for trolls in South Korea and in the West. Her photo appeared on a 4chan thread on what's wrong with Korean feminists, and she's been discussed on /r/Hapas, a subreddit for anti-feminist Asian men.
"If I were a man [in K-pop] I would not have gone through this kind of harassment," she told BuzzFeed News, while sitting in a cafe in Seoul's Gangnam district.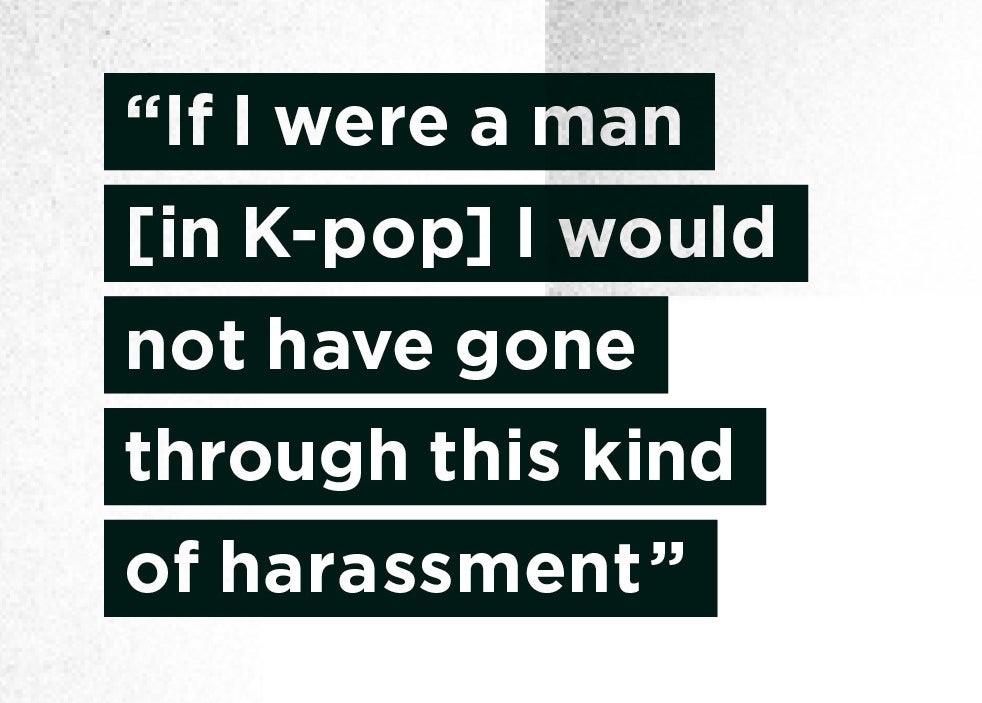 "I have suffered extreme sexual harassment from male online communities," she said. "They even attacked me for the beauty products I used."
Han gained notoriety in 2016 after she was caught smoking marijuana as a K-pop trainee. Since then, she has become an outspoken feminist and aligned herself with the type of radical feminism associated with Megalia. In November, she posted a quote from Professor Elizabeth Grosz on her Instagram page, which insinuated that trans women aren't women.
"Sometimes people tell me, 'Hey, you can't be a feminist, you're just a whore. Stop using feminism. You're just a criminal,'" she said. "But it's funny as there's no requirement to join the feminist way. So everyone can become a feminist."
Last year, Han left the K-pop industry because of the pressure to look and behave a certain way. She said industry insiders weren't happy with her growing interest in feminism. So she left, and started using her Instagram as a way to talk to fans and spread her feminist message.

"Women have the opportunity to speak about their experience and express criticism," she said. "Although, on the one hand, I'm worried about this movement because some guys make a mockery of women and [women] can be deeply wounded."
Han's radical feminism has made her position as a movement leader difficult. Last November, Korean actor Kang Hyuk Min posted on social media about Han, saying she "pollutes the meaning of 'feminism' in Korea" and is "out of her mind." In response, Han called him a "rapist in training." In January, he announced he was suing her and the 10,000 commenters who sent him abusive messages afterward. Han declined to comment on this.
While Han's more combative approach may be getting her headlines, Famerz are using the discussion around gender inequality in South Korea to branch out. They've held sessions teaching members about things like drag, attended queer events, and participated in Seoul's "slut ride" rally on bicycles. Famerz are also more enthusiastic than Han about the larger #MeToo movement's possibilities in South Korea.
"#MeToo is exposing misogyny in a big way," Anna said. "People are specifically mentioning people via the hashtag, which is important as it reveals the culture."
But they point out that women using hashtags to speak about harassment isn't new for South Korea. One of the first things Famerz did as a group was set up a separate Twitter account to share the stories of people who have been harassed while playing video games.
Around the same time as the impeachment protests, a number of victims of sexual assault by "otaku" or "nerds" began sharing their experiences via a hashtag that translates to "otaku my sexual assault." But because of the president's impeachment, the stories didn't get the attention they deserved. Now, though, the #MeToo movement has brought interest in the hashtag back.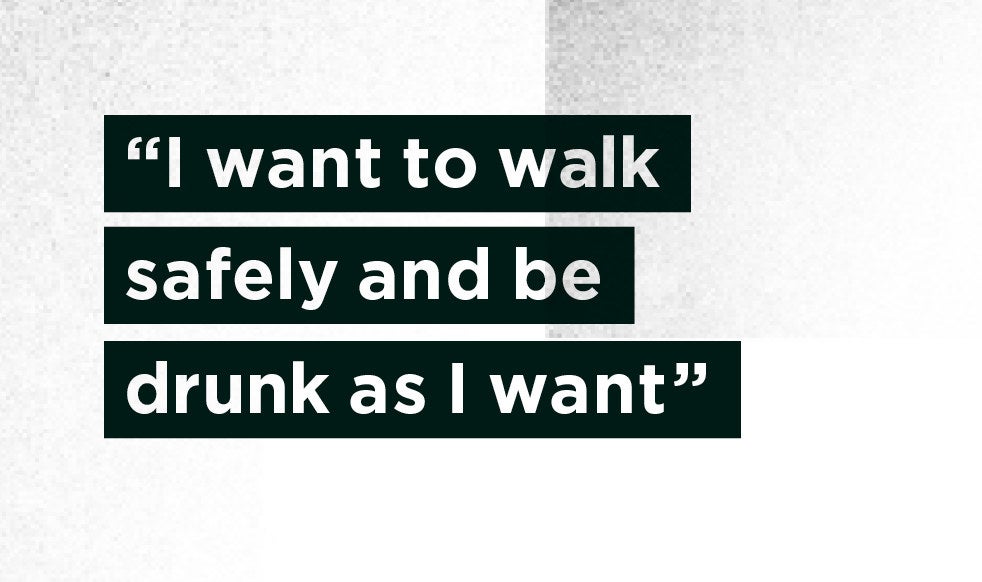 Kim said the Korean Women's Hotline is one of the only organizations Famerz can really look up to. And just like the NGO, Famerz are most interested in how they can use the energy around #MeToo to actually change Korean culture. Both Kim and Anna are pretty optimistic that their generation will be the one to do it.

In the last month, they held a welcome session for new members with a video game trivia quiz and board games. And one big issue they're working on right now is consent. Many blame the country's conservative attitudes for stunting positive conversations around sex, meaning a topic like consent is a nightmare to navigate publicly.
"Usually drunken men get weaker punishments and drunken women get stronger punishments if there are sexual crimes. A lot of men think drinking with a woman is consent. They don't think having sex with a drunk woman is rape," Anna said. "Consent of drunk women is a hot topic. We do moonlight protests at night. I want to walk safely and be drunk as I want." ●