Sebastian Stan is a Hollywood actor best known for his role as Bucky Barnes in the Marvel Cinematic Universe.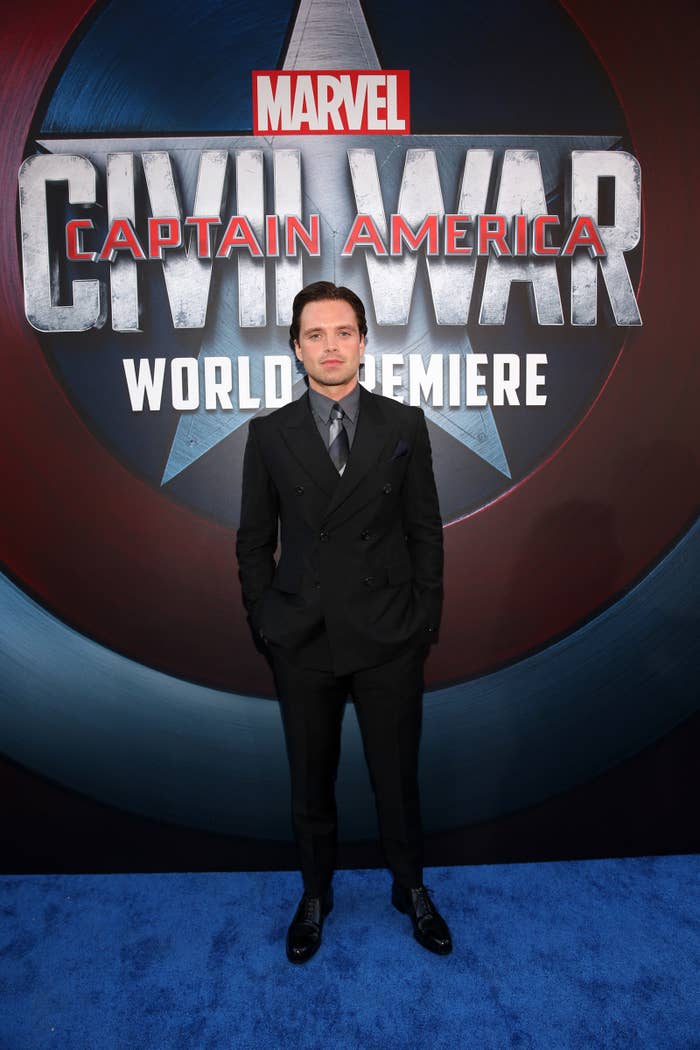 Despite his initially supporting role in the franchise, Stan and his character have become the "golden boys" of the MCU.
In fact, if you spend enough time on the internet, love for Stan seems pretty unavoidable.
And while fandoms obviously exist around some of Marvel's leading men — Tom Holland, Chris Evans, Charlie Cox — Stan's breakthrough has been unprecedented.
BuzzFeed News reached out to several stans of Stan to find out what is so alluring about Stan and his characters.
For Melanie Rose Martin, an 18-year-old from Melbourne, Australia, who runs the Tumblr blog Barnes-and-Parker, her stanning of Stan all leads back to Bucky Barnes.
Like many Stan/Bucky fans, Martin's interest began with the Captain America movies.
"I was about 16 years old when I watched Captain America: The First Avenger," Martin told BuzzFeed News via email.
"I loved how he portrayed Bucky Barnes in Captain America: The Winter Soldier as stoic and frightened yet also intense and vulnerable," she said.
"You can really notice Bucky's anger, confusion, and emotion in every punch he throws. I loved how Sebastian Stan projects the emotions Bucky feels onto the audience and demonstrates the difficult realizations Bucky is going through even though he doesn't have many lines."
Despite Martin living in Australia and never coming into contact with Stan, the power of the internet has allowed her to develop a unique knowledge of her favorite actor.
"As I saw more interviews with Sebastian Stan he seemed like someone I could relate to in how he can be awkward and funny! You can tell he really loves and appreciates his fans and I think that is really important."
Whole social media accounts are dedicated to Bucky Barnes, containing memes, NSFW fanfic, and analysis of Stan's acting in the role.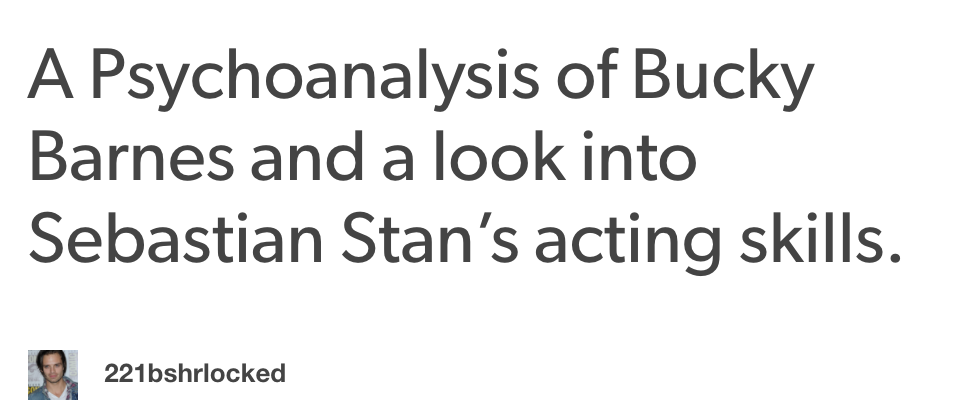 But mostly, fans of Bucky — a brainwashed assassin — have turned him into a cuddly emo meme.
Memes usually depict Bucky as a troubled mess — a stereotypical bad boy with his heart in the right place. Some also cut through this serious persona with goofiness.
There's also plenty of fanfic and art that portray Bucky and friends such as Captain America and Sam Wilson in romantic relationships.
Love of the Bucky character has led to Stan gaining a large online fanbase.
Stan is responsive to memes and posts by fans on social media, often either liking them or replying.
And he carries this openness into real life.
However, Stan is probably best known for his *work* at meet and greets.
Stan often goes viral for his willingness to play along with fans' requests at photo opportunities.
"I traveled to Philly Comic Con just to meet Sebastian Stan," said Kayleigh Reider, a 23-year-old from Florida, via email. As with the majority of people who have met Stan, she had nothing but positive things to say.
Reider has traveled the country numerous times to meet Stan and undergo the mythical Stan experience.
"For my first photo op I had brought these customized Winter Soldier Minnie Ears," she said. "I asked Seb to wear them and we could act like a cute couple at DisneyWorld and HE DID. he put the ears on, hugged me so tight, and we took a picture that I'll never forget about."
But for those who stan Bucky, will their service to Stan end when his role in the Marvel Cinematic Universe potentially does? Probably not.
"I absolutely think that his whole fanbase (myself included) will love him and appreciate him even after the Marvel universe ends and he is no longer a part of it," said Martin.
"After watching his other TV and movie appearances, I can say without a doubt that I will always 'stan' him, as I think he is a marvelous actor even if he isn't playing Bucky Barnes."
Even if Stan is removed from the Marvel franchise, it's safe to say his fans might make up the best PR campaign his career could have hoped for — they're already creating buzz for his upcoming role in I, Tonya.
And while those following Stan may have been blessed by one of the most responsive celebrities in the business, the network that Stan stans have created is the moost positive place on the internet.
"I love how he brings people together and he doesn't even know it. Since making my Tumblr account, I have made so many new friends because of our mutual love for Sebastian Stan," said Martin.
"We send each other photos and talk about him for ages, try and learn Romanian together just I case we meet him, talk about how adorable he is, how funny he is and how GREAT he is!"
Stan's reps did not reply when BuzzFeed reached out for comment.