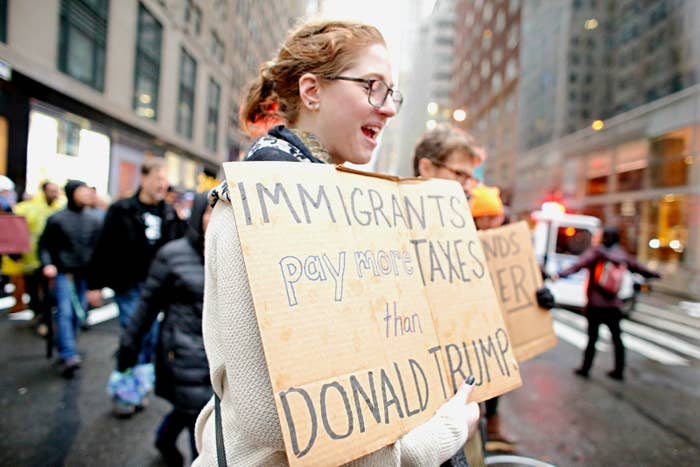 People attempting to enter the United States from Canada to attend today's Women's March on Washington have reportedly been turned back at the border, while one man told BuzzFeed News US border officials tried to prevent him and his wife from entering the country.
CBC News reported on Thursday that a group of Canadians were held for several hours and fingerprinted at the St. Bernard de Lacolle, Quebec crossing. They reportedly told officials they were heading to the march, but did not mention the inauguration.
Speaking to CBC, Sasha Dyck, a member of the group and a dual citizen of both the US and Canada, said that when he travelled to the US for Obama's Inauguration in 2009, the mood was very different: "At that point, the border guard said, 'Come on in!' It was open arms. They were so happy to celebrate with the world."
Chris Bolestridge, a 37-year-old nurse from Sudbury, Ontario, told BuzzFeed News that he and his wife were asked, "why they should involve themselves in US politics" when they told border officials they were traveling to the march.
"We were stopped at the Fort Erie/Buffalo border crossing when we announced that we were going to participate in the Women's March. We informed them that we were there to support US citizens and give the Canadian support to women's issues underlying with this administration," he said. "They were very upset that we were doing this, and tried to find various reasons to exclude us from being able to enter. They were unable to."
On Twitter, one woman stated that a family member had been turned away at the border, along with a coach full of people.
US Customs and Border Protection did not respond when contacted for comment.