The trailer was immediately praised, with focus on Michelle Yeoh's and Sonequa Martin-Green's roles.
Fans were also hugely excited to hear Yeoh speak in her own accent. Yeoh was born in Malaysia and is of Chinese-Malay descent.
For many, Yeoh's own accent just added to the diversity of casting.
On Friday, writer Swapna Krishna wrote about how hearing Yeoh use her own accent made her emotional as she saw someone like her family portrayed on screen.

The article hit home for a number of people.
Shortly after it was published, Yeoh responded to the article, saying it was a conscious decision and thanking fans for their support for the show.
Her response provoked even more praise for her portrayal.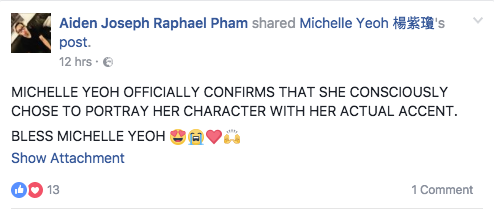 BuzzFeed News has reached out to Yeoh's reps for further comment.