Meet The Badass Women Longboarders Of Instagram
Thanks to platforms like Instagram, a global network of women are changing the way people longboard, and the skaters behind the movement say they're just getting started.
PARIS — Roxane Lucas talks about Ko Hyojoo like a mentor, but they've never met. In fact, she has never met a large number of the women who inspired her to learn how to longboard, a street sport that involves riding long skateboards. But she found them all in one place: Instagram.
In the crowd of skaters who are gliding all around Paris — along the banks of the Seine, under the shadow of the Musée d'Orsay — Lucas stands out. She is one of a handful of women in a greater cluster of men, swerving around tourists on the busy streets. While other riders take breaks, the 18-year-old remains focused on perfecting her moves, with earphones plugged in.
Like Lucas, a number of women say they have the internet to thank for introducing them to the spirit and art of longboarding. Many of the online stars — Ko, Cindy Zhou, and Alexandra Kubiak Ho-Chi are some of the biggest names — have become an inspiration for young women around the world who want to take up longboarding as a hobby.
Lucas, Ko, and their contemporaries all practice freestyle — or "dance" — longboarding. It's a fluid, rhythmic style that lets the rider travel up and down their board while it's in motion. There can be tricks, but fluidity and grace on the board are key. These women are not only changing their sport, but also creating videos that are being shared across the world. In a sport and online space once heavily dominated by men, it's now young women who are leading the way.
Lucas's parents aren't keen on her hobby. When she took up skateboarding four years ago, it was one of her friends who bought her her first board, and accompanied her to her first "Dock Session" — the weekly boarding event by the Seine. But when Lucas thinks about how her focus moved to longboarding, she pinpoints one thing in particular: "There were videos from Longboard Girls Crew."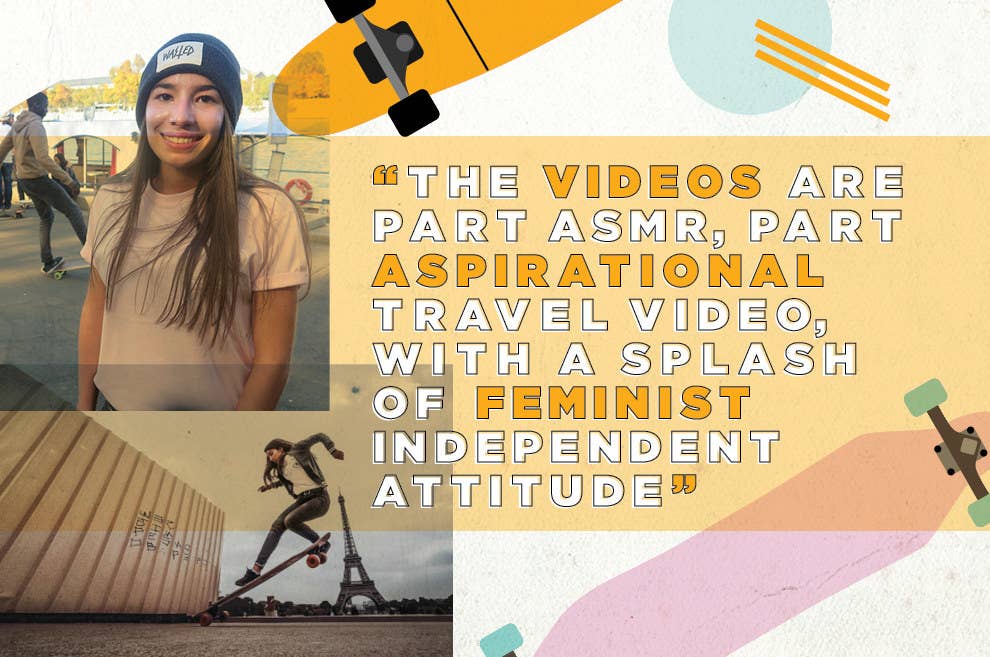 Longboard Girls Crew was created back in 2010 by a group of women who, according to its founder Valeria Kechichian, were tired of being made to feel like they couldn't keep up with men. In 2010, a Longboard Girls Crew video that showed them skating through Madrid went viral. "We invited women from all over Spain," Kechichian told BuzzFeed News. "It was apparently something new, women gathering together and supporting each other longboarding."
The classic rock and indie soundtrack mixed with the footage of a sun-drenched background added visual appeal to the video. Since its release, the group has been using social media to spread more videos, all with message of equality and empowering girls on four wheels. Longboard Girls Crew is far from the only outlet for longboarding videos online — a quick sweep of YouTube shows thousands of clips of both male and female riders across the world. But it was the videos featuring women that got skaters like Lucas hooked, and they have now grown into a global movement. Today, they are gaining the attention of not only the industry, but also the public.
Kechichian is currently organizing a group of representatives from a number of Longboard Girls Crews from around the world — they have offshoots in dozens of countries including France, the US, and the Philippines — to travel to Cambodia in the next year, where they will use the sport to connect with victims of human trafficking.
"We always work with kids, but now we are shifting Longboard Girls Crew into a platform of active humanitarian contribution, by women who skate," Kechichian said.
Longboard Girls Crew has established itself as one of the largest communities for women longboarders around the world and Ko, a South Korean freestyle longboarder, is definitely its breakout star. Search variations of her name on Instagram and you immediately find fan art. "Have any of you seen @hyo_joo's incredible longboard dancing videos?" one reads. "She's SO COOL and exquisite and charming, and watching her makes me want to learn!"
Ko has modeled for Converse and Vogue, and taken over GoPro Australia's Instagram account. Her Instagram videos, which gain thousands of likes when they're posted, regularly appear on Reddit threads and Facebook pages. Almost all of them instantly go viral.
"Thanks to Hyojoo, longboarding has become a popular hobby in South Korea," said Moonhee Chung, a longboarder who like many young women involved in the sport, bought her first longboard after seeing Ko skate.
"I think it's awesome that the longboarding scene has extended to many women in Korea," Ko told BuzzFeed News in an interview via email.
The 27-year-old from Seoul began longboarding two years ago when she discovered cruiser boards — slightly smaller boards typically used in urban settings — while searching for a new hobby. From there, like her fans, she discovered longboarding from online videos. She also took videos and uploaded them to either Facebook or Instagram, to track her progress. Soon, she was starring in videos with a group of other longboarders called the StyleRiders.
Typically filmed on GoPros, the videos Ko and her contemporaries are making offer something lighter than the traditional white-knuckle videos that come to mind when you think of extreme sports. It's these videos that have become the key to her success. They began as a way for her to improve her technique and she said it was through watching them repeatedly that she found her unique style.
"When I was taking steps on the board, 'carving' left and right, I thought the way my arms followed my body to balance seemed like a dance," she said.
Ko's fans credit the ease with which she moves up and down the board as the main reason for her appeal. Random internet commenters are drawn by the aesthetics. The videos are part ASMR, part aspirational travel video, with a splash of feminist independent attitude.
To riders like Lucas, Ko's been hugely influential. Scrolling through Lucas's Instagram, it's hard to not notice young women flocking to support her the same way they support Ko. One woman skater sends her a fistbump emoji while another user from Israel tells her she's "amazing." Every photo she shares of her riding uses the hashtag #GirlsCanRide, which acts as an Instagram portal for women across the world who want to pursue skateboarding, longboarding, motorcycling, and snowboarding.

While Lucas's growing viral fame will lead to inevitable comparisons to her idols, she is already carving out a path for herself. At the Dock Session, she attempts more tricks than Ko — a reminder that while many of these women take tips and tricks from each other's videos, their riding styles are very personal.
Ko said she is very supportive of male riders achieving the same fame as she has, and that it is needed to maintain a balance. "I've seen men do it, and it's really attractive too. People tend to just judge without even knowing or giving it a try. If guys longboard, some say things like, 'That looks gay,' which left me in shock. I think too many people tend to make a hasty generalization to limit one gender, by saying longboarding is only for girls."

Women like Ko and groups like the Longboard Girls Crew have already pushed the sport into popular culture. Four women longboarders were recently featured in a Red Hot Chili Peppers music video, and K-pop group member Ellin was photographed trying out a longboard by the Han River. While the 2000s saw salty-haired surfer girls and kohl-eyelinered skaters influencing fashion trends, women longboarders appear to be the darlings of the current counterculture.
Lucas said she feels like a part of this new wave. She's currently trying to combine her growing social media influence with a more hands-on approach to nurturing young longboarders. She took a break from her own practice during a Dock Session so she could walk a younger rider through the basics of the dance style of riding. She slowly pulled the young girl up and down the walkway, quietly talking her through the steps.
"I want to be a promoter for longboarding and support longboarding toward a way that I think is better," she said. "To change the image."