Yesterday it was rumoured that Radiohead were suing Lana Del Rey for similarities between their song "Creep" and her song "Get Free." Del Rey appeared to confirmed the news in a tweet.
Shortly after the news broke, Del Rey fans leapt to her defense. On Twitter, they used the #RadioheadIsOverParty hashtag to gather, share memes, and generally express their disdain toward Radiohead.
Karlo, a 19-year-old Del Rey fan from Osijek, Croatia, who joined in with the hashtag, explained why he wanted to defend the singer and her music.
"I've been a huge fan of hers for almost six years," he said. "As Lana fan, I felt a need to defend her and her work. The easiest way to do that is by memes. Everybody on Twitter love memes and everybody can relate to them in some way. Actually, I was a little bit surprised when I saw how many likes and retweets my tweets have. To be honest, I can hear the similarities to 'Creep' but I'm pretty sure it's just the progression. 'Get Free' is one of my favorite tracks from her Lust For Life LP and it really makes me sad that the best track is being sued."
Like many other fans on Twitter, Karlo also said that as Radiohead had previously been sued by the Hollies for "Creep," they were not in a position to sue others.
Others chose to claim Radiohead are no longer relevant.
Some took the jokes further and created fake "humorous" screenshots and quotes to make Thom Yorke — Radiohead's lead singer — and the band seem racist or homophobic.
And across social media, Del Rey's fans flooded any social media associated with the band.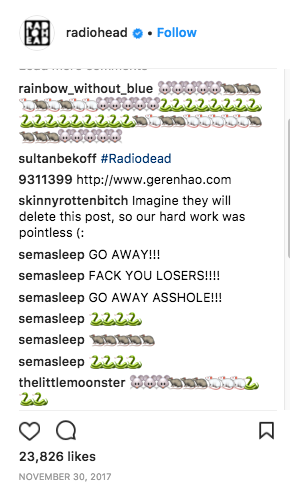 Sol Reyna-Hill, a Del Rey stan from Texas who also joined in with the hashtag, told BuzzFeed News that the trolling shouldn't be viewed as a serious threat.
"I wasn't targeting them. I'm not threatening them or anything, I just simply think the lawsuit is ridiculous over a song that they also got sued for, for the same exact reason," she said.
During Del Rey's concert in Denver last night, fans coordinated to ensure that after she spoke about the lawsuit, the footage quickly spread across social media and went viral.
However, despite multiple Del Rey fans saying that their campaign against Radiohead was mostly humorous, Radiohead fans have hit back at the fandom.
But this hasn't sat well with fans of both the artists. Lian, a 19-year-old Del Rey and Radiohead fan from Greece, called out Radiohead on a supportive meme page.

He told BuzzFeed News bands like Radiohead should be supporting newer artists like Del Rey.
"I saw the post from that Radiohead fan page and there were people who supported Radiohead's move on the matter. I felt surprised at people being in favor of some already super-successful multimillionaire band suing a young and relatively recent artist for having a song similar to theirs, which ironically enough was similar to an older one," he said.
"Come on, there are thousands of songs out there with the same chord progression and even melodies. 'Creep' had immense success, and to this day it's being listened [to] and acclaimed. I'm one of those who listens to this song extremely actively too. But going after an artist who created a similar song and asking 100% of the song's publishing profit is crazy. "
On Tuesday, Radiohead's music publisher, Warner/Chappell released a statement in which they said they were not suing Del Rey, but had requested credit.