This Granddad's Graduation Sign Is Adorable And Inspiring
Showing us all up at 70 years old.
A photo of a man's celebratory graduation sign has gone viral across the internet.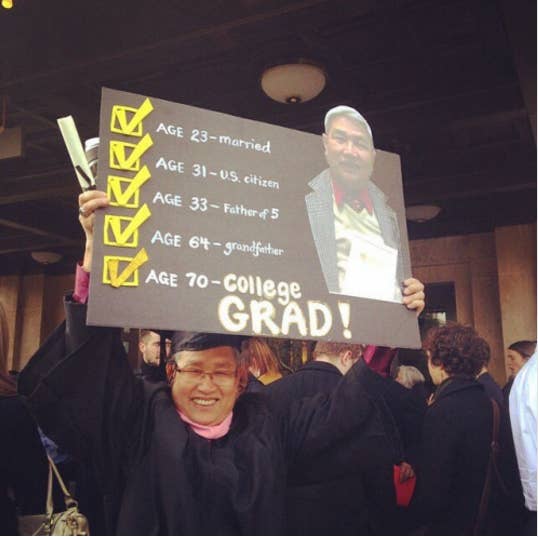 The photo was shared originally appeared on Unilad's Facebook, and was then shared to Tumblr earlier this week, where it gained thousands of notes.
According to a comment left that was left on Unilad's post, the man in the picture is named Tap Kieu and he graduated from Virginia Commonwealth University Music department .
His name is Tap Kieu, he's a Vietnamese man who left his country during a time of persecution wearing only one shoe. After a long life building for his family, he wanted to go back and do this for himself. His lifelong dream was to be a choral director, so he studied music and made his dream come true. Go Tap, VCU Music class of 2015!
Virginia Commonwealth University Music faculty told BuzzFeed News that Kieu actually was a recent graduate from their department. They also said that they are "certainly proud of him and we know he'll go on to do great things! "
BuzzFeed News has reached out to the commenter for further information about Mr Kieu.