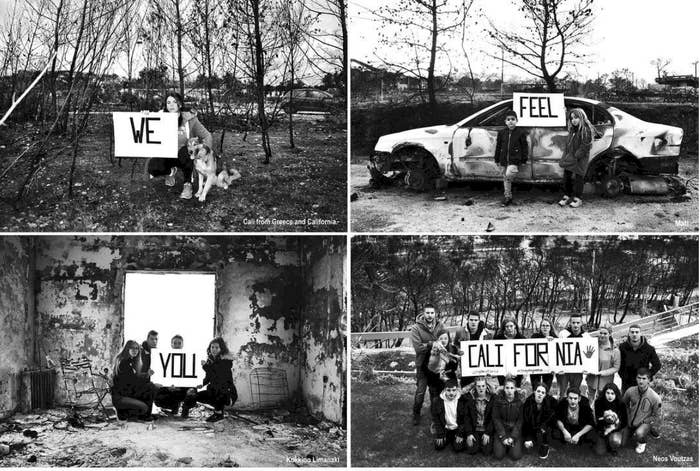 A group of young activists from Greece whose communities were devastated by wildfires has shared a series of images in support of people in California.
The group is from Mati, where fires claimed the lives of 99 people in the village and the surrounding area in July. The Camp fire in Northern California has killed at least 80 people, with 993 people missing.
"To the victims and the survivors of the California fires, we the young people of Greece, stand with you during this time of sadness and loss," they told BuzzFeed News in a message for the victims in California. "We understand your pain from our own deadly wildfires this summer. Take peace and hope from those who labor as heroes to help you. And know that our hearts are one with yours."
The group, which asked to be called "the young people of Mati," said they took the photos among the devastation left by the fire earlier this year. Since July, people in Greece have used the hashtag #act4mati to raise awareness of the victims of the fire and help regenerate the area.
The pictures were shared many times on Twitter, including by the US ambassador to Greece, Geoffrey Pyatt.
In addition to the photos, the young Greeks wrote a poem for people in California, titled "I feel you California."
"I feel you California!

I have gone through the loss of my hometown, where I created my memories and lived my dreams.

I have felt what it is like to look around and not recognize the surroundings that were once familiar.

I have felt how it is to be wondering "why?". "And now what?". I wonder what the future will hold. . . or if I can ever even start again ..

I've been losing everything I took for granted!

But let me tell you, you have to stay strong California!

Because even though you will be feeling, disappointment, bitterness, sorrow and anger - you will find something; and that something will keep you upright .. You will realize that you are not alone, cause many are there to support you.

You will succeed ... And by working together, your "Paradise" will rise again.

I feel you California!"