Arna Ýr Jónsdóttir is a 20-year-old beauty queen from Reykjavik, Iceland. She is the current Miss Iceland.
Jónsdóttir recently travelled to Las Vegas to take part in Miss Grand International, a global pageant with thousands of dollars in prize money.
However, on Sunday she announced via her Facebook page that she would be dropping out of the competition as she had been told by organizers that she was too "fat."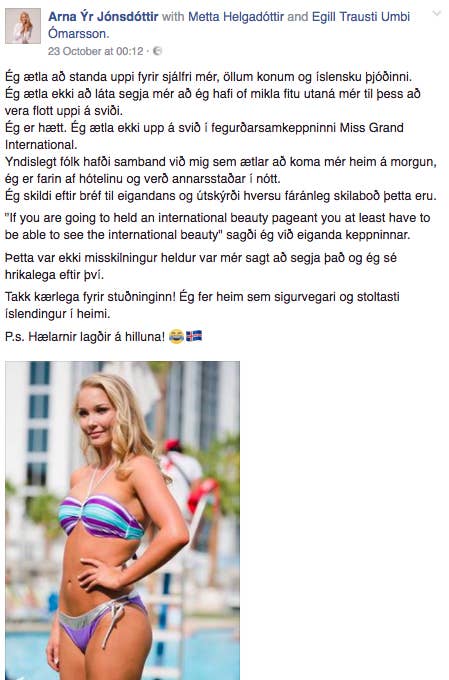 On Monday, she shared her resignation letter to Nawat Itsaragrisil, one of the pageant's presidents, on her Instagram account.
It reads:
I am a very strong woman but sometimes my strength isn't enough.

Your staff told me that I had to loose weight for the finals because I have to much fat on me and also to [sic] big shoulders. They told me to eat less and then you would like me more.

I decided to leave. I've been Miss World Iceland, placed 14th after judging interview in Miss World, I won another pageant (Miss EM) and with all my qualities and good experience I come with my passion and hard work to your pageant. 4 days before stage they tell me that I'm too fat for you. Actually if anyone tells me that I'm too fat or whatever, they just don't deserve me. And that's why I left. Miss Grand International doesn't deserve my face, body, personality or heart.

I truly hope that the organisation opens their eyes because the year is 2016 and if you are gonna hold an international pageant you have to be able to see international beauty.
In response to Jónsdóttir's withdrawal, social media users have been sharing messages of support and solidarity.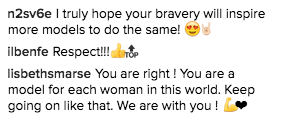 Anea Garcia, a fellow beauty queen and the winner of Miss Grand International 2015, shared a post showing her support for Jónsdóttir.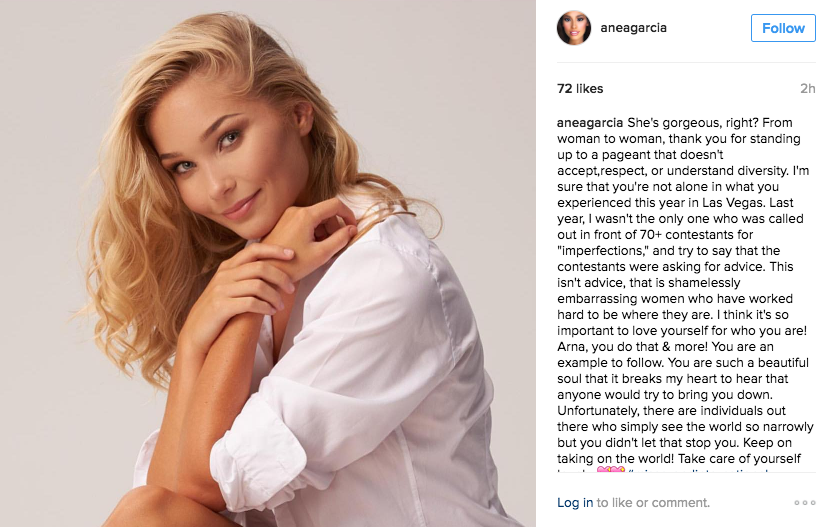 BuzzFeed News has reached out to Jónsdóttir and the Miss Grand International pageant for comment.
UPDATE
A video has emerged showing Jónsdóttir saying the fat comments were a misunderstanding. Pageantology says the video is from a now deleted Instagram post. The letter and her previous statements remain on social channels. In her Facebook post, she says she was forced to apologize in the video.